AV-4107 – Dambusters 617 Squadron Limited Edition Timepiece
LIMITED EDITION
This collection pays homage to the historic Dambusters Raid and commemorates the 80th anniversary of Operation Chastise, a seminal feat of daring featuring the Avro Lancaster Bomber and some of WW2's bravest airmen.
The collection features three stunning colorways that capture the spirit of aviation and honor the squadron's legacy. Each watch is built with meticulous attention to detail and combines style with rugged durability, making it a perfect companion for modern-day adventurers.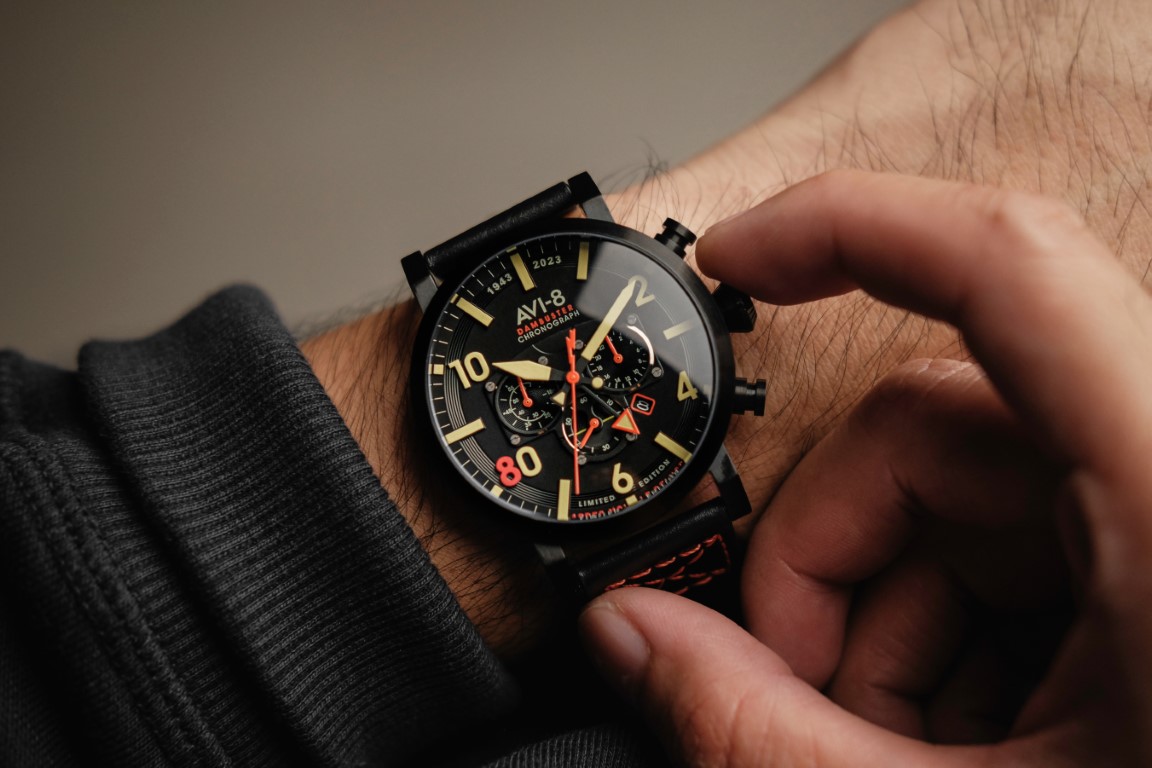 AV-4107-01 – JET BLACK
The first colorway showcases a bold and sophisticated aesthetic. The black plating of the case, paired with a black dial and a black strap with warm red stitching, exudes timeless style.
AV-4107-02 – CAMO
This variant combines stainless steel with a black camouflage dial, paying homage to the stealth and precision of the 617 Squadron. The tan strap with black stitching adds a touch of rugged sophistication.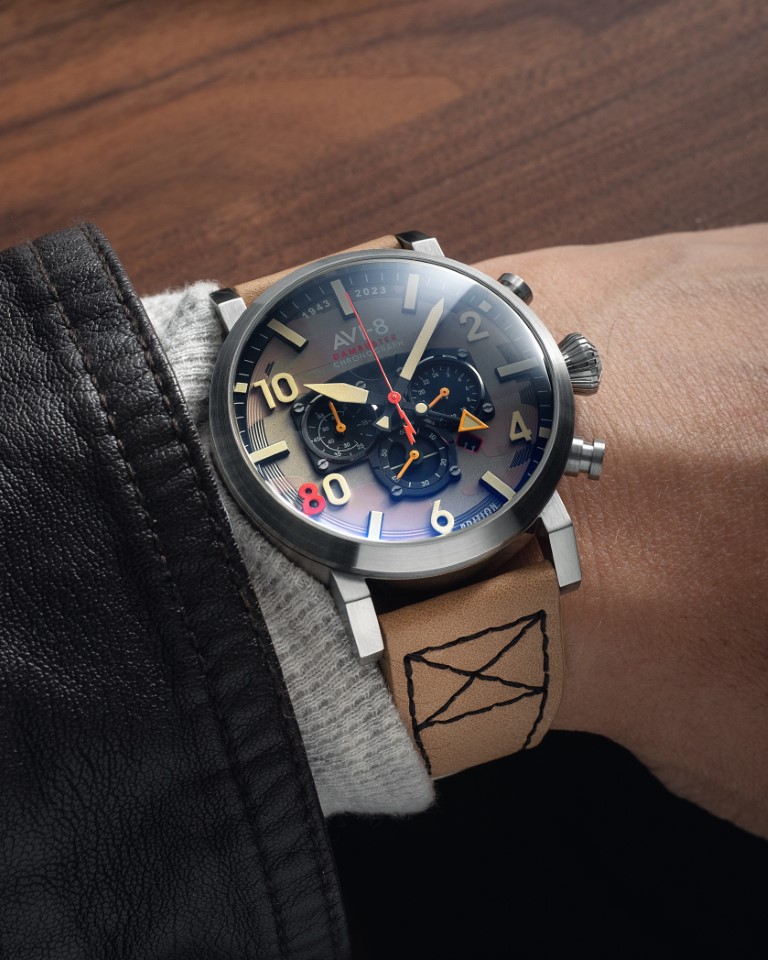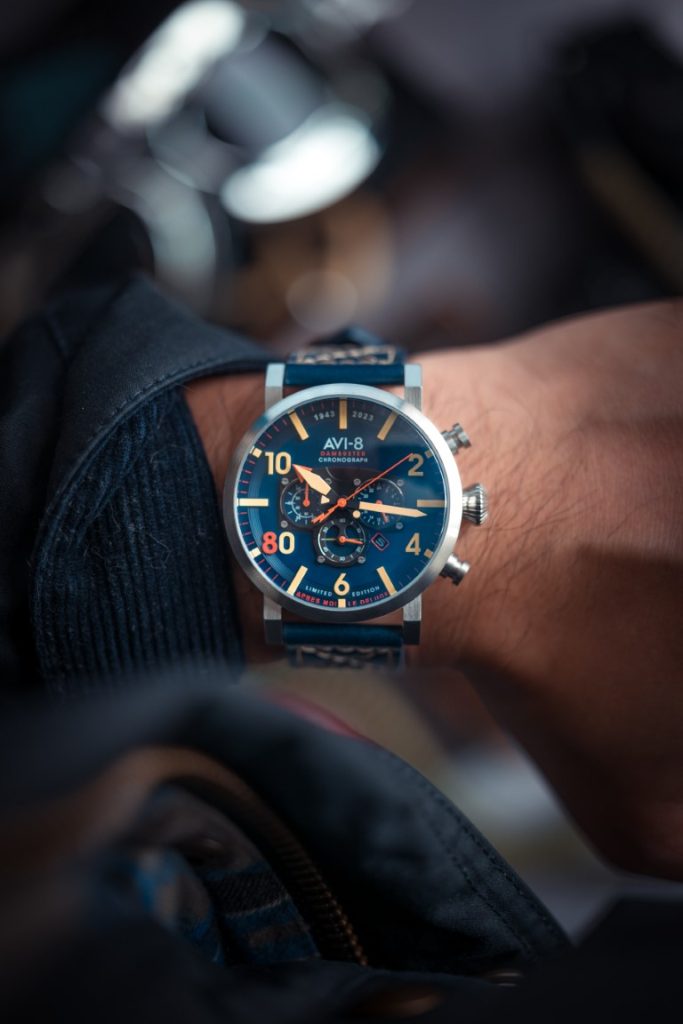 AV-4107-03 – NAVY BLUE
The third colorway features a stainless-steel case with a navy-blue dial, evoking a sense of classic aviation aesthetics. The blue strap with ivory stitching perfectly complements the overall design, creating a striking visual appeal.
The Dambuster 617 Squadron 80th Anniversary Dual Time Chronograph Limited Edition Collection boasts impressive specifications. With a case width of 43mm and a case length of 51.5mm, this timepiece commands attention on the wrist. It is water-resistant up to 5 ATM, ensuring durability even in challenging environments. The movement is powered by the reliable Miyota FS26, providing precise and accurate timekeeping. The stainless-steel case, debossed crown, and screw-back caseback with circular brushing add to the watch's robust construction. The mineral lens and Japan Luminous offer exceptional visibility, even in low-light conditions.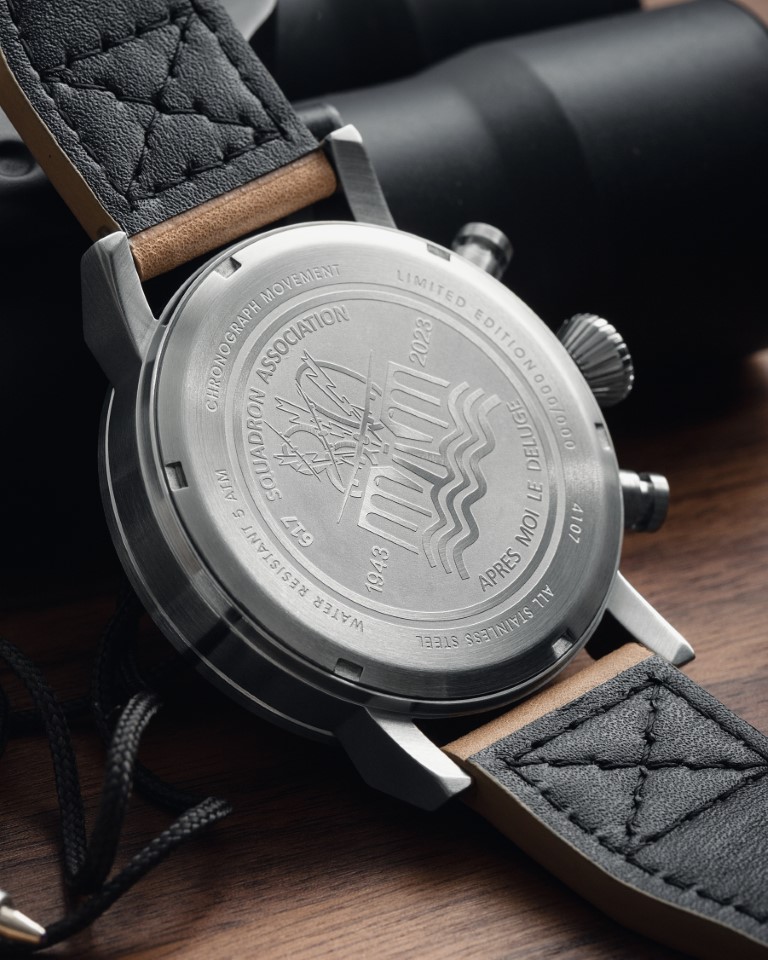 AVI-8's collaboration with the 617 Squadron Association underscores the brand's commitment to preserving the history and heritage of aviation. As a token of appreciation for the squadron's bravery and sacrifice, 5% of net sales from the Dambuster 617 Squadron 80th Anniversary Dual Time Chronograph Limited Edition will be donated to support the 617 Squadron Association's noble initiatives.
The Dambuster 617 Squadron 80th Anniversary Dual Time Chronograph Limited Edition by AVI-8 is set to captivate aviation enthusiasts, history buffs, and watch collectors alike. Each watch is uniquely numbered as part of a limited-edition production of only 775 pieces. With its impeccable design, unparalleled craftsmanship and commitment to honoring the heroic acts of the 617 Squadron, this collection is a fitting tribute to their enduring legacy.
The Dambusters Collection is available at AVI-8.
Get 20% off on Full-Priced Watches with code – VintageAirfix20