RAF West Malling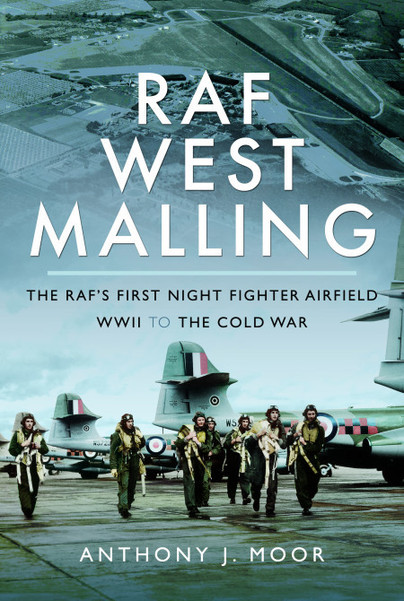 The RAF's First Night Fighter Airfield – WWII to the Cold War
By Anthony J Moor
Desription:
This is the story of West Malling airfield, from its earliest days through its role in the Second World War – when several dramatic and tragic events occurred – and beyond into the Cold War.
Opened as a private landing ground after the First World War, the airfield at West Malling, then known as Kings Hill, became home to the Maidstone School of Flying in 1930. It was then renamed West Malling Airfield, and, in 1932, Maidstone Airport.
The airfield's RAF role came to the fore in June 1940, by when the station had been fitted with a concrete runway. The first aircraft arrived on 8 June 1940. As the UK's first designated night fighter base, over the years that followed RAF West Malling was home to many famous pilots, men such as John Cunningham, Peter Townsend, Bob Braham and even Guy Gibson, later of Dambusters fame. During the summer of 1944, Mosquitoes, Spitfires and Mustang Mk.3s successfully destroyed many V-1s, as well as played their part in the D-Day landings.
Following the war, units such as Nos. 25 and 85 squadrons were equipped with Meteor NF fighters and de Havilland Vampires and Venoms, continuing West Malling's strategic night fighter role into the Cold War. No.500 (Kent's Own) Squadron also adopted RAF West Malling as its home in this period. A US Navy Facility Flight was also based at the airfield in the 1960s.
After closure as an operational air station in 1969, West Malling re-acquired its civilian guise, hosting a Gliding School, Short Brothers and several major Great Warbirds Air Displays during the 1970s and 1980s, until eventually closing completely as an airfield, for re-development.
Anthony J. Moor's exhaustively researched and highly-illustrated book is the first to tell the full story of the part West Malling played in the defence of the United Kingdom, and how it served the RAF for twenty-eight action-packed years.
Vintage Airfix Review:
West Malling in Kent is described in superb detail in this book, which will not only inform you about all you didn't know but will also surprise you with all the things you didn't know.
An overview of this RAF airfield's history during World War II and the Cold War. You will need to organise your bookshelf so that this title is at the forefront. You will return to it time and time again.
A must have superb read.