The History of the Airfix Catalogue
The illustrated leaflets prior to 1962
The first "real" Airfix catalogue appeared in 1962 – see 1st Edition cover photograph later. Before that Airfix produced frequent kit lists – sometimes every month. Printed in simple duo-tone, these flimsy and very rare publications were the earliest illustrated kit listings from the manufacturer.

1958 – This is one of the very first coloured leaflets from 1958. It's marked Autumn 1958, but earlier English and Dutch versions are known from May 1958.


1959 – This Spring 1959 leaflet has a Lancaster on the front cover. It's not known whether this single edition is unique in style.


1959 – The Vickers Wellington featured on the covers of leaflets from the Summer and Autumn of 1959.


1959-1960 – From Winter 1959, leaflets appeared almost every month – most of them with this Fairey Rotodyne front cover.


1960 – From about August 1960 to December 1960 we have an aircraft carrier on the front.


1961 – Leaflets were issued monthly from January to May 1961. Each has this battleship cover.


1961 – This leaflet is Autumn 1961 – it's not known exactly when the change from monthly to quarterly happened.


1961-1962 – Complete change of style. The Halifax will now feature on all future leaflets.




At some point in 1962 the leaflets changed to blue and became "editions". This is a 9th Edition from 1964.


Inside detail of the April 1961 leaflet shown above. Leaflets were fan-fold and opened up to 6 pages.
---
The various price lists
In conjunction with the Catalogues, Airfix also issued periodic Price Lists. These often went inside the main catalogue or were available separately. The price lists referred to the main catalogue pages, and are of particular interest for several reasons – 1. They listed kits sometimes not shown in the main catalogue. 2. They announced new kit availability, and are therefore a more accurate guide to the first release date of a kit and 3. They contain some wonderful fantasy art-work, as they were often published before the real art-work was available. In some years, more than one price list was published.
| | |
| --- | --- |
| | |
| 1974 Price List. Features – Locomotive kits marked as Limited Availability; Collectors Series of museum engines now had an optional electric motor available as part number 09399-4 (price 30p); The famous HO/OO polythene ready-made Elephant Gun (09782-2) at 12p! | 1969 Price List. Features – The very rare Attack Force Set, 1661; some very strange box-top artwork as shown below. |
| | |
| --- | --- |
| | |
| A 1968 Price List. Features – The original James Bond autogyro; The Ariel Arrow motorcycle as a Series 1 plastic bag. The Chippie character is NOT part of the price list, but is a later hand-drawn addition! | A later 1968 Price List. Features – significantly fewer kits than the earlier price list (left) and a noticeable price rise! |
---
The Catalogues from 1962 to present
Note that in the early 1980s (the Palitoy years) many of the Catalogues were "trade" and aimed at the retailer. Several Catalogues also contained details of display stands and some catalogue numbers referred to boxed assortments of kits etc.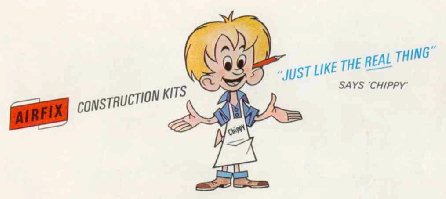 1st Edition


2nd Edition


3rd Edition


4th Edition


5th Edition


6th Edition


7th Edition


8th Edition


9th Edition


10th Edition


11th Edition


12th Edition


13th Edition


14th Edition


15th Edition


16th Edition


17th Edition


Very rare 1981 Catalogue


1982 Edition


1983 Edition


1984 Edition


1984 Retailers Catalogue


1985 Edition


1986 Edition


Rather boring 1987 Edition


1988 Edition


1989 Edition


1990 Edition


No "real" catalogue was issued in 1991


1992 Edition


1993 Edition


1994 Edition


1995 Edition


1996 Edition


1997 Edition


1998 Edition


1999 (50th Anniversary Catalogue)


2000 Edition


2001 Edition


2002 Edition


2003 Edition


2003 New Releases leaflet


2004 Edition


2005 Edition


2006 Edition


2007 Edition


2008 Edition


2009 Edition


2010 Edition
And a couple more for the Collector – two F.W.Woolworth's catalogues, and a very attractive 1977 Price List…