AV-4098 Hawker Harrier Farley Multifunction
Named after famed Hawker Harrier test pilot John Farley, this timepiece echoes the inner cockpit of the iconic "Jump Jet" aircraft with a dual time retrograde display, date and 24-hour read-out all cloaked within the sturdy, robust yet effortlessly wearable confines of the solid marine grade stainless steel case.
Renowned for his work in developing and testing the legendary Hawker Harrier "Jump Jet", Farley also
displayed his mastery of the aircraft when he captivated the world with the now famous "Farley Take Off", a stunt he performed by hovering the Harrier then tilting the nose almost entirely vertically before applying full throttle to "rocket climb" away. Remarkably, during his aviation career, Farley flew over 80 different types of aircraft and was the first British pilot to fly the Mikoyan MiG –29.
The Timepiece
The Hawker Harrier Farley collection is available at AVI-8. Get 20% off on Full-Priced Watches with code – VintageAirfix20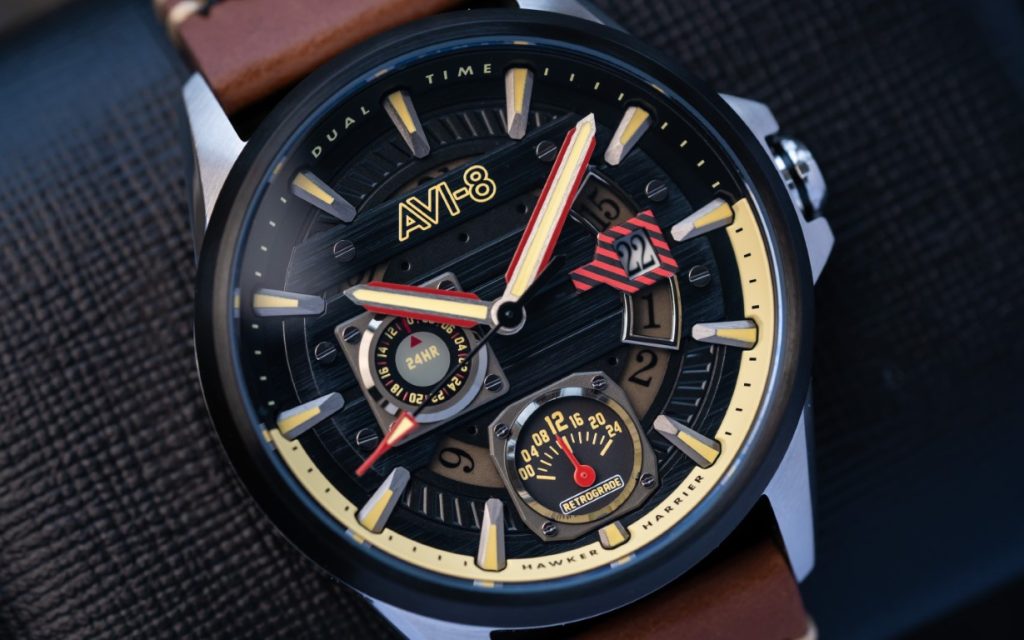 Each detail of the modern and refined 44mm case has been carefully considered, with brushed and polished detailing throughout. The durable case is topped with a hardened mineral lens with anti-reflective coating.
Intricate design cues taken from the Harrier's flight instruments are expertly and purposefully recreated on the Farley's dial, with custom moulded cockpit inspired subdial frames and applied indexes coated with Swiss lume providing for a dial that is both innovative and legible.
Bold aviation design and flair is supported by a reliable and precise Japanese multifunction movement with a date, dual time retrograde display and 24-hour read-out.
The timepiece hugs the wrist courtesy of a supple leather strap with military aviation-inspired detailing.
The Hawker Harrier Farley collection is available at AVI-8.
Get 20% off on Full-Priced Watches with code – VintageAirfix20