AV-4077 P-51 Mustang Blakeslee Chronograph
An icon of the skies inspired by a story of heroism and bravery, the P-51 Mustang Blakeslee Chronograph returns as a robust and compelling timepiece with two bold and intriguing new colourways.
In commemorating the incredible life of an American fighter ace and commander, AVI-8 has designed a wearable tribute to the exploits and achievements of Colonel Don Blakeslee during WWII.
When the USAAF's 354th Fighter Group arrived in Europe in December 1943 with P-51 Mustangs, Blakeslee was famously assigned to lead the group, becoming the first to fly the faster and more agile P-51 Mustangs in combat operations.
With the introduction of P-51 Mustangs under Blakeslee's command the 4th FG was able to successfully escort long-range heavy bombers, helping turn the tide of war in favour of the Allies. The group ended WW2 with a record count of over 1,000 enemy planes destroyed.
Blakeslee was one of the most decorated second world war fighter pilots, earning a Command Pilot rating under the USAF, a Legion of Merit, multiple Silver Stars and Air Medals with both silver and bronze oak leaf clusters, and an RAF pilot's brevet among many other awards. Despite these amazing achievements, it is his charisma, bravery, determination, and patriotism that still live with us to this day.
The Timepiece
The P-51 Mustang Blakeslee Chronograph collection is available at AVI-8. Get 20% off on Full-Priced Watches with code – VintageAirfix20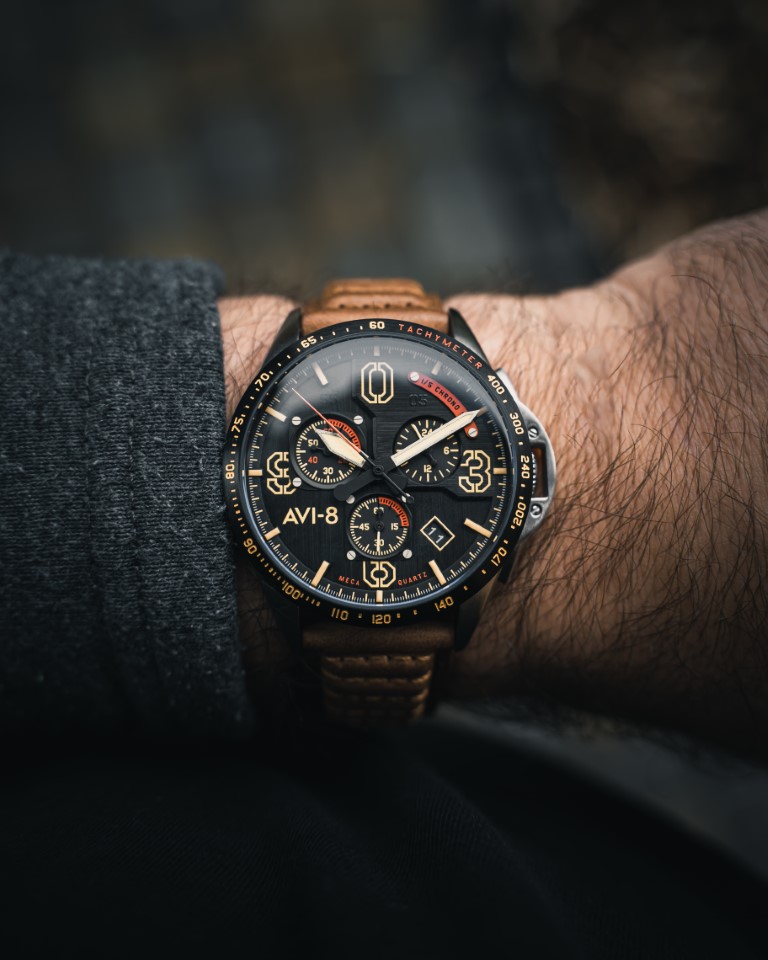 Using the very shape of the P-51 Mustang as inspiration, a 43mm case flows and glides across the wrist with specific micro details that echo the machining and features of this iconic aircraft.
The dial of the Blakeslee Chronograph leans on both the inner and outer detailing of the P-51 Mustang. Carefully designed, the dial is a lesson in legibility and visually arresting layout.
Utilising the famed VK series Meca-Quartz movement, the Blakeslee Chronograph is armed with the reliability of quartz chronograph timing along with the nostalgic hand feel of automatic movements.
Available with a padded genuine leather strap, the attachment of case to wrist is a function of careful attention, drawing inspiration from the majestic Mustang.
The P-51 Mustang Blakeslee Chronograph collection is available at AVI-8.
Get 20% off on Full-Priced Watches with code – VintageAirfix20