AV-4100 Hawker Hunter Atlas Dual Time Chronograph
The Hawker Hunter Atlas Dual Time pays tribute to arguably the most celebrated and utilized fighter jet in military aviation history. In 1953, renowned British fighter ace and test pilot Neville Duke famously broke the world air speed record when heflew a Hawker Hunter at 727.63 mph. Impressively, that is not the only record broken by the Hawker Hunter. The RAF's display unit, the "Black Arrows", set a record that still stands today by looping and barrel rolling 22 Hunters in formation. Almost 2,000 Hawker Hunters have been produced since its inception in the 1950s to serve an impressive 22 air forces globally and are still active today.
The Timepiece
The Hawker Hunter Atlas Dual Time collection is available at AVI-8. Get 20% off on Full-Priced Watches with code – VintageAirfix20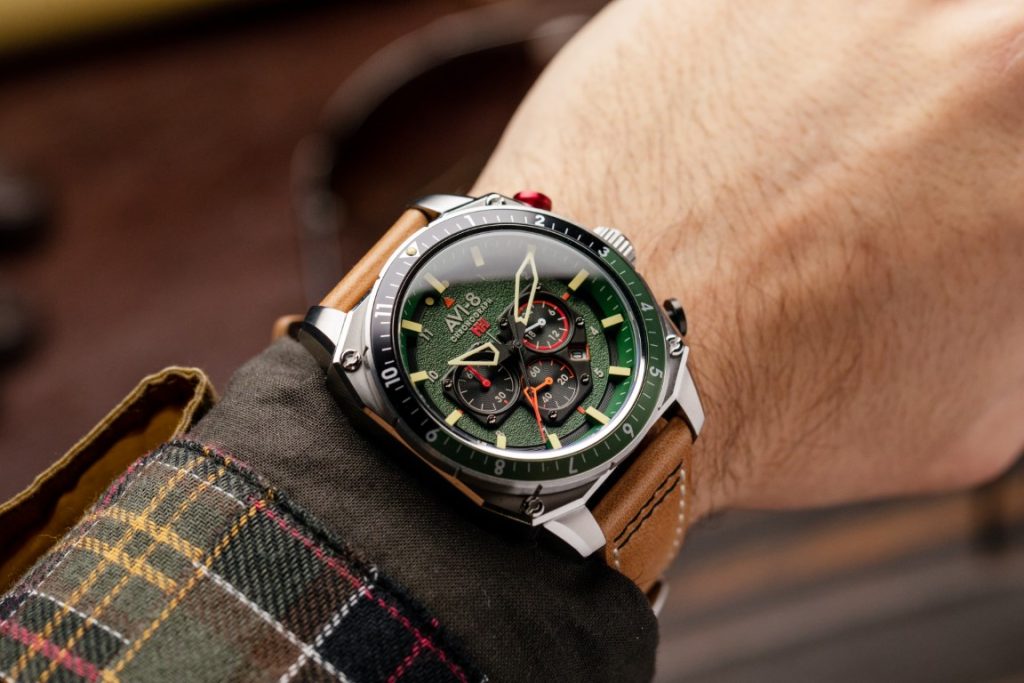 Equipped with the inner mechanics of a split time read-out Japanese chronograph movement, the Hawker Hunter Atlas Dual Time Chronograph also enables the wearer a multiple time zone readout, providing for a timepiece complete with the spirit of a pioneering aircraft of the jet-age with the engineered construction and functionality to match.
The Atlas Dual Time Chronograph is housed in a contemporary, utilitarian and robust 12-sided stainless steel case echoing the Hunter's flight instruments. It is crowned by a 12-hour scale bezel, enabling a third time zone to be displayed.
The skeletonized hour hand provides the time at your present location when you are traveling, whilst a third hand with a slim triangular tip indicates the prevailing hour at home. Using the bezel of this watch, you can also read the time of a third timezone in three different places with ease.
Drawn straight from the Hunter's cockpit, the multi-layered dial takes the wearer on a tour through the air craft's instrument panel with intelligently designed subdial frames and hands. Swiss lume applied baton indexes complete a dial created with readability and functionality in mind.
Under the hood, the timepiece is powered by a Japanese chronograph movement featuring a date, dual time and 24-hourread-out.
Attaching the watch to wrist is a premium handcrafted genuine leather strap with contrast military aviation inspired stitching.
The Hawker Hunter Atlas Dual Time collection is available at AVI-8.
Get 20% off on Full-Priced Watches with code – VintageAirfix20