AV-4105-01 Spitfire P8331 Laguna LE Chronograph
AVI-8 is honoured to partner with Laguna's Spitfire Legacy (LSL) to create a Spitfire chronograph timepiece limited to just450 pieces commemorating the famous 303 Squadron and support the LSL's work to restore Spitfire P8331 to airworthycondition. This iconic aircraft steeped in history was last flown by Wing Commander Piotr Laguna, who led the 303 Squadronto become the most successful squadron during the Battle of Britain.
This timepiece aims to create a lasting recognition to the incredible contributions of the 18,000 Polish pilots and ground crew who courageously and skilfully protected Britain throughout WWII but were overlooked for the 1946 Victory March through London.
We are very proud of our new partnership with AVI-8. Since our partnership first launched in December 2022, AVI-8 has pledged over £6,000 to LSL through the sales of these bespoke limited-edition AVI-8 timepieces. This contribution will help us provide educational roadshows around Europe as well as a social media presence whilst the restoration of P8331 takes place in time to fly we hope by 2025. P8331 will be at the point of flight, the only flying MKIIb Spitfire in the World, with an enviable history steeped in 303 Squadron DNA including Enemy aircraft destroyed, damaged and probable claims. She also boasts a Pilot list that includes the great and good of the Battle of Britain highest scoring squadron list, such as Kent, Drobinski, Belc, Lapkowskiand of course Wing Commander Piotr Laguna who fought valiantly with 303 Squadron during this period.

Scott Booth – Managing Director, Laguna Spitfire Legac
The Timepiece
The Spitfire P8331 Laguna Chronograph watch is available at AVI-8. Get 20% off on Full-Priced Watches with code – VintageAirfix20
In commemorating the 303 Squadron and the bravery of Piotr Laguna, we have redesigned our Spitfire Meca-Quartz Chronograph with unique details and features to pay tribute to their incredible abilities and sacrifices during the Bale of Britain and throughout WWII.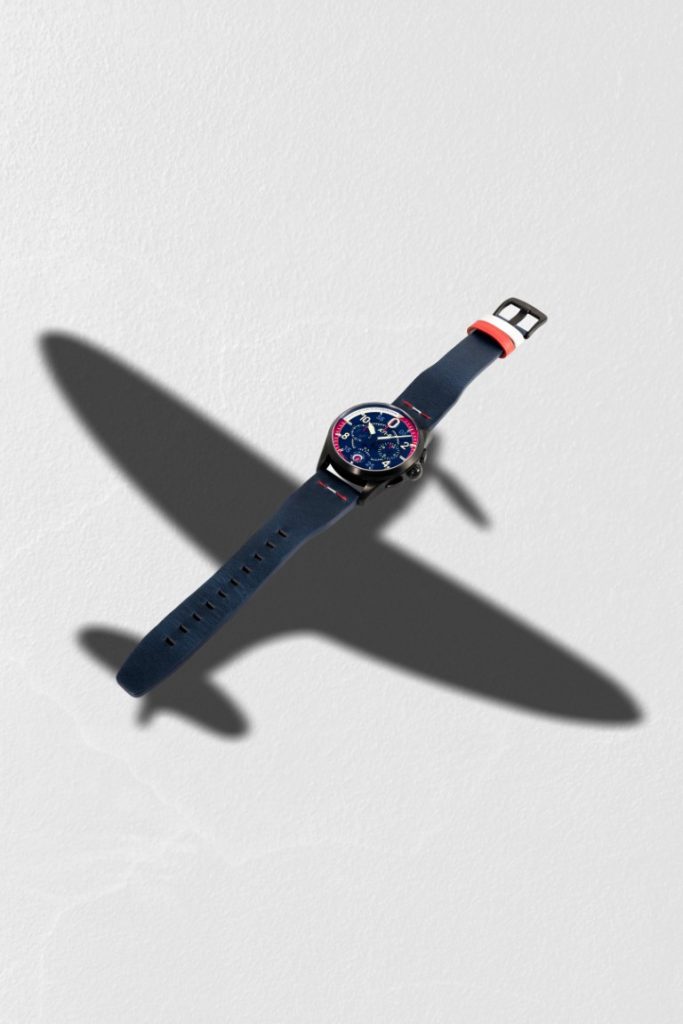 A clean, symmetrical and highly legible twin-register dial layout inspired by details within the Spitfire's instrument panel are complemented by pops of red and white, whilst a 303 Squadron badge has been stamped at the 9 o'clock subdial serving as a constant reminder of their bravery. Applied indexes are lathered in Swiss lume for great visibility in low-light conditions.
Measuring 42mm in diameter, the solid steel case and custom flowing pushers are drawn from Spitfire P8331's iconic curved silhouette. Drawing further inspiration from the Spitfire's body, micro detailing on the case sides are designed to recreate the panels on the aircraft being restored.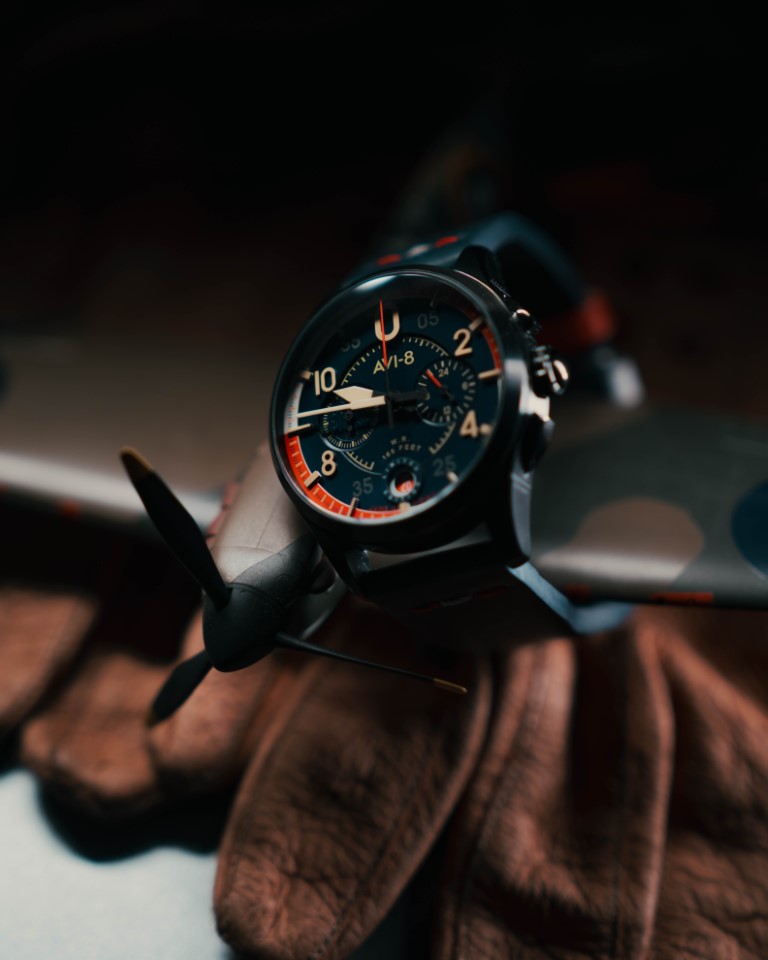 The limited edition timepiece is equipped with a reputable VK series Japanese meca-quartz movement featuring a flyback chronograph reset and 1/5 split second readout, capturing the true art of modern watchmaking technology.
Completing the timepiece is a comfortable, handcrafted genuine leather, vintage pilot-style 22mm strap with red and white cross-stitching and strap loops nodding to the incredible legacy of the 303 Squadron.
Uniquely numbered and limited to just 450 pieces, each timepiece comes packaged in a striking 303 Squadron inspired red and white nylon wrapped giftbox.
The Spitfire P8331 Laguna Chronograph watch is available at AVI-8. Get 20% off on Full-Priced Watches with code – VintageAirfix20