AV-4104 – Flyboy Capcom 1942 Automatic
LIMITED EDITION
This collection embraces the true essence of the "Flyboy" moniker. This irrepressible group, with their undeniable charisma and sense of duty, are what inspires this range of casual yet intricately designed collection of timepieces.
AVI-8 is proud to collaborate with Capcom® to partner on a unique limited-edition timepiece inspired by the landmark epic, vertically scrolling shoot 'em up, video game 1942™.
The iconic game, launched in 1984, has been heralded as one of the best of its kind, blending a history themed narrative with cutting edge gameplay and graphics that helped solidify Capcom as a leading game publisher.
AVI-8, a watch and accessories brand inspired by the worlds of military aviation, leans on the game's iconic pixelated artwork, story and background to develop a watch that revives the retro arcade spirit of the 8-bit era. Through an apt association and blend of iconic design, shape and detail, it retells the story of one American airman's solo journey in a P-38 Lightning in the Pacific. The Flyboy Capcom 1942 Automatic Limited Edition is a distinctive timepiece available in a choice of 2 colorways. It is a limited-edition production of only 300 pieces each. Each watch is serially numbered and comes with its own certificate of authenticity bearing its own unique number.
The Timepiece
The Flyboy Capcom collection is available at AVI-8. Get 20% off on Full-Priced Watches with code – VintageAirfix20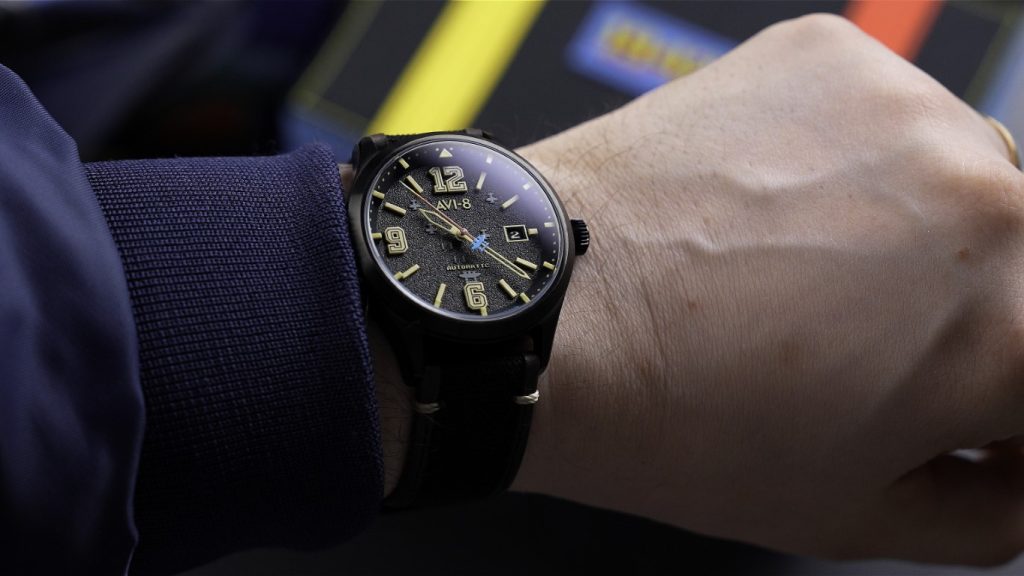 Powered by a Japanese Seiko TMI NH35 Automatic movement, the Flyboy watch build is that of a classic field pilot watch twisted through the aesthetics, form and color from the 1942 universe of war time aviation game play.
With a scratch resistant sapphire lens topping a marine grade 316 L stainless steel case measuring 41mm in diameter, the watch is built to hug the wrist with a solid stainless-steel bracelet and an additional canvas strap with details articulated from the game itself.
This watch showcases an important story in WWII aviation and video game history, bringing to AVI-8 a new audience of fans, enthusiasts and collectors.
Immersive Gameplay Detailing
The design and aesthetic of the video game comes to life in a 3-dimensional approach to the index, dial and hands. Each element and component is a study in custom artwork, engineering and functionality all brought together by master watchmakers.
Fun Inside Functionality
With a wave of nostalgia, the watch is a delight to own, and a fun nod at a beloved video game that blends into the AVI-8 ethos of commemorating and celebrating the pilots and machinery of military aviation. The Flyboy Capcom 1942 Automatic Limited Edition is nonetheless built to perform, and last, with rock solid and precise watch engineering underneath the hood and throughout this automatic self-winding timepiece.
Built Boldy
Under the hood, the watch features a solidly reliable Japanese Seiko TMI NH35 Automatic movement and is built around a robust chassis of marine grade stainless steel topped by a scratch resistant sapphire lens for instant clarity and visibility. Generous amounts of Swiss super luminous material are built into the dial and hands for optimum low light visibility.
Limited Edition Illustrations by Nache Ramos
Each watch comes with a set of custom commissioned limited-edition prints by famed illustrator and designer, Nache Ramos. His illustrations juxtapose beautiful vintage comic book art with sardonic overtones and gritty grunge textures. Washed out colors and halftone patterns place a sense of the appropriate timescale to his work, and act as a new prism to appreciate this awesome collaboration of horology and nostalgia-infused gaming.
The Flyboy Capcom collection is available at AVI-8.
Get 20% off on Full-Priced Watches with code – VintageAirfix20