AV-4103 Flyboy Tuskegee Airmen Meca-Quartz
LIMITED EDITION
The story and legacy of the Tuskegee Airmen transcends aviation and is an important chapter in American history.
AVI-8 is proud to collaborate and support the Tuskegee Airmen Inc, (TAI) for a second year to produce a limited-edition timepiece that commemorates, remembers and reflects on the Tuskegee experience. 10% of the net sales of each timepiece sold goes towards the important work of the Tuskegee Airmen Inc. supporting youth programs and providing educational assistance to those pursuing flight training and other higher education pursuits.
Tuskegee Airmen, Incorporated (TAI) was formed in 1975 as a non-profit organization expressly to promote the true Legacy of the Tuskegee Airmen and expose disadvantage community youth to aviation careers. We are especially pleased to partner with Dartmouth Brands in launching a high-quality Tuskegee Airmen-themed timepiece as part of their AVI-8 line. Your purchase of these fine instruments helps support TAI's youth programs both nationally and locally including pilot training, drone instruction and educational scholarships.

Jerry "Hawk" Burton, National President, Tuskegee Airmen, Inc.
The Timepiece
The Flyboy Tuskegee Airmen collection is available at AVI-8. Get 20% off on Full-Priced Watches with code – VintageAirfix20
Each of the four colorways is available in 310 or less uniquely numbered pieces for a total exclusive production run of only 1,195 pieces. Each colorway is detailed to reflect one of the 4 original squadrons (99th, 100th, 301st and 302nd) that together comprises the all-Black, 332nd Fighter Group.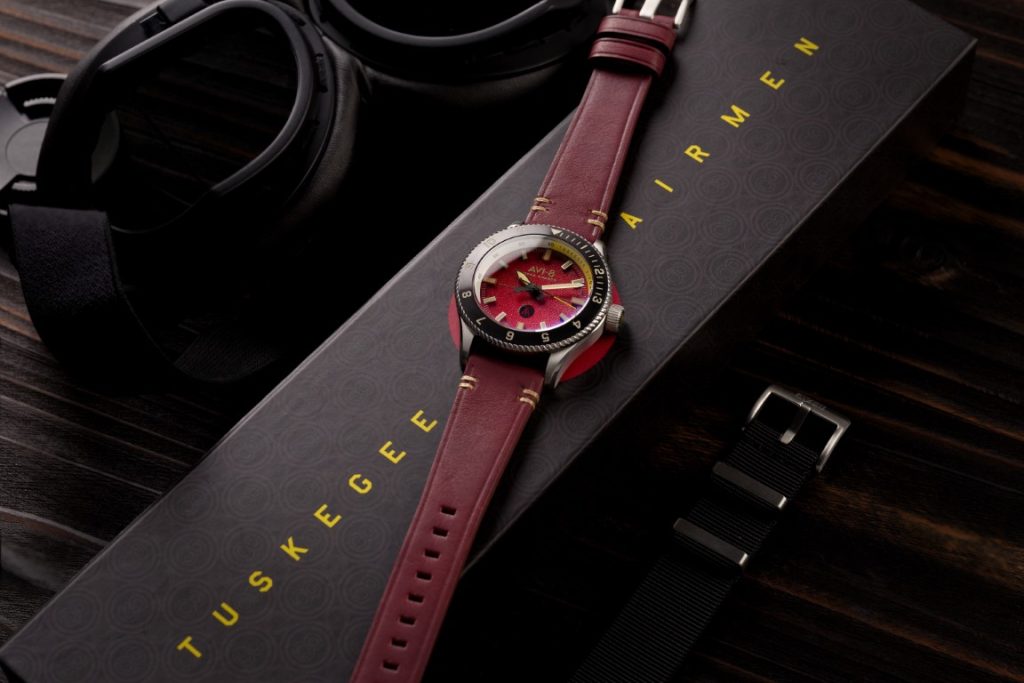 Each watch is perfectly sized, built solidly with clear lines of legibility and read out to make for an always wearable timepiece, that is no less important and significant in its origin. The limited-edition timepiece features a 40mm solid stainless-steel case topped with a domed hardened mineral lens and a dual time / elapsed time unidirectional turning bezel.
Powering the Tuskegee Airmen limited edition is a precise "Meca-quartz" Japanese TMI movement for pinpoint precision and "sweeping" second hand motion. The watch is water resistant to 50m and features Swiss luminous filling across its clearly marked out legible dial face for quick readability in low light conditions. The Flyboy Tuskegee Airmen Meca-Quartz Limited Edition hugs the wrist courtesy of a genuine leather strap again echoing the colours found in the liveries of the Tuskegee squadrons, and an extra nylon NATO strap for added versatility and wear.
Each colourway of this special edition is named after a location the famed Tuskegee Airmen squadrons were based at in the past.
The watch comes packaged in a handsomely appointed gift box with unique and striking artwork of iconic Tuskegee Airmen, specially created by designer Derrick Whitfield. For this launch, AVI-8 has collaborated and commissioned a series of portraits of celebrated members of the Tuskegee Airmen, by Atlanta based illustrator, graphic designer and artist Derrick Whitfield. Derrick is the owner of the Whitfield Designs Company and the winner of the Black Made Illustration Award in 2022. His unique style and portraiture has been recognized widely and we are proud to collaborate with Derrick on our work to celebrate and commemorate the legendary Tuskegee Airmen.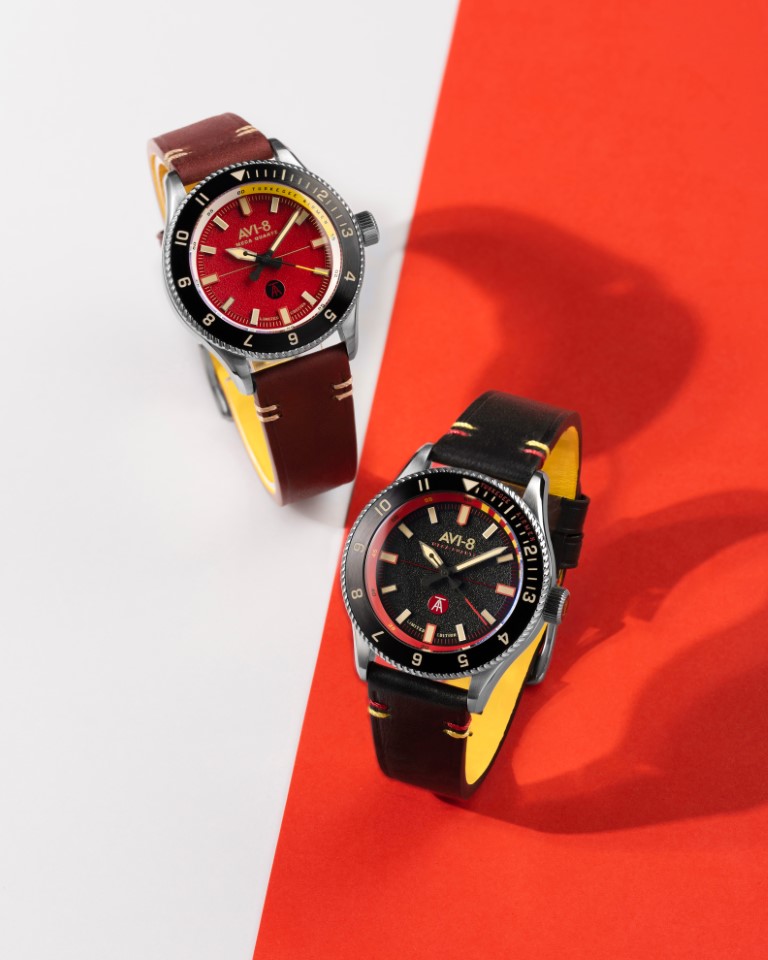 The Flyboy Tuskegee Airmen collection is available at AVI-8.
Get 20% off on Full-Priced Watches with code – VintageAirfix20