Race Across the Atlantic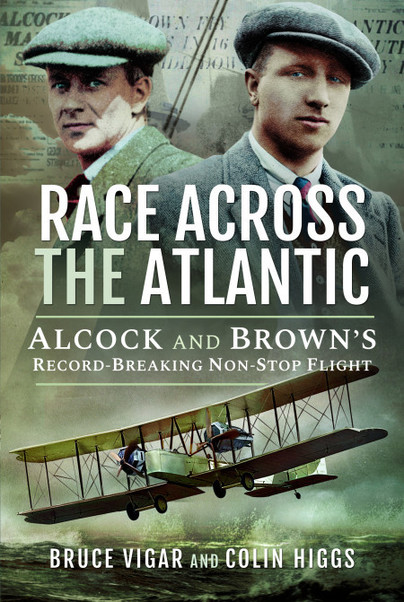 By Colin Higgs, Bruce Vigar
It was Tuesday, 15 June 1919 and for the residents of Clifden on Ireland's west coast this was not to be a normal day. Just before 08.40 hours, descending out of the gloom, came a large, twin-engine aeroplane lining up for final approach. One or two on-lookers recognised the danger straight away for this was an area of soft bog, but their attempts to alert the pilot were in vain.
The aircraft began to sink and, with a squelch, came to a sudden stop, the tail rearing up in the air. Dazed and with fuel filling the cockpit the two-man crew scrambled out, grabbing what they could. After a flight lasting 16 hours and 28 minutes, Captain John Alcock and Lieutenant Arthur Whitten-Brown had won the race to be the first to fly non-stop across the Atlantic.
It was a rough ending for a race that began in April 1913 when Lord Rothermere, aviation philanthropist and owner of the Daily Mail, offered a prize of £10,000, roughly equivalent to $1,000,000 in today's money, to 'the aviator who shall first cross the Atlantic in an aeroplane in flight from any point in the United States of America, Canada or Newfoundland to any point in Great Britain or Ireland in 72 continuous hours'.
Illustrated by many unique photographs this book tells the story of the race, delayed for almost six years by the First World War. Many aircraft would be entered but few would even get off the ground. The teams faced great difficulties in preparing for the challenge of crossing one of the most hostile stretches of ocean on Earth.
The authors not only reveal tales of failures and technical difficulties, but of the intense frustration of waiting for the perfect weather-window. And even when finally airborne, Alcock and Brown's flight almost ended in disaster on several occasions as weather conditions almost conspired to cast them down into the grey, cold waters of the Atlantic and almost certain death.
Vintage Airfix Review:
Reading this book is like reading a film script and right from the first page, you'll be hooked. It starts with a run down of all the contenders and their fate. Then, due to the gripping writing, you're there, with all the ups and downs of the events before the historic flight. Once you're through all that, you're in the cockpit with Alcock and Brown and every dump and dive of the flight across the Atlantic.
This book is highly recommended to take you on a trip, in your mind, across the Atlantic. It's an exciting trip from the early days of aviation and a great feat that shouldn't be forgotten. The final pages of this book prove that it hasn't been.