M36/M36B-1 Tank Destroyer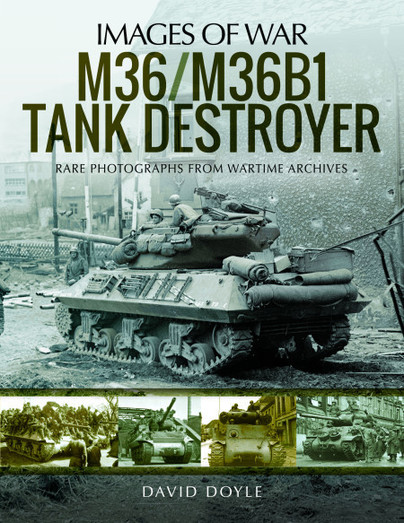 By David Doyle
Going into WWII, the prevailing strategy of the US command was that takns were not to be used to engage enemy tanks in combat. Rather, tanks were to be the armored spearhead to breach enemy positions. Enemy tanks were to be dealt with by specialized weapons, aptly named tank destroyers.
While the 3-inch weapon of the M10 was superior to that found on earlier US tank destroyers, it was still found to be inadequate against the ever-increasing weight of German armor. An even larger gun, the 90mm M3, was placed in a new, bigger open-topped turret on 100 new hulls purpose built for this, and by remanufacturing M10A1s, primarily from US-based training units. As the supply of these chassis was depleted, additional vehicles were created by converting Diesel-powered M10s, resulting in the M36B2. The M36B1 was built from the ground-up as a tank destroyer, using a hull based on that of the M4A3 but featuring a standard M36 turret. Examination of rare surviving vehicles indicate that the M36B1 hulls were manufactured expressly for this purpose, and were not merely M4A3 hulls that were converted.
While US antitank doctrine changed, rendering all the tank destroyers obsolete post-WWII, many of these vehicles were supplied to other nations, and in fact some survived as combat vehicles into the 21st century.
Vintage Airfix Review:
Another informative 'Images of War' book full of close up images of a beautifully restored example and striking images from WWII. Many of the WWII images would make great reference for a diorama. Although the WWII images are in black and white the close-up images are in colour.
As with all the books in this series, it's well written and produced. I can't recommend this series enough.