US Cold War Tanks and Armoured Fighting Vehicles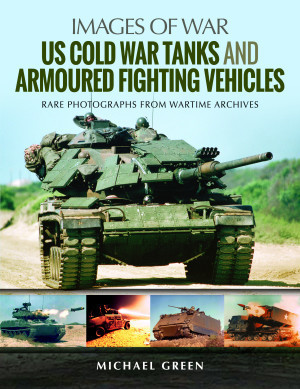 By Michael Green
To counter the Soviet threat and that of their client States during the Cold War years 1949-1991, the American military deployed an impressive range of main battle tanks (MBTs) and armoured fighting vehicles (AFVs).
The Patton series of medium MBTs (including the M46, M47 and M48) supplemented by the M103s Heavy Tank initially formed the core of the US tank fleet. In 1960 the M60 MBT with its British designed 105mm gun entered service and, in turn, was replaced by the M1 Abrams in 1980.
In support were armoured reconnaissance vehicles, progressively the M41 bull dog (1951); the M114 (1961), the M551 Sheridan (1967) and M3 Bradley Cavalry Fighting Vehicle (1981).
The armoured personnel carrier (APC) range included the ubiquitous M113 and its replacement the M2 Bradley, cousin of the M3.
Expert author Michael Green covers all these vehicles and their variants in this informative and superbly illustrated Images of War series work.
Vintage Airfix Review:
As with all the Images of War series, this one is well written, beautifully presented and there are lots of great images which makes it a must have reference book for scale modellers of Cold War machinery.
The information that Michael Green gives us is short and sweet on each Tank and AFV but it's enough, I thought. If I was concentrating on a specific model, I would definitely use this book along with other, more detailed, reference books.