Large Scale Warship Models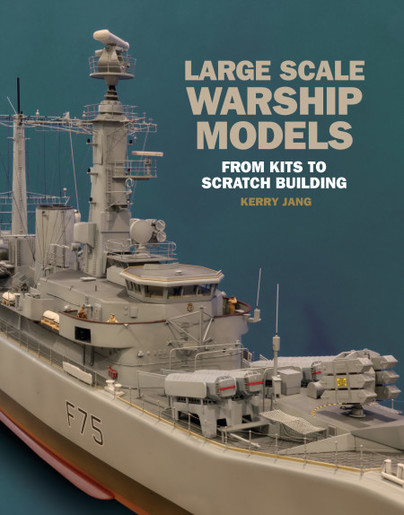 By Dr Kerry Jang
The majority of warship modellers work in smaller scales, most often based on plastic or resin kits. Many of these harbour ambitions to tackle something larger and more demanding, but are daunted by the challenge. The aim of this book is to persuade them that it not as difficult as it may seem, that they already possess the basic skills required, and that they can acquire any necessary new knowledge as they proceed.
The discussion focuses on the journey from conventional plastic kits to questions of deciding on a subject; choosing a kit, semi-kit or build from scratch; what conventional kit building skills transfer – and how these conventional skills such as painting techniques and an eye for detail can be brought to large scale model building so that scale fidelity is not sacrificed but enhanced. Novel requirements like research, obtaining plans and sourcing material or fittings are all covered.
The second part describes building methods, including the latest techniques like casting fittings in resin, and applies to both static and radio-controlled working models. All the colour photos were taken specifically to illustrate the points made in each chapter, so the book demonstrates as well as describes. It concludes with a gallery of superb models intended to inspire the would-be large scale warship modeller to take the plunge.
Vintage Airfix Review:
Informative, helpful, well written and beautifully presented.
If you haven't built a large-scale warship, either from a kit or scratch built, but would like to, then you need this book. It'll give you the knowledge you'll need to get started.
If you're an intermediate or advanced builder, there is much in here that will aid you also.