Heroes of Coastal Command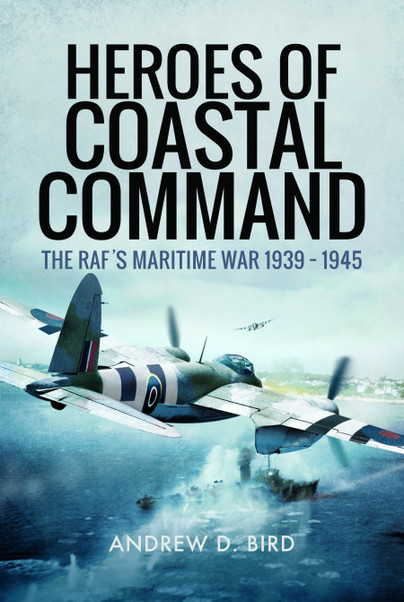 By Andrew D Bird
In Heroes of Coastal Command, Andrew Bird examines the maritime war between 1939 and 1945, interweaving accounts of events of the period with personal stories of individuals caught up in them. Through interviews, letters, diaries and reports, all combined with his own research, the author looks afresh at the maritime conflict, reassessing long-held views of the Cinderella Service's defensive and offensive capabilities through the eyes of ordinary individuals battling for survival above the oceans against flak gun, enemy aircraft and weather as the stakes rose higher and the number of casualties become catastrophic.

Heroes of Coastal Command makes the reader think again about the RAF's maritime arm, Coastal Command, which was established in 1936. Throughout the war, its crews worked tirelessly alongside the Royal Navy to keep Britain's vital sea lanes open. Together, they fought and won the Battle of the Atlantic, with RAF aircraft destroying 212 German U-Boats and sinking a significant tonnage of enemy warships and merchant vessels. Often working alone and unsupported, undertaking long patrols out over opens seas, Coastal Command bred a special kind of airman. This includes individuals such Lloyd Trigg, who was awarded the Victoria Cross; Roger Moorwood, a Blenheim pilot who flew in the Battle of France; Jack Davenport, who flew his Hampden; John Watson, the sole survivor of a Short Sunderland which was lost during a rescue mission; Maurice Guedj, a Frenchman who escaped from Morocco to join the Free French Air Force; Sam McHardy, who for a short while became a Coastal Command ground coordinator posted aboard a Royal Navy destroyer for a raid on Norway; and Ken Gatward, who flew a unique daylight mission over Paris to drop a Tricolore on the Arc de Triomphe.

These are just some of the fabulous stories, full of daring and breath-taking courage, and individuals explored in this book.
Vintage Airfix Review:
Each chapter is dedicated to a single pilot from the RAF's Coastal Command and within each are stories from other personnel around that pilot. It is, sometimes, a little confusing to follow as the narrative changes, sometimes within a single paragraph.
I also found the spelling\grammar mistakes a bit to numerous. All books have the odd mistake, but there is just too many in this book. However, that said, once you've acknowledged that you'll come across more mistakes than usual, it's a good and enlightening book.