Frog Penguin – Plastic Scale Model Kits 1936-1950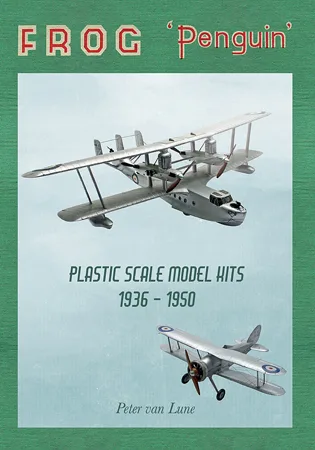 By Peter van Lune
Description:
This book tells the story about the earlist days plastic scale kit modelling. It brings to life how the three instigators of International Model Aircraft / FROG, Joe Mansour and the brothers Charles and John Wilmot, started the first range of plastic scale model kits in 1936. They were the forerunners of what was to become a globally-spread toy and hobby in the 1960s and 70s, by well-known manufacturers like Airfix and Revell. Loved by boys aged 6 to 16 and still a favorite pastine for older boys too.
This fascinating reference work took over 10 years to be completed and is the first book to focus entirely on the Penguin range. The story is accompanied by well over 400 photos, many of which have never been published before. Written in cooperation with family members who shared many valuable memories about the lives of Joe, Charles and John.
It includes information about the early history of plastic injection moulding, the wartime activities of I.M.A. between 1940 and 1945, collecting and restoring Penguin model kits and a price guide.
The date of publication is not by coincidence: it marks the celebration of 80 years of plastic scale kit modelling.
Vintage Airfix Review:
If, like me, you remember the heyday of modelling (60s and 70s). You will have built a few Frog models or if not, you would have at least heard of them. In this book Peter has managed to reignite long dormant memories of some of these kits which I used to see in the 70s and, in my youthful ignorance, saw them as 'old fashioned'. Until I made one and acknowledged the huge part Frog Penqiun plays in the history of the hobby.
Peter has self-published this book and I think he should be praised for the level of research and commitment seen in it. From the personal and historical stories to the stunning images this book is highly recommended for all modellers. To the younger modeller to understand where the hobby came from and to the older modeller to relive their youth.
You can order the book directly from Peter via his website – http://frogpenguin.com/