Flight Craft 7: V-Bombers – Valiant, Vulcan & Victor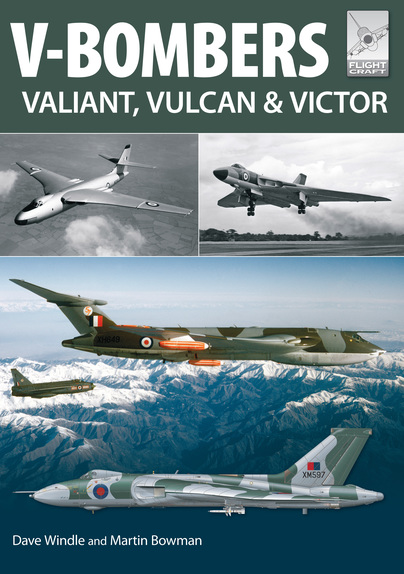 By Martin Bowman, Dave Windle
Britain's desire to stay at the leading edge in the design and development of modern jet powered aircraft was born in the later stages of the Second World War. The Royal Air Force sent requests to the leading aircraft manufactures for a variety of specifications, amongst which was one for a long-range heavy bomber. Three designs were accepted and eventually went into production – these became the V-Bomber Force.
The Vickers Valiant, Vulcan and Victor saw prolific and varied service during the course of their careers. This book contains fabulous colour profiles (created by Dave Windle) of all three types in different operational modes, configurations and colour schemes. Martin Bowman has written detailed descriptions and photographs to create the perfect enthusiasts reference. This enhanced and revised edition (the book was initially published in 2009) comes complete with model-making content as well as a host of brand new design features, making for a lively new addition to our esteemed Flight Craft series.
Vintage Airfix Review:
There are some great images, in this book, of these famous aircraft that can be used to aid and inspire all modellers. I particularly like the pictures of the Victor as a fuel tanker, refuelling a Lightning which will make for an easy but impressive diorama.
This book is an informative overview of the V-Bomber Force aircraft that will benefit all aircraft modellers research of these ground breaking aircraft of the Cold War.