Reviews on this page:
-
A Spy in the Sky
- By Kenneth B Johnson
-
Aero-Neurosis
- By Mark C Wilkins
-
An Eagle's Odyssey
- By By Johannes Kaufmann, Foreword by Richard Overy, Translated by John Weal
-
Battle of Britain Broadcaster
- By Robert Gardner MBE
-
Bren Gun Carrier
- By Robert Jackson
-
British Aircraft of the Second World War
- By John Frayn Turner
-
British Leyland
- By Lance Cole
-
British Steam Military Connections
- By Keith Langston
-
Building a WWII Jeep
- By Lance Cole
-
Camel Pilot Supreme
- By Annette Carson
-
Car Craft 2: Porsche 911
- By Lance Cole
-
Car Craft 4: Citroën DS
- By Lance Cole
-
Challenger 1
- By Robert Griffin
-
Chieftain
- By Robert Jackson
-
Classic Car Gallery
- By Lance Cole
-
Classic Car Museum Guide
- By Lance Cole
-
Crime on the Canals
- By Anthony Poulton-Smith
-
D-Day Dakotas
- By Martin Bowman
-
Early French Aviation, 1905-1930
- By Graham Simons
-
Early Jet Bombers, 1944-1954
- By Leo Marriott
By Kenneth B Johnson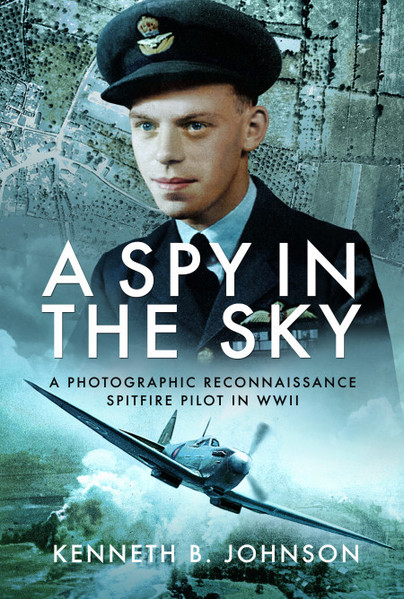 Description:
Many stories abound of the daring exploits of the RAF's young fighter pilots defying the might of Hitler's Luftwaffe, and of the dogged courage of the men of Bomber Command flying night after night over Germany in the face of flak and Focke-Wulfs, yet little has been written about the pilots who provided the key evidence that guided the RAF planners – the aerial photographers.
Ken Johnson joined No.1 Photographic Reconnaissance Unit as an eighteen-year-old and soon found himself at the controls of a Spitfire high above enemy territory. The PRU aircraft were stripped of all non-essential equipment to increase their performance, because speed and height was their only protection as the aircraft's guns were among those items that were removed.
In this light-hearted reminiscence, Ken Johnson relives his training and transfer to an operational unit, but not the one he had expected. He had asked if he could fly Spitfires. He was granted that request, only to find himself joining a rare band of flyers who took to the skies alone, and who flew in broad daylight to photograph enemy installations with no radios and no armament. Unlike the fighter pilots who sought out enemy aircraft, the pilots of the PRU endeavoured to avoid all contact; returning safely with their vital photographs was their sole objective.
As well as flying in northern Europe, Ken Johnson was sent to North Africa, where his squadron became part of the United States Army Air Force North West African Photographic Wing (NAPRW). In this role, he flew across southern Europe, photographing targets in France and Italy.
The Spy in the Sky fills a much-needed gap in the history of the RAF and, uniquely, the USAAF during the latter stages of the Second World War.
Vintage Airfix Review:
A superb memoir of an PR pilot in WW2. With tales from ground and air, Johnson paints the picture of his time in the RAF and USAAF, with all the lumps and bumps you would expect in such a perilous job. Although the job in hand was to take pictures over enemy ground, this is not the focus of this memoir. it covers friendships, comradery, pearl, and incredible dedication.
It's just a great read… as simple as that.
By Mark C Wilkins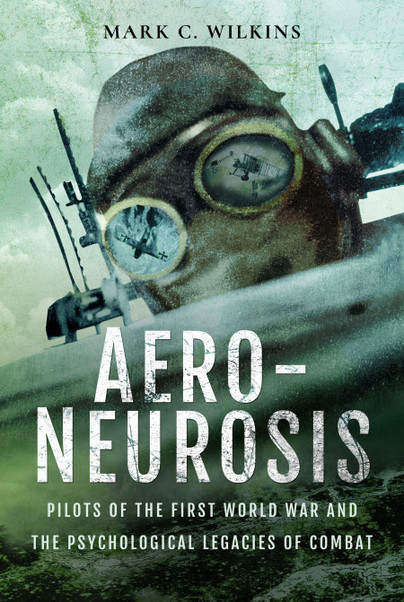 Description:
The young men who flew and fought during the First World War had no idea what was awaiting them. The rise of science and nationalism during the late 19th and early 20th centuries came to a head in 1914. The 'technology shock' that coalesced at the Western Front was not envisaged by anyone in a position of leadership. These men did the best they could and gave their full measure but each suffered from their experiences, some better than others. Each knew it was a defining moment in their lives never to be repeated. And many felt that the dynamic context of aerial combat was something that, after the war, they still longed for, despite the attendant horrors.
The medical and psychiatric profession evolved symbiotically with the war. Like the patients they were charged with treating, doctors were unprepared for what awaited them. Doctors argued over best practice for treatment. Of course, the military wanted these men to return to duty as quickly as possible; with mounting casualties, each country needed every man. Aviation psychiatry arose as a new subset of the field, attempting to treat psychological symptoms previously unseen in combatants. The unique conditions of combat flying produced a whole new type of neurosis.
Terms such as Aero-neurosis were coined to provide the necessary label yet, like shell shock, they were inadequate when it came to describing the full and complete shock to the psyche.
We are fortunate that many of these fliers chose to write. They kept diaries and letters about their experiences after the war and they are, of course, an invaluable record. But perhaps more importantly, they were also a means for many of them to heal.
Mark C. Wilkins finds the psychology undergirding historical events fascinating and of chief interest to him as an historian. He has included expert medical testimony and excerpts where relevant in a fascinating book that explores the legacies of aerial combat, illustrating the ways in which pilots had to amalgamate their suffering and experiences into their post-war lives. Their attempts to do so can perhaps be seen as an extension of their heroism.
Vintage Airfix Review:
This is a book that makes you think about what it was like before we recognised the affects of what we now call post-traumatic stress disorder. Imagine, going to war, with new mechanical devices that were untested. You would be the one testing them while trying not to be killed by the machine or by the enemy, who was doing the same thing.
I've always loved early planes and the development of early flight. But after reading this book, the human element has become painfully clear. The narratives in this book are well written and compiled together into a fascinating and troubling look into the would of those early English, French, and German aviators.
By By Johannes Kaufmann, Foreword by Richard Overy, Translated by John Weal
Description:
'I realised that this brief but abortive sortie was to be the final mission of my Luftwaffe flying career.'
Johannes Kaufmann's career was an exciting one. He may have been an ordinary Luftwaffe pilot, but he served during an extraordinary time, with distinction. Serving for a decade through both peacetime and wartime, his memoir sheds light on the immense pressures of the job.
In this never-before-seen translation of a rare account of life in the Luftwaffe, Kaufmann takes the reader through his time in service, from his involvement in the annexation of the Rhineland, the attack on Poland, fighting against American heavy bombers in the Defence of the Reich campaign. He also covers his role in the battles of Arnhem, the Ardennes, and the D-Day landings, detailing the intricacies of military tactics, flying fighter planes and the challenges of war.
His graphic descriptions of being hopelessly lost in thick cloud above the Alps, and of following a line of telegraph poles half-buried in deep snow while searching for a place to land on the Stalingrad front are proof that the enemy was not the only danger he had to face during his long flying career.
Kaufmann saw out the war from the early beginnings of German expansion right through to surrender to the British in 1945. An Eagle's Odyssey is a compelling and enlightening read, Kaufmann's account offers a rarely heard perspective on one of the core experiences of the Second World War.
Vintage Airfix Review:
Not many memoirs get my full attention, I tend to get bored with them. But this… WOW… It's a griping read, a true page-turner. A highly recommended read for anyone, not just the aviation or WWII enthusiast.
By Robert Gardner MBE
Description:
In 1936 Charles Gardner joined the BBC as a sub-editor in its news department. Shortly afterwards, he was joined by Richard Dimbleby and together they became the very first BBC news correspondents. They covered everything from shipwrecks to fires, floods to air raid precautions and, in Garner's' case, new aircraft. Their exploits became legendary and they laid down the first principles of news broadcasting – of integrity and impartiality – still followed today.

With the outbreak of war Charles Gardner became one of the first BBC war correspondents and was posted to France to cover the RAF's AASF (Advanced Air Strike Force). He made numerous broadcasts interviewing many fighter pilots after engagements with the Germans and recalling stories of raids, bomb attacks and eventually the Blitzkrieg when they all were evacuated from France. When he got home he wrote a book AASF which was one of the first books on the Second World War to be published.

In late 1940 he was commissioned in the RAF as a pilot and flew Catalina flying boats of Coastal Command. After support missions over the Atlantic protecting supply convoys from America, his squadron was deployed to Ceylon which was under threat from the Japanese navy. Gardner was at the controls when he was the first to sight the Japanese fleet and report back its position.

Gardner was later recruited by Lord Mountbatten, to help report the exploits of the British 14th Army in Burma. He both broadcast and filed countless reports of their astonishing bravery in beating the Japanese in jungle conditions and monsoon weather.

After the war, Gardner became the BBC air correspondent from 1946-1953. As such, he became known as 'The Voice of the Air,' witnessing and recording the greatest days in British aviation history.

But Perhaps he will best be remembered for his 1940 eye-witness account of an air battle over the English Channel when German dive bombers unsuccessfully attacked a British convoy but were driven off by RAF fighters. At the time it caused a national controversy. Some complained about his commentary 'being like a football match,' and not an air battle where men's lives were at stake. That broadcast is still played frequently today.
Vintage Airfix Review:
A very enjoyable and enlightening read telling the story of the first BBC broadcasters in war torn Britain.
By Robert Jackson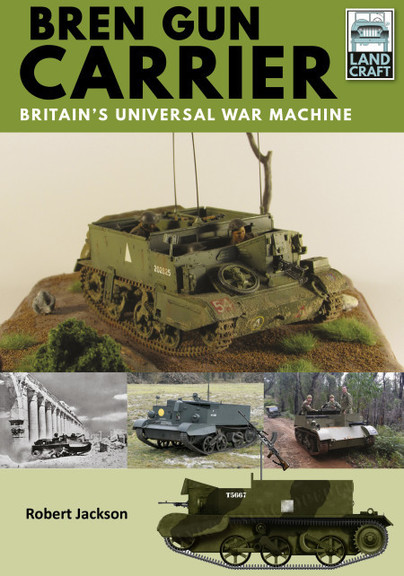 Description:
One of the most versatile fighting vehicles in the British army and many other forces for a quarter of a century, the Universal Carrier – more popularly known by its original title of Bren Gun Carrier – was developed as a fast and agile infantry-support vehicle. In this volume in Pen & Sword's LandCraft series, Robert Jackson traces its design and manufacturing history and describes its operational role throughout its long career.

The Bren Carrier served in every theatre of the Second World War, from northwest Europe, North Africa and the Soviet Union to the Far East. Then, with the war over, it was operated by many belligerents in a string of other conflicts around the world, including Israel's struggle for independence and the war in Korea.

A selection of archive photographs showing the Bren Carrier in action gives a graphic impression of how adaptable it was and records the variety of equipment it could carry. The book is an excellent source for the modeller, providing details of available kits together with specially commissioned colour profiles which illustrate how the Bren Carriers used by different units and armies appeared.
Vintage Airfix Review:
As one of Airfix longest running kit. The Bren Carrier (with 6 Pounder Anti-Tank Gun) has been a favourite of modellers for many years. This book is an absolute must for the modeller to aid understanding and knowledge of the many variants of the Carrier.
British Aircraft of the Second World War
By John Frayn Turner
Description:
This unique book, now republished, was the first of its kind to be published on British aircraft of the Second World War. Aviation enthusiasts and aero-modellers can see British aircraft as they really were, through magnificently reproduced colour photographs. Each of the forty-nine types of aircraft is accompanied by a brief 'biography' together with tables of the most important marks and their specifications, engine, span, length, height, weight, crew number, maximum speed, service ceiling, normal range and armament. There is also a section on British aircraft in action, which includes accounts of outstanding exploits by the pilots of different types. John Frayn Turner, the well-known aviation author, has chosen the pictures and provided the text.
Vintage Airfix Review:
An absolute must for any aeronautic enthusiast or WWII historian. The amount of detail on a huge amount of aircraft of the era is outstanding and the way it's presented makes it the perfect base for further research on a specific aircraft.
All the images, both black and white and colour are of a superb quality. The section on British aircraft in action, including accounts of pilots exploits, is fascinating.
This is the kind of book that, as a boy, I would take with me everywhere and bore my parents with. I loved it.
By Lance Cole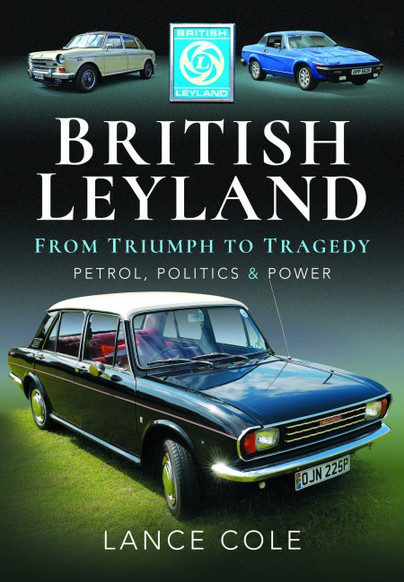 Description:
What really happened at British Leyland (BL)? Was it 'just' the cars, or were other factors vital to the story? Who really was to blame for BL and MG Rover's death?
The 'truth' about BL is deeper than its cars – were ultra- Left-wing plots to topple BL and British society real? Did secret deals and political intrigue really exist? Was it Labour or Conservative powers who 'killed' BL, or was it BL itself? How was it that BL's design genius was hobbled?
Author Lance Cole lifts the bonnet on BL and presents a forensic yet easy to read new analysis in a story of BL, its cars, and the era of their motoring as powers on the political Left and Right waged war, sometimes even with themselves.
Here is a book about cars and more, a conversation on all things BL: this is a new account of a classic British story told across a trail of evidence in a British industrial and political drama.
Many mistakes made BL, but some of the cars were superb, the designs of genius, the engineering excellent; it is just that we have either forgotten, or been brainwashed into believing the worst.
In a BL book like no other, written by a classic car fanatic with a background in industrial design, automotive, and wider journalism, this story lifts the lid on BL's cars and more. The author also adds inside knowledge from time working in the motor industry.
Lance Cole tells the deeper BL story across the era of its greatest successes and its biggest failures.
Vintage Airfix Review:
"Well I didn't know that!"… That's what I found myself saying a lot while reading this book. I and my father have owned many BL cars, and I remember all the strikes as I was growing up. But I didn't have any idea just how long BL had "issues" and the cause of them.
This book has a lot of political references, which I personally have no interest in. But that's all part of the BL story. So, it's very relevant for this book.
As an historical reference book of the largest British producer of cars in the history, and its ultimate downfall. This book is an absolute must.
British Steam Military Connections
By Keith Langston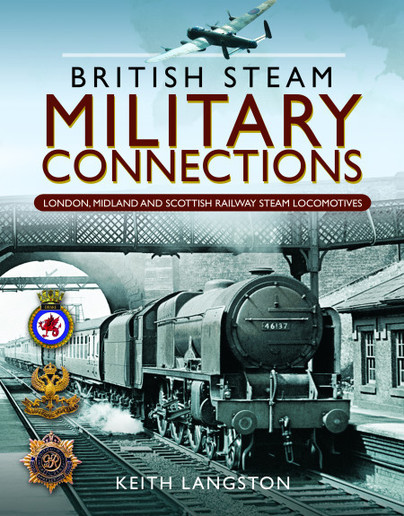 Description:
In Great Britain there existed a practice of naming steam railway locomotives. The names chosen covered many and varied subjects, however a large number of those represented direct links with military personnel, regiments, squadrons, naval vessels, aircraft, battles and associated historic events. Memorably the Southern Railway (SR) created a Battle of Britain class of Light Pacific locomotives, which were named in recognition of Battle of Britain squadrons, airfields, aircraft and personnel. The Great Western Railway (GWR) re-named some of its express passenger Castle Class engines after Second World War aircraft. Names were displayed in varying styles on both sides of the locomotives, additionally some nameplates were adorned with ornate crests and badges. Long after the demise of mainline steam, rescued nameplates are still much sort after collectors' items, which when offered for sale command high prices. This generously illustrated publication highlights the relevant steam locomotives at work and explains the origins of the military names.
Vintage Airfix Review:
This is a must for any railway modeller. Packed with great images and superbly written.
By Lance Cole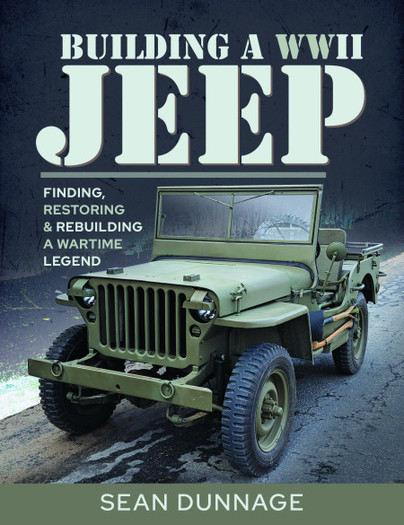 Description:
The Jeep as we know it from WW2 news reels, big screen movies and television shows such as M.A.S.H. or The Rat Patrol was the result of the US War Department's requirement for a light command-reconnaissance car to meet the US Army's needs under the threat of a looming European war. After only a few weeks of development the Jeep would end up in all of the Allied armies of the world courtesy of Bantam, Willys and Ford. Many of the Jeeps built during the war would go on to serve for over 60 years in various parts of the world in both military and civilian use.

This book is a basic guide to building a WW2 Jeep using restored, rebuilt and modern reproduction parts for those who have never done it before, just as I hadn't either. You'll find a clear step by step process used to build a truly historical vehicle. Combined with the other books and websites that will be noted in this volume as well as some basic auto mechanical knowledge on your part you should be able to have your own piece of Jeep history rolling in no time.
Vintage Airfix Review:
A great accompaniment to a Jeep rebuild. Or, if you're not rebuilding a Jeep it's fascinating and quite the eye opener. From a modellers perspective it really helps with some close up images of parts that you might have normally bothered about, including weathering ideas to add age to your model.
A greasy hand guide through the ups and downs of renovating an icon. A 'bumpy' read.
By Annette Carson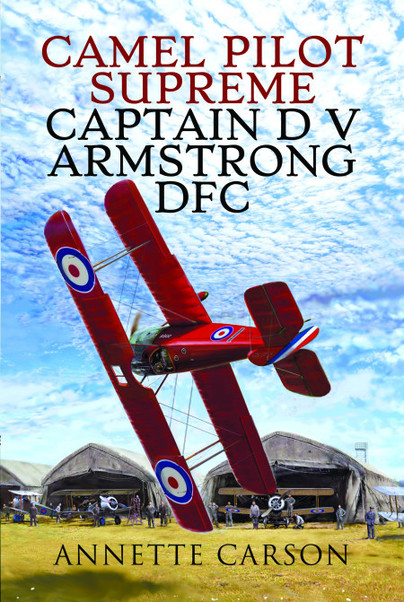 Description:
In aviation's pioneering days the best and bravest airmen pushed the boundaries of flight in all dimensions and attitudes. When aeroplanes went to war this exploratory art, now known as aerobatics, was called 'stunting' in breezy RFC slang. Initially forbidden as foolhardy, its importance for survival soon became paramount in the life and death mêlées of dogfighting.
But pilots still delighted in the joy and exuberance of aerobatting for its own sake, and they recognized a master of that very special skill in young D'Urban Victor Armstrong, whose displays were nothing short of electrifying. Fluid and dramatic, performed with flair at ultra-low level, his exhibitions left spectators shaking their heads in disbelief. Even a century later his feats – some illustrated here – continue to evoke astonishment in piloting circles.
Until this biography little was known about his wartime experiences, and even less about his South African background. His great value to the authorities lay in his superb handling of the Sopwith Camel, which upon its introduction had taken a heavy toll in fatal trainee accidents. While still on active service he was sent around the units providing vivid proof that, properly handled, the stubby little fighter delivered the key to combat success: unrivalled manoeuvrability. His resultant fame eclipsed his other distinguished role in pioneering night flying and night fighting, an equally vital skill he was also detailed to demonstrate around the squadrons.
In these pages you will find yourself in the cockpit of the F.1 Camel and become acquainted with its rotary engine. You will meet many leading names including Billy Bishop, Cecil Lewis, Norman Macmillan, Robert Smith Barry, and the harum-scarum Three Musketeers from War Birds. Armstrong takes his place alongside them as one of the legendary figures of the first great aerial war.
Vintage Airfix Review:
It includes well written descriptions of early aviation technology and practises as well as aerobatic manoeuvres. There is also a sensitive narrative throughout, interweaving accounts from DVAs fellow pilots and friends.
DVA was a very talented and likable person, and this come across marvellously in this book.
A very impressing memoir of a very impressive man.
By Lance Cole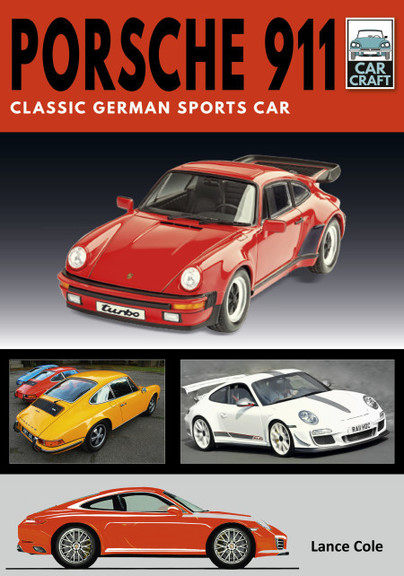 Description:
The aim of this innovative series is to provide modelmakers and car enthusiasts with a new standard of primarily visual reference of both full-size cars and their scale models. Each book contains detailed technical information imparted through drawings and photographs while the meticulously researched full-colour profiles provides a complete reference for paint schemes and markings. In addition, every volume of the CarCraft series features summaries of design histories and operational careers, and reviews of available kits.

Recognised as one of the most important sports cars in the history of the automobile, Porsche's 911 represents a vital story in the annals of the design and driving of the motor car. This new book delivers an innovative format to the car enthusiast by covering the engineering, design, and modelling of Porsche's 911 series.

A true icon, 911 is the designer legend – and a driving tool par excellence: the 911 stemmed from the Porsche 356 yet created a new era and a new international definition of style amid a global motor sport record of success across race and rally events

Here in CarCraft title Number Two, experienced automotive writer, industrial designer and Porsche enthusiast Lance Cole pays tribute to the car in a detailed yet engaging commentary. New photography, the design story, and full coverage of the modelling options in synthetic materials and die cast metals, create a narrative of vital interest.
Vintage Airfix Review:
Having been lucky to have raced a Porsche 911 Turbo round a track on a couple of occasions, I know first hand just how well a race ready 911 drives. But that was a long time ago.
Reading through this book from the Car Craft series brought back some great memories and the need for another 911 model kit. The ones mentioned in the book are THE best on the market, a couple are well out of my league.
Packed with technical information and written in Lance Cole's recognisable manner making this edition very enjoyable and, in my case, potentially expensive. "I need a Porsche in my life".
By Lance Cole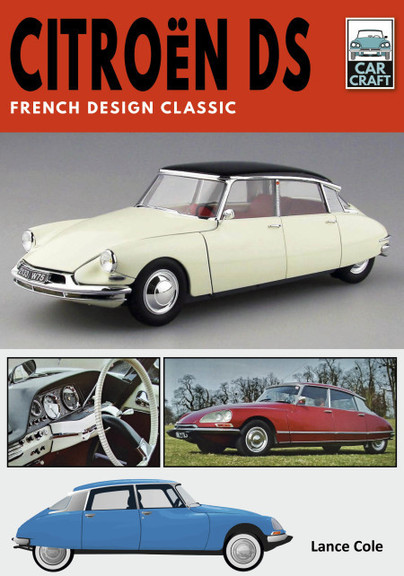 Description:
Launched in 1955 yet looking like a sci-fi design proposal for a future then undreamed of, Flaminio Bertoni's ellipsoid sculpture with wheels that was the Citroën DS stunned the world.
There was a near riot at the 1955 Paris Motor Show launch of the car, orders flooded in for this, the new 'big Citroën' (a Voiture a Grande Diffusion or VGD) as the car that replaced the legendary Traction Avant range.
The term 'DS' stems from two Citroën parts of nomenclature - the type of engine used as the 11D, (D) and the special hemispherical design of the cylinder head as 'Culasse Special' (S): DS out of 'Deesse' or Goddess, was a more popular myth of ' DS' origination, but an erroneous one.
But it was not just the car's aerodynamically advanced body shape (Cd. 0.37) that framed the genius of the DS: hydro pneumatic self-levelling suspension, advanced plastics and synthetics for the construction of the roof and dashboard/fascia, and amazing road holding and cabin comfort were some of this car's highlights.
Only the lack of an advanced new engine was deemed a missed opportunity. In fact Citroën had created a new engine for the car but lacked the resources to produce it in time for 1955.
DS was a major moment in the history of car design, one so advanced that it would take other auto manufacturers years to embrace. Yet DS in its 'aero' design was the precursor to today's low drag cars of curved form.
Manufactured worldwide, used by presidents, leaders, diplomats, farmers and many types of people, the DS redefined Citroën, its engineering and design language, and its brand, for decades to come.
Prone to rust, not the safest car in the world, and always lacking a smoother powerplant, the DS still became an icon of car design.
Reshaped with a new nose and faired-in headlamps in 1967, DS remained in production until 1975.
Across its life DS spawned an estate car variant as the 'Safari', a range of limousines, two-door convertibles, and even coach-built coupes and rally specials.
This car was a product design that became an article of social science - it was that famous and it defined a European design movement upon a global stage then packed with 'me too' copyist designs.
The DS or 'Goddess' as it was tagged, was a tear-drop shaped act of French confidence in a world of the regurgitation of the known. Some argue that DS and its effect has never been surpassed.
This new value-for-money book provides innovative access to the design, history, and modelling of the revolutionary DS - one of the true 'greats' of motoring history and, a contemporary classic car of huge popularity.

Vintage Airfix Review:
Lance Cole has, again, produced a fascinating book of a car that changed the world. This, the fourth title in the Car Craft series is an informative look at the history of the DS from its inception.
There aren't many kits of the DS available but there are some diecast models which are also looked at.
By Robert Griffin
Description:
During the 1980s and early 1990s the Challenger 1 main battle tank played a central role in Britain's armoured forces and it achieved remarkable success in combat, destroying around 300 Iraqi tanks in the Gulf War. With its advanced Chobham armour and hydropneumatic suspension system, it was one of the most sophisticated and effective armoured vehicles of the time and, in a modified form, it is still in service with the Jordanian army. It is also a popular subject with tank modellers and enthusiasts, which is why this volume in the TankCraft series is of such value.

Archive photos of the Challenger 1 in service and extensively researched colour profile illustrations depict the tank throughout its operational life. A large part of the book showcases available model kits and aftermarket products, complemented by a gallery of beautifully constructed and painted models in various scales. Technical details as well as modifications introduced during production and in the field are also examined and provide everything the modeller needs to recreate an accurate representation of the Challenger 1.
Vintage Airfix Review:
The Challenger tank is one that I can relate to having seen footage of them on the news having grown up in part of the cold war era. It was the tank that myself and my friends 'knew' and now, after reading this edition of the Tank Craft series, I fill I finally 'know' the Challenger. The detail in this book is brilliant, and as a modeller, is inspiring.
A great additions to your reference library.
By Robert Jackson
Description:
The British Chieftain – designed in the late 1950s as the replacement for the Centurion – was perhaps the best main battle tank in service with Nato during the 1960s and 1970s. Its 120mm rifled main gun and advanced armour made it one of the most formidable tanks of its time, and Robert Jackson's book is an authoritative introduction to it.
Although it was intended to fight Soviet armour on the plains of northern Germany, it was in the heat and sand of the Middle East that the Chieftain fought its major battles during the Iran–Iraq War of the 1980s, and it proved to be very effective during the Gulf War of 1991. Variants of the Chieftain were exported to Iran, Oman, India, Kenya and Nigeria, and its chassis was adapted to fulfil a variety of tasks, including armoured recovery and bridge-laying
As well as tracing the history of the Chieftain, Robert Jackson's work provides an excellent source of reference for the modeller, providing details of available kits and photographs of award-winning models, together with artworks showing the colour schemes applied to these tanks. Each section of the book is supported by a wealth of archive photographs.
Vintage Airfix Review:
So much history and detail in so little pages… Military modellers will love this book. If you've built a Chieftain kit before, you'll love the extra knowledge you're gain and will want to build another. If you haven't built a Chieftain kit before, you'll have ideas, examples and the information you're need to build a superb model of a superb machine.
By Lance Cole
Description:
In a classic car photography book packed with an eclectic mix of automotive images, Lance Cole (author of the Classic Car Adventure) presents a stunning collection of photographs of old cars of all marques and types captured in many locations. Across Allards to Bugattis, Citroëns DKWs, Porsches, Saabs, Triumphs, Voisins, VWs, and a pot-pourri of well-known classics, the author has journeyed far and wide to create a wonderful diary of classic car moments amid the great enthusiasm for nostalgia on wheels. A mix of cars, people, portraits, action and atmosphere all blend in to a colourful journey across the classic car world in a diverse blend of marques and eras.

250 colour and black and white images populate an odyssey across a landscape of cars in an interesting format that pitches multi-million pound cars alongside more humble names. Seen on the move and static, Lance Cole's photographs capture the essence of metal sculpture, light falling upon paint and form, and the design hallmarks of old cars prior to the age of digital design authoritarianism when so many cars look similar.

If you love old metal, patina, paint, leather, and enthusiasm, all captured across vintage, veteran, classic and modern classic metal, then the Classic Car Gallery is a rare memento of the cars of yesteryear seen in the celebration of their today.
Vintage Airfix Review:
A classic car enthusiasts' book of dreams. A cover-to-cover romp through some mouth-watering images of vehicle of yesteryear.
By Lance Cole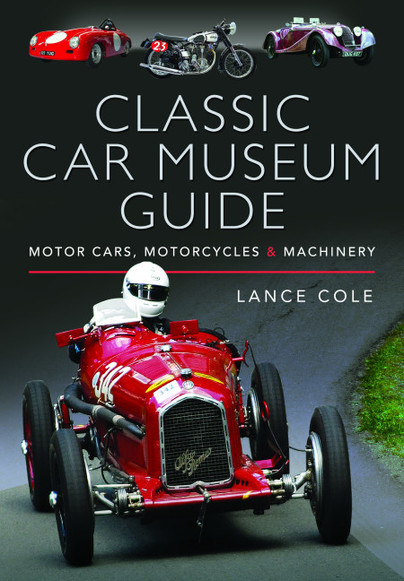 Description:
A new, comprehensive guide to motoring and transport museums offering a fresh conversation on their role and the portrayal of our motoring history.
Written by a long-established motoring writer with wide experience of driving and the fettling of old cars all over the world.
This new motor museum companion includes: British motoring and transport museums guide via descriptions and photographs. 90 British museums described.
Comprehensive world motor museum listing: over 350 global museums cited. Out-takes from visits to selected overseas museums. Provides a glossary of old-car/motorcycle terms and types to assist the museum visitor and old car enthusiast. Discusses the museum culture and its new age.
Visits to many museums by the author were self-funded: he paid his own way.
Vintage Airfix Review:
The perfect companion for a petrol heads road trip. Find a car museum in this lovely guide, and you'll have a very good idea of what you're going to see. There's also some great general advice to make the most of a visit to any museum.
By Anthony Poulton-Smith
Description:
Throughout our islands' history we find tales of thieves, smugglers, thugs and murderers. Books have been written retelling tales of bandits, footpads, highwaymen, et al, attacking the lone traveller, the horseman, the coachman, shipping line, locomotive engineer, lorry or van driver and even pilot. Yet for almost two centuries the majority of goods travelled on Britain's famed canal network. This also attracted felons of all kinds and yet many of these tales had been ignored, until now.
Within these pages all manner of crimes are covered. From murders to muggings, parental problems to pilfering, arson, assault, smugglers, counterfeiters and even road rage (albeit canal-style). But it is not all morbidity and misery, humour also plays a significant part in these tales. Why would a hungry man steal the inedible? Follow the policeman on foot chasing down a thief on board the narrowboat. Discover what really lies beneath the waters of the canal. Learn about canal etiquette, the hardships, the kindness and the cruelty.
From an author whose fascination with etymology has produced many books on origins of place names, leading to an interest in the historical modes of travel across our islands, this book is the latest to follow old routes and those found along them.
Vintage Airfix Review:
I thoroughly enjoyed reading through this book, especially as some of the crimes occurred on parts of the canal system that I know. It really brought history to live for me.
The book is well written and organised chronologically. It has accounts from witnesses and trials and where applicable, the sentences given.
If you have even the slightest interest in reading accounts of true crimes you will love this little book and I'm sure there will be a crime in here that happened near you.
By Martin Bowman
Description:
On 18 December 1935 when the first flight of the Douglas DC-3 took place, few could have imagined that it would become one of the world's most celebrated aircraft of all time, not just as a commercial airliner but also as the C-47 military transport. When production ceased in the summer of 1945, a total of 10,926 had been built.
This wonderfully versatile aircraft played a significant part in airborne operations around the world; but perhaps its most notable employment occurred during the June 1944 Normandy campaign. This important episode within the wider history of 'D-Day' is enlivened here in classic fashion by Martin Bowman, in a narrative that features both extensive historical notes as well as deeply personal accounts of endurance and individual gallantry.
This amplified account of events as they unfolded in the skies above France on D-Day (5/6 and 6/7 June, 1944) reveals the invaluable contribution these workhorses of World War II made to the overall success in Normandy. It follows the author's comprehensive five part work published by Pen & Sword (Air War D-Day) that included a multitude of personal military accounts from both Allied and German personnel who took part in Operation 'Overlord' and the Normandy campaign.
Vintage Airfix Review:
The Airfix Dakota kits, in its various incarnations, has always been a favourite. This beautiful aircraft has been a workhorse for many years and there are still some in civil service now and there's always a Dakota at most air shows.
In WWII it really came into its own and Martin Bowman has superbly documented it's role, in fantastic detail.
This book is highly recommended, and I would suggest getting this book and an Airfix kit together. Reading this book will bring a new dimension to your creativity and appreciation of one of the best aircrafts to ever be built.
Early French Aviation, 1905-1930
By Graham Simons
Description:
France has been called the cradle of aviation by many – a fact that cannot be disputed, although some have tried. By the end of the 19th century, she led the world in lighter-than-air flight. Any concern about heavier-than-air flight was dismissed as inevitable, and France would achieve it in due course. By the time Blériot bravely enquired 'Which way is England?' the country was ready to redress any perceived shortfall. Besides leading European aviation, France was the nation that named all the parts of an aeroplane with words many of which we still use everywhere today.
France was also the first nation to stage air exhibitions. Unlike their counterparts in Britain, Germany and America, French designers were thoroughly entrepreneurial and tried a wide variety of adventurous styles from pusher to canard and monoplane to multiplane. In 1909 the first Air Show was held at the Grand Palais. The 'Exposition Internationale de locomotion aérienne' ushered in what was to become an enduring tradition. Every year, the aircraft exhibitions were a massive success. The interior design by André Granet, who since his youth had been fascinated by flying, was such a success that the Automobile-Club subsequently commissioned Granet to do the same for the car shows.
It is not surprising that all this derring-do, all these technological achievements and all this innovation drew reporters and photographers like moths to a flame. The men, the machines, the places and the events all were recorded, reported, reproduced and then were filed away. Hundreds of images appeared in print, but thousands were printed up only as contact prints from large-format glass negatives and then disappeared into albums to be forgotten about. In the mid-1990s the author came across one such treasure-trove; a number of dust-covered albums containing around five hundred images of aircraft, airships and expositions – it is doubtful if most have appeared in print before, so this will probably be the first time the events of these French pioneers have ever been showcased.
Vintage Airfix Review:
An incredible book, full of never-before-seen images of some beautiful and long forgotten aircraft. Some of which were influential to other, more famous, producers of early aircraft.
Along with the images are very well written and informative captions which make this addition to the Images of Aviation series an absolute must have for any early aviation enthusiast.
By Leo Marriott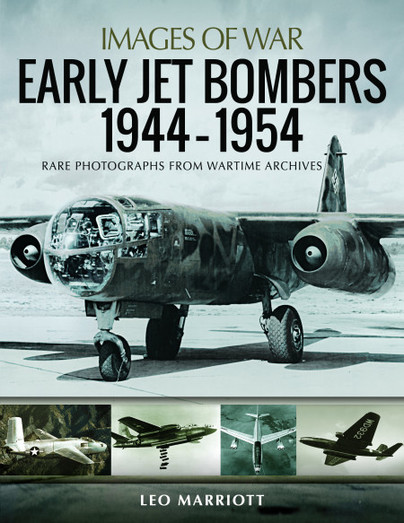 Description:
In a companion volume to his Early Jet Fighters: British and American 1944-1954, Leo Marriott describes, using over 200 archive photographs, the first decade in the development of the jet bomber. This was a time of intense technical innovation which transformed the design and capabilities of the bomber and gave birth to a range of classic military aircraft in the USA, Great Britain, France and the Soviet Union. The photographs take the story from the earliest jet bombers constructed in Germany towards the end of the Second World War to the successful designs both sides depended on through the first phase of the Cold War.

The pace of development was rapid and remarkable, from initial prototypes built in Germany – the Arado 234 and the Junkers Ju. 287 – to the fleets of advanced jet bombers like the British Canberra and V-bombers, the American B-47 and B-52 and the Soviet Il-28 Beagle and Tu-16 Badger. The images of the prototypes give a fascinating insight into the extraordinary technical challenges and the ambition and inventiveness of the designers and manufacturers who overcame them.

Leo Marriott's vivid selection of photographs and his lucid historical narrative offer the reader an overview of a dynamic stage in the evolution of the design of military aircraft.
Vintage Airfix Review:
A brilliant reference for early jet bomber modellers. Although the images are in black and white, they are still very useful and fascinating. Same of the Russian bombers are enlightening and the French one's… intriguing.
There are the usual subjects from Germany, Britain and USA and the information given along with the rare images are excellent.
Another beautiful edition to the Images of War series.