The Other Side Of Airfix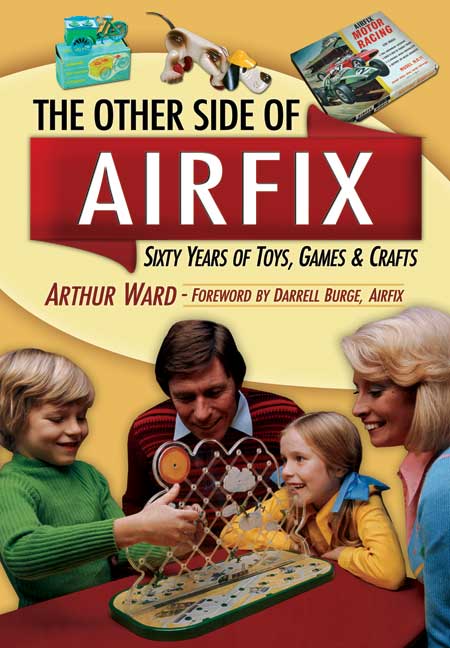 By Arthur Ward
Airfix is synonymous with plastic model kits. The brand name has virtually become a noun, occupying a special place in that lexicon of trade names alongside Hoover, Sellotape, Perspex and Aqua-Lung.
Throughout the war years Airfix survived on government contracts for a whole range of plastic items and by virtue of Kove's tenancious apetitie for business and doing a deal. By the war's end Airfix was the market leader in plastic injection moulded combs in Britain.
By the time Airfix had released its first proper construction kit, a tiny model of Drake's flagship Golden Hind, in 1952, the firm was well established as a leading toy brand. Indeed throughout the 1950s, 60s and 70s Airfix invested heavily in developing new toys or manufacturing them under license for large US toy companies such as Hasbro.
Very soon Airfix extended its activities beyond toys into games and arts and crafts and in short time famous names.
Indeed so successful was Airfix at diversifying that by the 1970s the company had grown to such an extent that it had acquired other famous toy brands including Dinky Toys, Tri-ang, Meccano, and Romper Room. With its subsidiary Crayonne Airfix even harnessed the design talents of the then Terence Conranne in attempt to elevate plastic products to the rarified atmosphere of designer chic.
So there's a lot more to Airfix than many might think and this book is the first attempt to document the myriad successful lines, outside of plastic kits, which contributed to the company's dramatic growth before a combination of factors forced it into brief liquidation in 1981. Written by someone with a lifetime's fascination for Airfix and who has written other books about the better known construction kit side of the business, The Other Airfix is a nostalgic trip down memory lane.