FOCKE-WULF Fw 200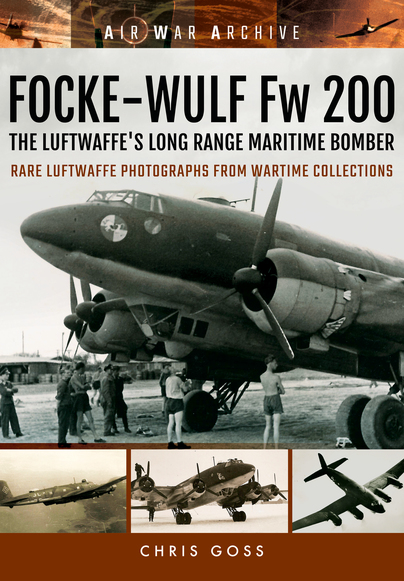 By Chris Goss
Originally built as an airliner that could carry passengers across the Atlantic for Deutsche Lufthansa, the Focke-Wulf Fw 200 Condor developed into the Luftwaffe's principal long-range maritime reconnaissance aircraft. It was used in the North Sea and in the Atlantic, searching for Allied convoys and warships, passing on information to waiting U-boats.
The Fw 200 was also capable of carrying a bomb load of up to 2,000kg, and it was claimed that Condors sank more than 300,000 tons of Allied shipping. By September 1940, one unit, KG 40 based at Bordeaux-Mèrignac in Occupied France, had sunk over 90,000 tons of Allied shipping. For the next three years the C-series Condors were described by Winston Churchill as 'the scourge of the Atlantic', eventually being overcome by the introduction of long-range Coastal Command aircraft, escort carriers and the deployment of Catapult-Armed Merchantman vessels.
The Fw 200 also used as a troop transport, capable of carrying thirty fully-armed soldiers. one Fw 200 was even converted into a luxury, two-cabin airliner for use as Hitler's personal aeroplane.
In this selection of unrivalled images collected over many years, and now part of Frontline's new War in the Air series, the operations of this famous aircraft are portrayed and brought to life through the first-hand accounts of the pilots who flew them and those that fought against them.
Vintage Airfix Review:
With more images than pages you'll find this archive invaluable for the preparation of a Focke-Wulf Fw 200 build.
For a Luftwaffe historian, or indeed any historian, the detailed research by the author makes this book a great addition to any library.
As with all the titles in the Air War Archive series it's a joy to thumb through time and again.
I highly recommended series of books.