All these titles are available to purchase from Pen and Sword.
Contents:
-
A Trenchard Brat at War
- By Stuart Burbridge, Thomas Lancashire..
-
Battle of Britain Memorial Flight
- By Jarrod Cotter..
-
Bomb Aimer Over Berlin
- By Peter Jacobs..
-
Bomber Offensive
- By Arthur Harris..
-
Breaking the Dams
- By Charles Foster..
-
Flight Craft: Avro Lancaster 1945-1965
- By Martin Derry, Neil Robinson..
-
Last of the Lancasters
- By Martin Bowman..
-
Legacy of the Lancasters
- By Martin Bowman..
-
Luck of a Lancaster
- By Gordon Thorburn..
-
More Luck of a Lancaster
- By Gordon Thorburn..
-
No.7 Bomber Squadron RAF in World War II
- By Tom Docherty..
-
Return Flights - In War and Peace
- By Squadron Leader John Rowland..
-
The Fly by Nights
- By Donald W Feesey..
-
Veteran Lancs
- By Norman Franks..
---
Result Pages: 1 Displaying 1 to 14 (of 14 Books)
By Stuart Burbridge, Thomas Lancashire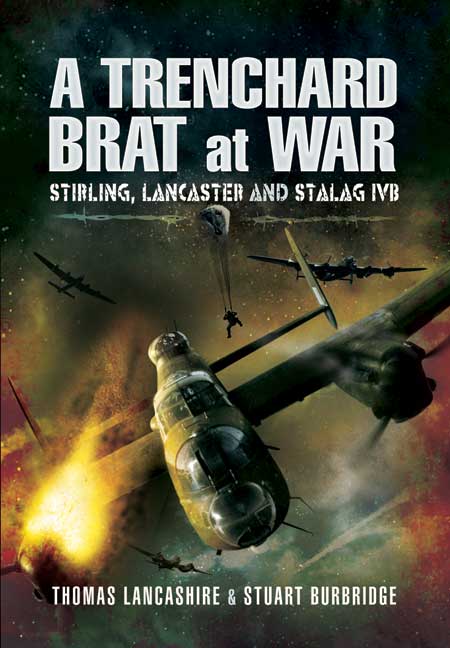 Description:
This is the story of Thomas Lancashire who joined the RAF in 1936 and became one of the famous 'Trenchard Brats' at RAF Halton to be educated and learn the trade of fitter. He was first posted to 7 Squadron in 1939, at that time flying Whitley bombers but decided to advance himself to become a flight engineer on the new Stirling heavy bomber. He was posted to 15 Squadron at Wyton and completed a full tour that included the famous Lübeck raid, the Thousand Bomber assault on Cologne and the follow up on Essen during which he was almost shot down over Antwerp. In July 1942 he was rested and became an instructor until being posted to 97 Squadron flying Lancasters. On his ninth raid of this tour, 11 August 1943, the aircraft was attacked by a night fighter over Belgium but he successfully baled out and was eventually picked up by the Resistance and handed to an escape line.
Eventually the group of evaders was betrayed by a German agent and placed in captivity, ending up in Stalag Luft IV at Mühlberg. During this time he escaped but was eventually recaptured and he was forced to share the growing despair and hardships in late 1944, enduring overcrowding, hunger and cold, until the Russian Army liberated the camp and he was airlifted back to the UK.
His post-war career took him to Canada where he was employed on the Avro Arrow project until it was abandoned and he was forced to seek work in the USA. He worked with Boeing until his retirement .
Vintage Airfix Review:
No review currently available.
Battle of Britain Memorial Flight
By Jarrod Cotter
Description:
The history of the Flight began with the formation of the Historic Aircraft Flight in July 1957 which was to become The Battle of Britain Memorial Flight. Countless displays and fly-pasts have enthralled audiences and enthusiasts all over Britain and in many parts of Europe, when the traditional Avro Lancaster, Spitfire and Hurricane can be seen in their wartime colours. This book is written with the wholehearted support of the Flight's Commanding Officer and the author has access to archive material. The book includes a Foreword from the OC BBMF, a complete history of the unit, chapters on each of the types operated, including the DC-3 Dakota and de Havilland Chipmunk and present-day operations. Photos include superb images from the BBMF archives, the author's collection that includes historic black and white shots from the early days, air-to-air colour, personalities and behind-the-scenes images.
This will be the ultimate souvenir of the celebration of the BBMF's 50th Anniversary
Vintage Airfix Review:
No review currently available.
By Peter Jacobs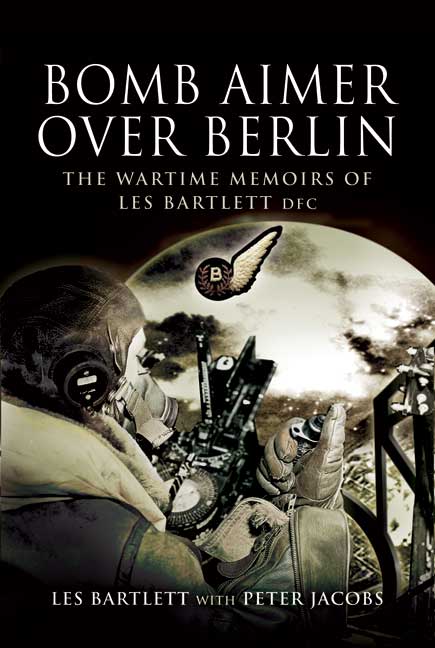 Description:
Les Bartlett has become one of the great characters of World War II history. He flew as bomb aimer with the then Flying Officer Michael Beetham, who later became Marshal of the Royal Air Force. At that time he was a sergeant but gained his commission in April 1944 and flew his tour, including 27 raids over Germany and France between November 1943 and May 1944. On his second operation his aircraft was attacked by a Ju 88, leaving it with no flaps or brakes - a crash landing at Wittering ensued. At the end of his third mission they found the whole of Lincolnshire fogbound and eventually landed at RAF Melbourne in Yorkshire just before that airfield was closed also because of the fog. His aircraft was hit in the wing by a 30lb incendiary bomb dropped by another Lancaster flying above them on his sixth operation - but they survived. On his twelfth operation to Leipzig he used the nose guns to destroy a Ju 88 night fighter, for which he was awarded the DFM. In February 1944 the port outer engine caught fire and the crew baled out. Les was then posted as Assistant Adjutant to RAF Thornaby.
Vintage Airfix Review:
No review currently available.
By Arthur Harris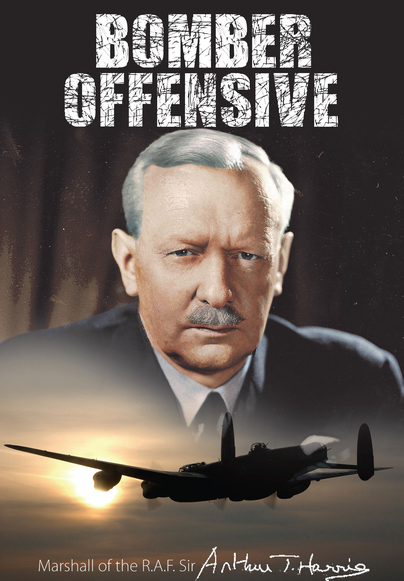 Description:
In February 1942 Arthur Harris was given the job of taking the war to the enemy at a time when Britain was still on the defensive. When he took over Bomber Command it possessed only sixty-nine heavy bombers and his force was incapable of undertaking any major operations, yet by May 1943 Harris was able to mount the first of many 1,000-bomber raids.
Though none can doubt that Harris turned Bomber Command into a fearsome weapon, the tactics employed and its effectiveness, however, continue to be debated. From the outset Harris was instructed to 'focus attacks on the morale of the enemy civil population and in particular the industrial workers'. This 'Area' bombing was a shift from targeted raids upon military installations and industrial plants to attacking German civilians and the country's infrastructure. The result of these concentrated attacks on German centres of population led to enormous loss of life and the destruction of many beautiful cities.
Harris deals with all the key subjects in his autobiography in the straightforward fashion he dealt with his mission with Bomber Command – holding nothing back to achieve his objective.
Vintage Airfix Review:
No review currently available.
By Charles Foster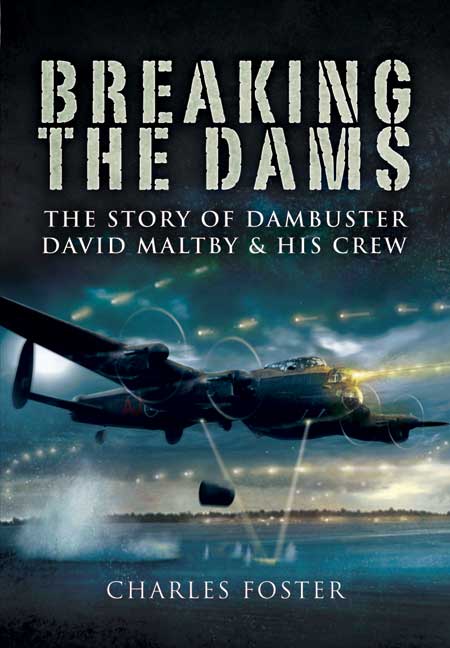 Description:
This is the story of the author's uncle, David Maltby and the crew with whom he flew on the famous Dam Raid in 1943. Just five months later, on their return from an aborted mission to bomb the Dortmund Ems Canal, they all died when their aircraft went down in the North Sea. Only David's body was recovered, washed ashore a day later, and identified by his 18 year old sister - the author's mother. David was the pilot of the fifth Lancaster, J-Johnny' to drop a bomb on the Mohne Dam and cause the final breach in the dam. He was then just 23 years of age, but already had 30 operations and a DFC to his name. This book tells the story of the crew, what made them join the RAF when they new the risk was so high, how fate threw them together, what it was like for one crew to take part in the raid and what happened to them in the five months between Operation Chastise and their deaths.
It goes beyond the raid to look at what happened afterwards and how the families left behind were affected. Their sons, brothers and fathers might have become famous but they had to cope with life and loss in the same way as did thousands of other British families.
Vintage Airfix Review:
No review currently available.
Flight Craft: Avro Lancaster 1945-1965
By Martin Derry, Neil Robinson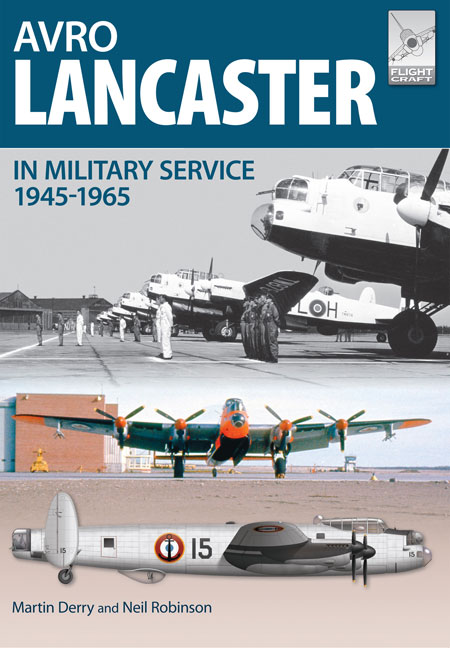 Description:
The Avro Lancaster, such a stalwart of the skies during the Second World War, also enjoyed an interesting and surprisingly colourful post-war career. It is this era that the authors have chosen to focus on by profiling the type across its many variants.
Split into three primary sections, this book offers a concise yet informative history of the Lancaster's post-war operational career (from 1945-1965) charting the course of the various alterations and improvements that occurred during this time and including a selection of contemporary photographs with detailed captions. A 16-page section features 32 colour illustrations (in profiles, 2-views and 4-views) specially prepared by Mark Gauntlett. The book's final section provides a list and box top illustrations of the plastic model kits produced of the Lancaster in all scales plus reviews and 'how to' construction notes on building a selection of kits in 1/144, 1/72 and 1/48 scales.
As with the other books in the Flight Craft series, whilst published primarily with the scale aircraft modeller in mind, it is hoped that those readers who might perhaps describe themselves as 'occasional' modellers - if indeed they model at all - may also find that this colourful and informative work offers something to provoke their interests too.
Vintage Airfix Review:
No review currently available.
By Martin Bowman
Description:
'The Lancasters looked like enormous deadly black birds going off into the night; somehow they looked different when they came back. The planes carried from this field 117,000 pounds of high explosives and the crews flew all night to drop the load as ordered. Now the trains would not run between France and Italy for a while, not on those bombed tracks anyhow. Here are the men who did it, with mussed hair and weary faces, dirty sweaters under their flying suits, sleep-bright eyes, making humble comradely little jokes and eating their saved-up chocolate bars' – Martha Gellhorn
This riveting and highly intriguing collection of pilot and civilian reminiscences works to commemorate the spirit of the almighty Lancaster bomber. Each chapter is dedicated to a unique individual or group of individuals who took part in its history in some capacity. Be they pilot, civilian, or journalist, each played their own part and their accounts offer a host of fascinating insights.
Episodes featured include the battle for Munich and the Nuremburg and Berlin Raids. Stories of PoWs downed in their Lancasters and captured in enemy territory also feature, communicating a real sense of peril experienced behind enemy lines. Two sections of fascinating black and white photographs supplement and complete this trawl through the history of the Lancaster bomber and the men and women who witnessed its glory days.
Vintage Airfix Review:
No review currently available.
By Martin Bowman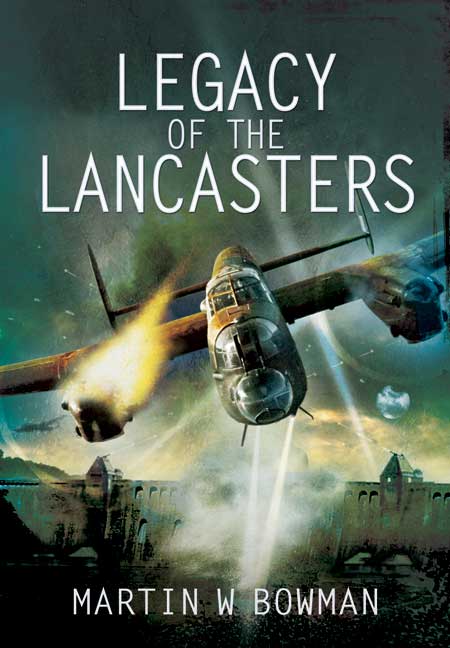 Description:
Young or old, everyone has heard of the Lancaster bomber. Such is the legacy handed down by this aviation icon that although it is not the most numerous aircraft ever built - two are still flying today, one in Britain and another in Canada with many proudly displayed in museums throughout the world - it is up there with the Spitfire and the Flying Fortress in terms of affection, nostalgia and lasting fame.
The legendary Lancaster has bequeathed to the world an invaluable heritage beloved of generations of movie-goers, air show enthusiasts, readers of fine literature and historians alike. Exploits such as the famous low-level raid by 617 Squadron on Germany's hydro electric dams on the night of 16/17 May 1943, the nightly raids on Germany and the sinking of the Tirpitz in 1945 are all without equal.
At the 50th anniversary of the raid in 1993 more than 70,000 people thronged Derwent Water to watch the BBMF Lancaster roar over the same dam that 617 practiced on shortly before the raid on 16/17 May 1943. As we approach the 70th Anniversary of the raid, such scenes will no doubt play out once again. It seems timely therefore that such a history should be recorded, charting the course of the Lancaster's career in the skies and the legacy it continues to provide for new generations of aviation enthusiasts and pilots.
The text is supplemented throughout by an exciting selection of black and white images that work to evoke a real sense of the scale and majesty of this iconic aircraft. An additional colour plate section boasts a captivating range of shots, showing the aircraft in full glory.
Vintage Airfix Review:
No review currently available.
By Gordon Thorburn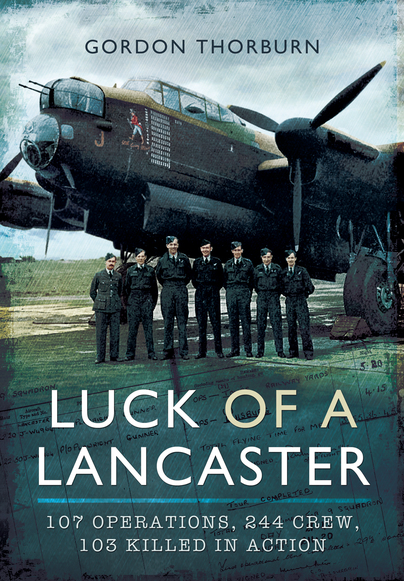 Description:
No 9 Squadron of Bomber Command converted from the Wellington to the Lancaster in August 1942. W4964 was the seventieth Lanc to arrive on squadron, in mid April 1943. She flew her first op on the 20th, by which time No 9 had lost forty one of their Lancs to enemy action and another five had been transferred to other squadrons and lost by them. A further thirteen of the seventy would soon be lost by No 9. All of the remaining eleven would be damaged, repaired, transferred to other squadrons or training units, and lost to enemy action or crashes except for three which, in some kind of retirement, would last long enough to be scrapped after the war.
Only one of the seventy achieved a century of ops or anything like it: W4964 WS-J.
Across all squadrons and all the war, the average life of a Lancaster was 22.75 sorties, but rather less for the front-line squadrons going to Germany three and four times a week in 1943 and '44, which was when W4964 was flying her 107 sorties, all with No 9 Squadron and all from RAF Bardney. The first was Stettin (Szczecin in modern Poland), and thereafter she went wherever 9 Squadron went, to Berlin, the Ruhr, and most of the big ops of the time such as Peenemünde and Hamburg. She was given a special character as J-Johnny Walker, 'still going strong' and on September 15 1944, skippered by Flight Lieutenant James Douglas Melrose, her Tallboy special bomb was the only one to hit the battleship Tirpitz.
During her career, well over two hundred airmen flew in J. None were killed while doing so, but ninety-six of them died in other aircraft. This is their story, and the story of one lucky Lancaster.
Vintage Airfix Review:
No review currently available.
By Gordon Thorburn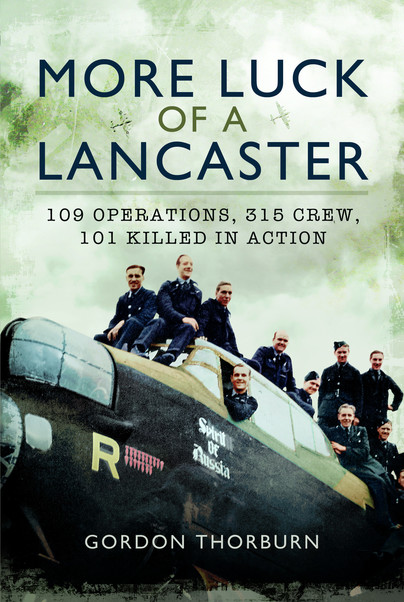 Description:
From 11 June 1943 (the date of Lancaster Mark III EE136 WS/R's first op) to her last with 9 Squadron (on 19 October 1944), eighty-six Lancasters were assigned to Number 9. Of these, fifty were lost to enemy action, another five crashed at home, three crashed in Russia on the first Tirpitz raid and four were transferred to other squadrons only to be lost by them, leaving just twenty-four still flying.
As more came in, three of those twenty-four were transferred to a new squadron, the reforming No 189. These were EE136 (93 operations), PB146 (36 ops), and LM745 (four ops). All three saw the war out, unlike so many others. During 189 Squadron's operational period featuring EE136 (1 November 1944 to 3 February 1945) thirty-four Lancasters came on the strength of which nine were lost in that time. Over the operational lifetime of Lancaster EE136, forty-two different skippers took her on her grand total of 109 trips. Altogether, 315 men flew on ops in this machine, many of them more than once - the most 'capped' captain, F/O Roy Lake, twenty-two times - and of those men, 101 were killed in other aircraft.
Those are the statistics. But this is the story of the men behind the numbers.
Vintage Airfix Review:
No review currently available.
No.7 Bomber Squadron RAF in World War II
By Tom Docherty
Description:
This is the story of one of the RAF's oldest and most distinguished heavy bomber squadrons in WW2, although an outline history of the unit since it was formed in WW1 and its post-war history are included. It was the first operational Stirling Squadron, the RAF's first four engine heavy bomber, and flew the first long-distance raids into the heart of Nazi Germany. This new aircraft was a break-through in terms of range and bomb load but it was also an aircraft that suffered from many teething problems. Long-distance navigation was also a black art before the introduction of radio navigation systems and the squadron suffered many fatalities in those early wartime years. Having gained expertise in their task the unit was the first to be equipped with the H2S navigational aid and eventually became one of the original elite Pathfinder squadrons. When the Lancaster came into service the Squadron re-equipped and joined 8 Group and had the dubious reputation of suffering the third greatest loss of aircraft in Bomber Command. It did however participate in more Lancaster raids than any other 8 Group squadron.
Vintage Airfix Review:
No review currently available.
Return Flights - In War and Peace
By Squadron Leader John Rowland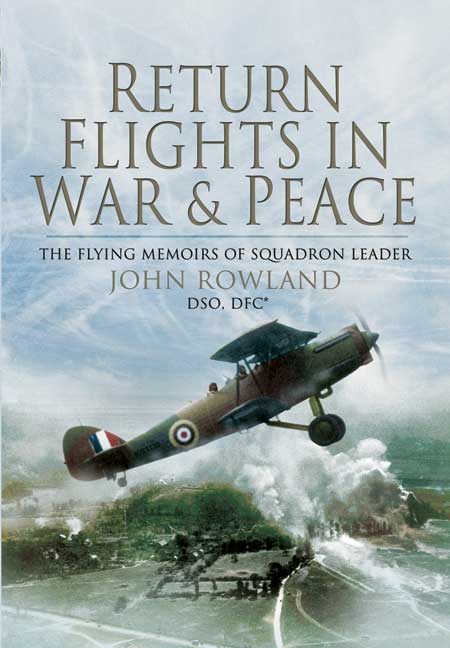 Description:
John Rowland made his first flight with the RAF Volunteer Reserve on 1 October 1938 from Redhill in a DH60 Moth. He won a Prize Cadetship to the RAF College Cranwell and then posted to the School of Army Cooperation. He volunteered for 613 Squadron which had been formed shortly before the war started. It was still not fully equipped with Lysanders and half of its planes were still elderly Hectors. On 25 May 1940 came the news that six Hectors were to be sent off on a ground strafing operation to relieve the pressure on the garrison of Calais which was blocking the Germans from advancing up the coast towards Dunkirk and encircled by German troops Three Hectors flew on each side of Calais and created as much of a diversion as they could by dropping bombs and firing their guns at anything they could see. This was the only occasions on which such obsolete aircraft was used in Europe in WW2.
He converted to heavy bombers and was posted to 12 Squadron at Wickenby flying Lancasters in June 1943. On 3 July he made his first trip to Germany, to Gelsenkirchen. After he had flown 28 operations he was promoted to Squadron Leader as a Flight Commander at 1656 HCU at Lindholme. He was next posted to 625 Squadron as a flight Commander on 12 May 1944. It was a two flight Lancaster Squadron. The last of his 50 bomber operations was to Calais, the town to which he made his first operational flight in the Hector in 1940.
After the war John flew as an airline pilot with BOAC.
Vintage Airfix Review:
No review currently available.
By Donald W Feesey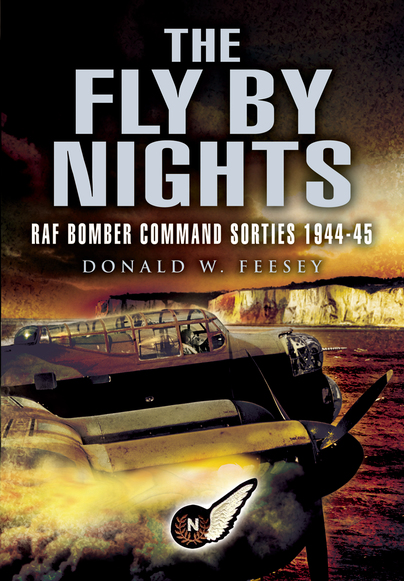 Description:
At the age of eighteen Don Feesey volunteered for pilot training with the RAF. Having almost completed his course to become a fighter pilot, an eye problem was detected and he was switched to navigational training. He completed a tour of thirty-four successful operations, the majority at night during 1944 and 1945 – at the height of the bomber offensive. On one remarkable sortie his Lancaster lost all power and the order to bale out was given. As the aircraft gradually lost altitude, making a safe parachute descent more impossible by the second, Don was about to jump when the pilot, still at the controls, attracted his attention. It was a life or death situation. Should he jump or go to the assistance of his pilot, leading to an almost certain death? He elected to go to the aid of what he thought was his trapped pilot – but to his astonishment he found that the skipper had nursed one engine back into life, so the only two remaining crew managed to struggle back across the Channel, only to find that at 700feet they could not climb over the usually welcome white cliffs of Dover. They turned for Manston, the nearest airfield and flew along the coastline to make an eventual safe landing. There, the intelligence officer had imagined they had arrived in a Mosquito and he took some convincing to believe their story. This book includes many fascinating insights into the workings of wartime service within the RAF as an NCO aircrew. Also the pointless time-wasting of officialdom in a wartime situation. No holds barred!
Vintage Airfix Review:
No review currently available.
By Norman Franks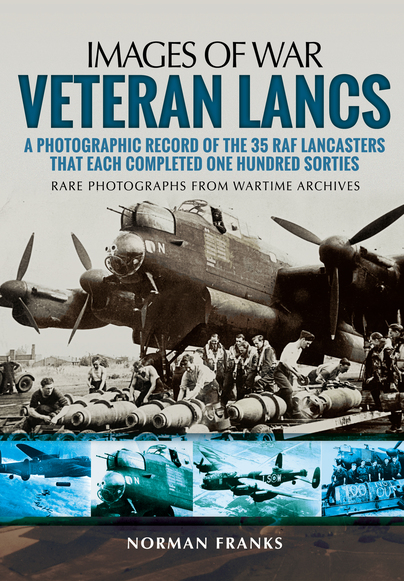 Description:
Aviation historians will know that the Avro Lancaster bomber is the most famous aircraft to have fought with RAF Bomber Command during World War Two. They will know too that, of the 7,366 that were built, over 3,400 were lost on operations and a further 200 plus were destroyed and written-off in crashes. Operational sorties flown totalled more than 156,000, carrying over 600,000 tons of bombs to targets all over Europe.
But this came at a terrible cost. With extensive losses on some night operations, occurring when bombers were pitted against a dedicated German night-fighter arm (as well as anti-aircraft fire) it is not surprising, or even incredible, that just 35 Lancasters managed to complete 100 or more sorties during the course of the war. A number of them actually achieved well over one hundred sorties, and a few were tragically lost after reaching this amazing figure.
This book covers the history of these 35 incredible Lancasters, featuring many photographs of both aircraft and crew members drawn together in an effort to create a photographic record of these veterans. In addition, there is a section dedicated to many Lancasters that, whilst not achieving this almost magic total, either through eventual loss or the ending of the war, did achieve a large number of operations. Pictures of these have been added so that their achievements, as well as the achievements of the crews who flew in them, can be viewed together.
Vintage Airfix Review:
No review currently available.
Result Pages: 1 Displaying 1 to 14 (of 14 Books)