All these titles are available to purchase from Pen and Sword.
Contents:
-
Air War D-Day: The Build Up
- By Martin Bowman..
-
Air War D-Day: Winged Pegasus and The Rangers
- By Martin Bowman..
-
Air war in East Africa 1940-1941
- By Diane Canwell, Jon Sutherland..
-
Air War Malta
- By Diane Canwell, Jon Sutherland..
-
Air War Normandy
- By Richard Townshend Bickers..
-
Air War Over Europe 1939 - 1945
- By Chaz Bowyer..
-
Air War Over the Atlantic
- By Manfred Griehl..
-
Airfields of the D-Day Invasion Air Force
- By Peter Jacobs..
-
Airmen Behind the Medals
- By Air Commodore Graham Pitchfork..
-
Airmen of Arnhem
- By Martin Bowman..
-
Allied Bombing Raids: Hitting Back at the Heart of Germany
- By Philip Kaplan..
-
Allied Special Forces Insignia
- By Peter Taylor..
-
Alone I Fly
- By Bill Bailey, Ronnie Green..
-
American Eagles
- By Tony Holmes..
-
An Eagle's Odyssey
- By By Johannes Kaufmann, Foreword by Richard Overy, Translated by John Weal ..
---
By Martin Bowman
Description:
This is the first volume of a most impressive tribute and comprehensive five part work that includes a multitude of personal military and civilian accounts of every aspect of air, land, paratroop and seaborne operations on D-Day, 6th June. At fifteen minutes after midnight on 6 June 1944 'Operation Overlord', the Allied invasion of Hitler's Festung Europe, became reality. Almost exactly four years earlier the British Expeditionary Force had been forced to retreat to Dunkirk in the face of the German Blitzkrieg. D-Day was the climax of almost two years' planning. Had it not been for stormy weather in the Channel area, June 5 would have gone down in history as D-Day, the day that Britain and the Allies returned to France in force with the aim of liberating not only France but the rest of Europe from Nazi domination. The logistics of landing almost 250,000 men by amphibious craft and several thousand vehicles including tanks, hundreds of artillery pieces and about 4,000 tons of supplies on five beaches along a 65-mile stretch of heavily fortified coastline are almost unimaginable yet close to 7,000 ships from battleships to landing craft, almost a quarter of a million sailors and fighting men and a massive aerial umbrella of 3,000 RAF and USAAF fighters, fighter-bombers and heavy bombers, headed for France and more than 1,000 transport aircraft dropped more than 17.000 paratroopers to secure the flanks and beach exits of the assault area. Air superiority in the invasion areas was total. By the end of D-Day, the Allies had landed as many as 155,000 troops; in the eastern sector the British and Canadians landed on Gold, Juno and Sword Beaches while the Americans landed on two beaches in the west, at Utah and Omaha. It was a day that changed the whole course of the war and it resulted in the first steps to final victory in Europe. Yet Feldmarschall Erwin Rommel who took command Army Group B in northern France in January 1944 had said: 'We'll have only one chance to stop the enemy and that's while he's in the water. Everything we have must be on the coast... the first 24 hours of the invasion will be decisive. For the Allies as well as Germany, it will be the longest day.'
The author's use of direct reporting is this series' main thrust and gives the view from the beach, as well as from the English towns and ports from where the invaders departed. He has gone to great lengths to bring D-Day back to life by using copious quotes from American and British and Dominion forces and fighting men, sailors and airmen from the occupied countries and their German opponents and French civilians. They tell of incredible, illuminating and often under-stated actions of extraordinary courage, companionship and a common fear of death or serious injury which offer a more personalised view of D-Day in actions that were at times very confused. A narrative of events contained in well-placed timelines cuts through the fog of battle to explain the overall situation from well-placed planning to the successful conclusion to give an overall picture of each phase of the battle and supporting air and airborne operations. Well illustrated with well chosen historical photographs gathered from the archives, 'D-Day: The First Steps To Victory' provides a fascinating insight into the myriad operations on 6th June 1944.
Vintage Airfix Review:
No review currently available.
Air War D-Day: Winged Pegasus and The Rangers
By Martin Bowman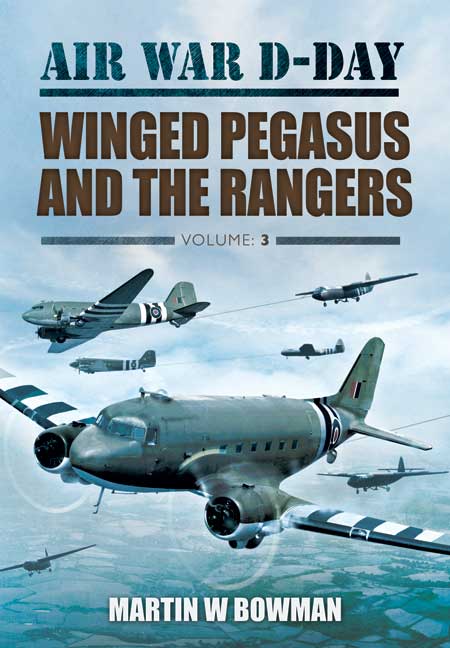 Description:
This is the third release in a series that attempts to detail each aspect of air and paratroop operations on the night of 5/6 June 1944. The 6th Airborne Division was to support British Second Army and First Canadian Army; it's task was to seize and hold the left flank of the bridgehead. The 5th Parachute Brigade was to seize the ground each side of the bridges over the Canal du Caen and the Orne River, whilst on the same day seize and hold positions on the long wooded ridge beyond the waterways, running from Troarn in the south to the sea. This ridge with the bridges behind would eventually form the critical left flank of the army and the bridges had to be intact to permit Allied troops and supplies to pass easily to and fro. The 3rd Parachute Brigade, which included the 1st Canadian Parachute Battalion (1,800 men) was to prevent enemy reinforcements moving towards the British beachhead. Another Battalion and the 1st Canadian Brigade had to destroy five bridges in the flooded valley of the Dives. The 9th Battalion had to silence a battery of four concrete gun emplacements on high ground near the village of Merville, 3 miles east of Ouistreham. For these tasks 38 and 46 Groups RAF dispatched 264 aircraft and 98 glider combinations, the glider tugs being Albemarles, Dakotas, Halifaxes and Stirlings, the gliders mainly Horsas with a few Hamilcars (carrying light tanks and 17-pounder anti-tank guns). Meanwhile, Brigadier Lord Lovat's 1st Special Service Brigade, composed of four Army and one Royal Marines Commando, reached Pegasus Bridge en route to help other units of the Airborne Division.
Allied intelligence had pinpointed 73 fixed coastal gun batteries that could menace the invasion. At Pointe-du-Hoc, a cliff rising 100 feet high from a very rocky beach, a six-gun battery which potentially could engage ships at sea and fire directly onto 'Utah' and 'Omaha' was taken by three companies (225 men) of the US 2nd Ranger Battalion using rocket propelled grapple hooks attached to climbing ropes and portable extension ladders to scale the cliffs within ten minutes after landing and capture the position.
This dynamic episode in the history of D-Day is expertly researched and relayed with both style and reverence for the aircrew who participated in proceedings. Two plate sections of black and white images supplement the text, working further to create a real sense of the times at hand at this most pivotal point in the history of D-Day.
Vintage Airfix Review:
No review currently available.
Air war in East Africa 1940-1941
By Diane Canwell, Jon Sutherland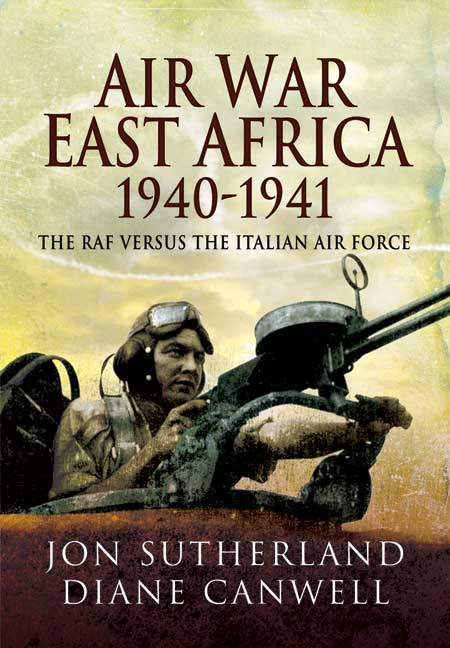 Description:
This little known campaign against the Italian invasion of British Somalia was bravely fought by a small force of elderly RAF and Commonwealth aircraft against almost overwhelming odds. This, against a backdrop of Britain's meager assets being in demand in the much more prominent and important theatres such as Egypt and, of course, at home during the height of the Battle of Britain and the Blitz.
The history starts with the Italian's use of airpower and gas against the spear-armed Abbysinnians in 1936. In August 1940 the Italians attacked and overwhelmed British Somalia and under air cover the British evacuated to Aden. The Allies fought many air battles with the better equipped invaders and flew dangerous reconnaissance missions in preparation for the major offensives in 1941.
On the Northern Front, the first phases see aggressive air patrols and Allied reinforcements arriving from Egypt. They attacked towards Agordat pushing deep into Eritrea from the Sudan. Meanwhile to the south the South African Air Force and ground forces attacked into Italian Somalia during January and February 1941. In March the allies attacked Keren and the Italians finally surrendered. The final allied air strikes against Asmara and Massawa led to the final collapse of Italian resistance in May 1941. The campaign in Ethiopia saw General Cunningham's force advances 1,725 miles from Kenya in 53 days to reach the Ethiopian capital Addis Ababa and liberating it on April 6 1941. However, the conflict was still not over - there was continued resistance from 7,000 Italian troops and air operations continued against them until their surrender in September 1943.
The book includes the experiences of the men who flew the outdated aircraft of the RAF and the SAAF in the campaign and includes many quotes and incidents from both Allied and Italian pilots.
Vintage Airfix Review:
No review currently available.
By Diane Canwell, Jon Sutherland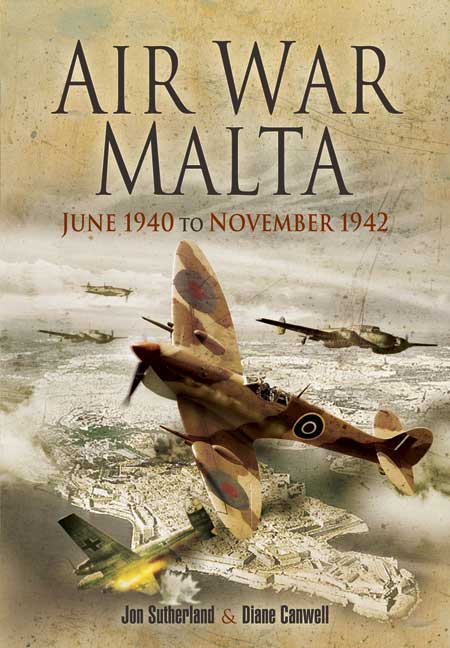 Description:
This is the story of the historic air defence of Malta by the RAF against the combined attacking forces of the Italian and German air forces. The island was poorly equipped when Italy declared war on Britain in June 1940 and its only defence against air attack at the outset of war were 34 heavy and 8 light anti-aircraft guns, one radar set and four Gladiator biplane fighters. The first air raids came on 11 July and from then on were an almost daily feature of life for the Maltese occupants and the island was in a state of siege. The loss of this strategic point in the central Mediterranean would threaten the major supply routes to the British Army in North Africa and deprive the Royal Navy of a vital base. Although hard-pressed at home and standing alone against Hitler's Europe, every effort was made by Britain's government to get supplies, munitions and replacement aircraft to enable the island to withstand the naval and airborne onslaught. Convoy after convoy attempted to get through, Hurricane and Spitfire fighters were launched from aircraft carriers with only sufficient fuel for a one-way trip to the island. Many did not survive these heroic flights. Many famous British ships were lost due to torpedo and air attack, including the carriers Ark Royal and Eagle and the battleship Barham. The siege was finally raised on 20 November 1942.
This book follows the island's wartime history, describing the heavily outnumbered RAF defence against the many air-raids and how the small bomber force took the battle to Italian shores. It is a tale of outstanding bravery by the British forces and the Maltese people.
Vintage Airfix Review:
No review currently available.
By Richard Townshend Bickers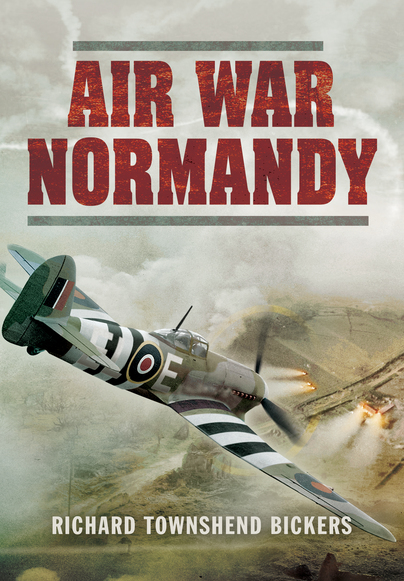 Description:
So much ink has been spilt and so many miles of film expended on the amphibious invasion of Normandy on 6 June, 1944, otherwise known as D-Day, and so familiar have the images become of men leaping from their landing craft and wading ashore as shells exploded all around them, that it is all too easy to forget that none of this would have been possible without the virtually complete air superiority which the Allies had gained over the Luftwaffe in advance of the invasion.
In this absorbing book, Richard Bickers (who himself possesses first-hand experience of serving in Fighter and Coastal Commands and in the Desert Air Force) describes how that superiority was won and held after the landings. He describes in some detail how the vital necessity of air/land cooperation was brought home to the senior officers in North Africa and emphasizes how valuable this lesson was to prove later in the war.
He tells of several of the French and Belgian units who had managed to escape from Nazi-held Europe to fight on and were now returning home. He recounts the experiences of German pilots who were by then seeing things in a very different light.
He also describes the war of the men on the ground, the crews who serviced the planes and the Airfield Construction Squadrons who built and ran the runways as the Allies advanced into Occupied France. Richard Bickers has produced a worthy tribute to a supremely gallant band of men who played a vital part in restoring liberty and democracy to the continent of Europe.
Vintage Airfix Review:
No review currently available.
Air War Over Europe 1939 - 1945
By Chaz Bowyer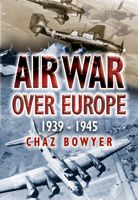 Description:
Chaz Bowyer, arguably the most authoritative air historian of his generation, tackles the broad sweep of air operations in the European theatre in this book. Initially, the Luftwaffe attempted to dominate the skies, and very nearly succeeded. The valiant defence of the UK by the RAF in the Battle of Britain ranks among the greatest feats of arms in our countryÕs history. The development of aircraft types and the descriptions of the actions that they and their pilots and crew fought make for great reading.
Vintage Airfix Review:
No review currently available.
By Manfred Griehl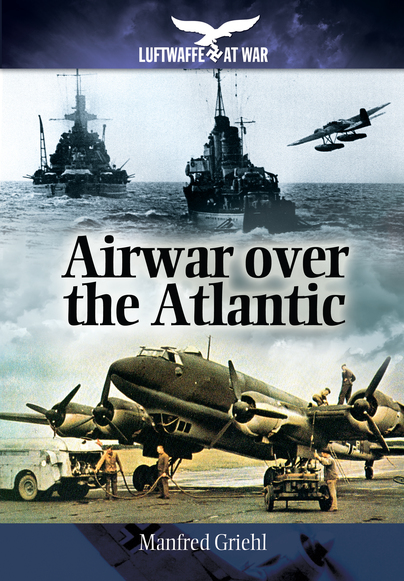 Description:
Late in 1938, the German Navy Supreme Command commissioned a report into the combat effectiveness of its airborne divisions. As a result of its findings, the German High Command instigated a major construction program for planes with a specifically maritime role: carrier-borne, reconnaissance, mine laying and most importantly, long-range units were all developed.
In this volume of the outstanding Luftwaffe at War series, Manfred Griehl showcases a photo-history of the development of the Kriegsmarine airborne capability from the early Condor missions to the introduction of Me 262 A-1a jet fighters in 1944.
More than a hundred rarely seen pictures illustrate the gradual turning of the tide against Germany in the war for the skies over the Atlantic: as the German war machine struggled to match demand for aircraft, so the pilots attempting to control crucial supply routes struggled to compete with mounting allied technical and numerical superiority.
Vintage Airfix Review:
No review currently available.
Airfields of the D-Day Invasion Air Force
By Peter Jacobs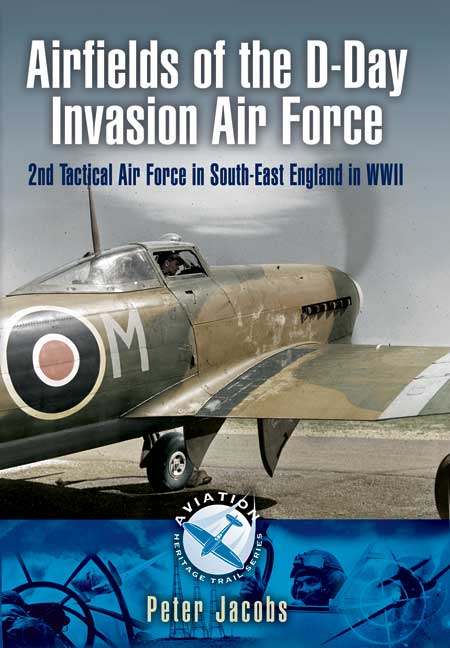 Description:
As part of the Aviation Heritage Trail series, the airfields and interest in this book are concentrated in a particular area - in this case Kent, Surrey, East Sussex, Essex and Greater London.
The South east of England emerged from six years of war with a rich diversity of RAF bomber and fighter airfields used by the 2nd Tactical Air Force, both before and after the D-Day landings. Much of this proud legacy is now threatening to disappear. However, the tourist can combine visits to an abundance of disused and active airfields, country houses and museums with countless attractions, imaginative locations and broadland and coastal hideaways that have no equal.
The airfields and other places of interest include Northolt, Manston, Sculthorp, Dunsfold, Swanton Morley, Hunsdon, Gravesend, Detling, Biggin Hill, Kenley, Redhill, Gatwick, Heston, Hornchurch, Chailey, Coolham, Horne, West Malling and Newchurch.
This book looks at the history and personalities associated with each base, what remains today and explores the favourite local wartime haunts where aircrew and ground crew would have sought well-deserved entertainment and relaxation. Other museums and places that are relevant will also be described and general directions on how to get them included.
Vintage Airfix Review:
No review currently available.
By Air Commodore Graham Pitchfork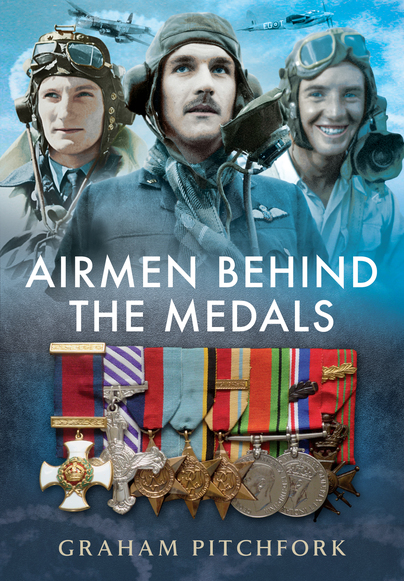 Description:
Of the many human characteristics, few evoke greater admiration and respect than gallantry in the service of one's country. Here, Graham Pitchfork describes the outstanding bravery of twenty-one air men who served in the Royal Air Force and the Fleet Air Arm during the Second World War. These accounts encompass most theaters of operation as well as a host of aircraft types and aircrew categories. Accounts of the gallantry of those who served on the ground in support of flying operations are also relayed in this substantial anthology.
The book explores the gallantry of airmen who fought in a variety of contexts, including that band of men who are so often forgotten, the Burma veterans. A gallant RAF sergeant and an RAF doctor who cared for and inspired fellow prisoners in Japanese camps are both included here, as are stories relating the extreme bravery of a Fleet Air Arm pilot, a Pathfinder pilot and a Typhoon wing leader.
The valorous acts of these airmen serve as inspirational examples to a new generation of flying men and women. Graham Pitchfork extracts the drama and poignancy of their tales, enlivening them to great effect in this riveting publication that is sure to appeal broadly to enthusiasts of the era.
Vintage Airfix Review:
No review currently available.
By Martin Bowman
Description:
Martin Bowman presents us here with an unparalleled account of events as they unfolded in the skies above Holland during Operation 'Market-Garden' in September 1944. 'Market-Garden' was a heroic failure conducted at great cost; combined losses - both airborne and ground forces - in killed, wounded and missing amounted to more than 17,000.

'Market', the airborne part of the operation, spanned ten Allied lifts in a calamitous nine days of operations, often in foul weather. Over the course of Operation 'Market', 4,050 aircraft saw employment; most of them towed the 1,205 Hamilcar and Horsa gliders and were confronted by an unknown number of Luftwaffe aircraft.
Stories of individual heroism punctuate this narrative, such as that of David Lord, a RAF Dakota pilot who was posthumously awarded the Victoria Cross. Tales such as these humanise a period of wartime history that is often reduced to mere facts.
There is no doubting the gallant and valorous contribution of the airmen of Arnhem - the RAF Dakota, Stirling, Halifax, Albemarle, Horsa, Hamilcar and Glider Pilot Regiment crews together with those of the USAAF C-47 Troop Carrier Groups of the IX US Troop Carrier Command, the Waco and Horsa gliders, and the B-24 Liberator re-supply crews. All of their incredible, illuminating and often understated accounts of extraordinary courage, camaraderie, shared terror and encounters with the enemy offer a more personalised view of 'Market' and are complemented by the author's background information that give an overall picture of each air operation.
Vintage Airfix Review:
No review currently available.
Allied Bombing Raids: Hitting Back at the Heart of Germany
By Philip Kaplan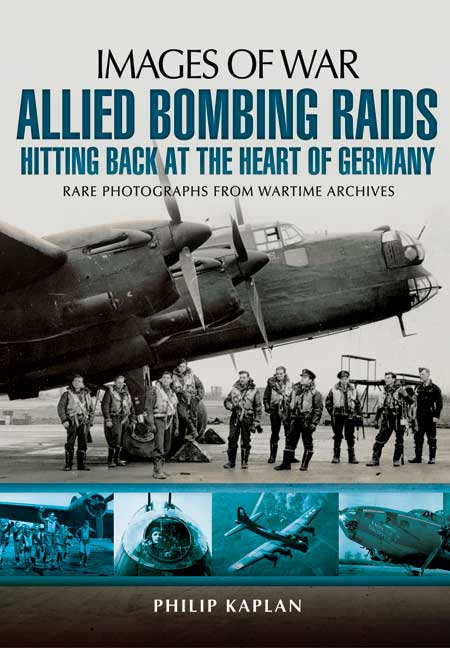 Description:
The pilots and combined bombing forces of the Second World War are revered for a host of reasons. Their bravery when cast against the odds, their resilience and determination under fire, and the startling extent of their combined achievements towards the collective end of Allied victory have all been noted and celebrated in a variety of ways since the end of the conflict. Kaplan adds to this celebratory tradition by drawing together an intriguing collection of wartime archive photography in an attempt to illustrate the early stages of the conflict.
Before America joined the war against Nazi Germany, the RAF aircrews (many of which were volunteers) were tasked with responding to a unique set of demands in an attempt to hit back at the destructive heart of the enemy. The welding influence of a war which saw teams of young pilots teamed aboard a range of imposing bomber aircraft (including the mighty Boeing B-17), fused a collective resolve and determination that would develop yet further throughout the course of the conflict. The images on display here offer a wealth of insight into this dramatic time.
Vintage Airfix Review:
No review currently available.
Allied Special Forces Insignia
By Peter Taylor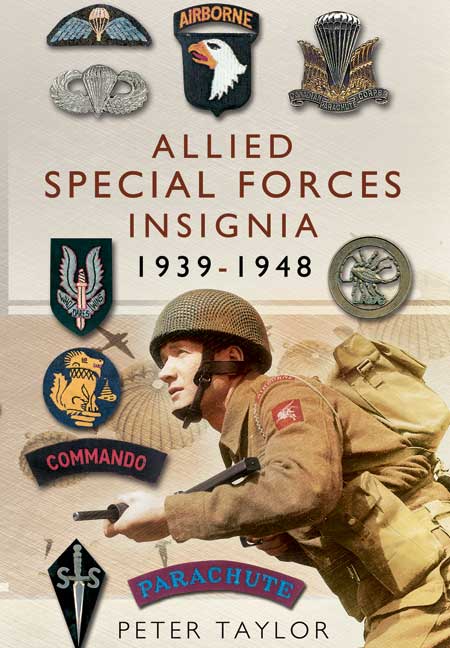 Description:
As early as 1940 political leaders and military commanders responsible for the conduct of the Allied operations relalised that, after a string of disastrous setbacks, national morale could only be restored by taking offensive action against the enemy. With the limited resources available Churchill's stirring call to 'set Europe ablaze' called for unconventional solutions and action.
From these uncertain beginnings was born a plethora of Allied Special Force units. Inevitably some are household names but others are little known, having had brief and covert existences in far flung parts of the world.rnrnAll, however, had distinctive identities and their proudly worn insignia represent a fascinating and often elusive challenge for militaria collectors. This is due, not just to the scarcity of items in many cases, but to the mystery of their origin; a number of these units were established on an ad hoc and spontaneous basis.
Peter Taylor's aim in compiling Allied Special Forces Insignia 1939-1948 is to fill a gap in the growing bibliography of militaria collecting. At the same time, Brigadier Bryan Watkins' introduction sets in context the growth and development of Allied Special Forces during the global conflict 1939-45.
Lavishly illustrated, this work will prove an essential reference work and companion guide for the expert collector and all interested in military history.
Vintage Airfix Review:
No review currently available.
By Bill Bailey, Ronnie Green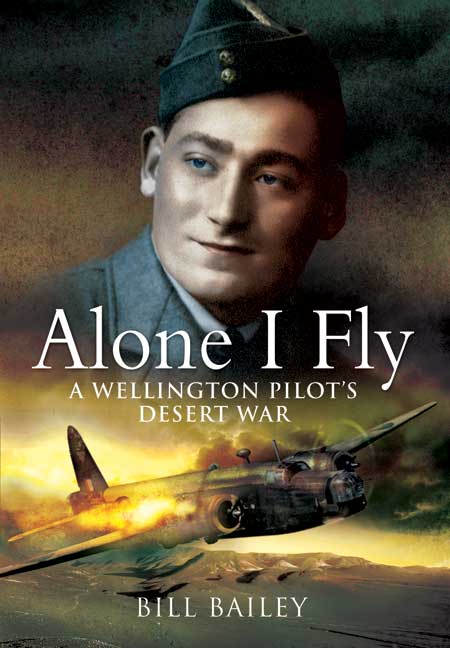 Description:
After several years at sea, Sgt Bill Bailey arrived in Cairo in 1942 as a new recruit to the RAF, hoping to fulfill his ambition to fly bombers. Within hours of his arrival he is sent on his first bombing mission as second pilot in a 104 Squadron Wellington.
The aircraft was hit by enemy gunfire and suffered continual loss of altitude as it struggled to return to base. In thick cloud over a vast expanse of barren desert the aircraft hit a rock outcrop and disintegrated. Bill came too lying alone on a precipitous ledge and soon realized that he was the sole survivor. If he was to live he had to find help. To walk in temperatures of over 100 degrees proved impossible, so he trudged over seemingly endless dunes at dusk and dawn, his energy gradually fading. On the point of near collapse he found what he thought was a small cave in which to shelter from the searing sun. His luck now changed as he realized that his shelter was in fact an abandoned German reconnaissance truck. He found water and a little food, but no radio. He gradually resigned himself to death as he was incapable of moving any further, but then with a last desperate inspiration he realized that it may be possible to attract attention by heliograph. He found enough equipment in the truck and rigged a mast with the mirror at the top and commenced signaling and was eventually rescued by a Long Range Desert Patrol.
After recuperation he rejoined his squadron and was given a new crew with whom he completed his tour. He was then sent to Malta where much to his amazement he was made ground controller of a satellite fighter airfield. He eventually was repatriated to the UK suffering with Malaria.
Vintage Airfix Review:
No review currently available.
By Tony Holmes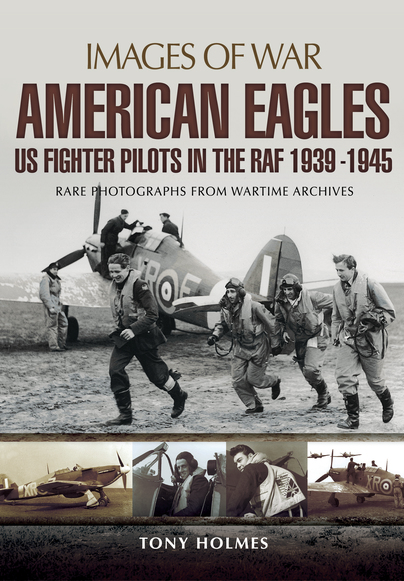 Description:
American Eagles provides a photographic snapshot of the lives of the American fighter pilots who volunteered their services during World War II, as well as the Spitfires and Hurricanes they flew. Keen to help Britain stem the spread of Fascism, or perhaps seeking adventure in a foreign land, a number of American citizens defied the wishes of their government by crossing the border into Canada and subsequently sailing to Britain to join the Royal Air Force. Some were prewar civilian pilots, others were rich playboys and a few were already serving in the RAF when war was declared. Men such as Don Blakeslee, Billy Fiske, 'Gus' Daymond and Jim Dunn, as well as many other notable pilots are featured in this volume, in photographs that have been carefully sourced from official and private archives across the globe. Each image has a detailed caption, chronicling the wartime exploits of the elite 'band of brothers' known as the American Eagles.
Vintage Airfix Review:
No review currently available.
By By Johannes Kaufmann, Foreword by Richard Overy, Translated by John Weal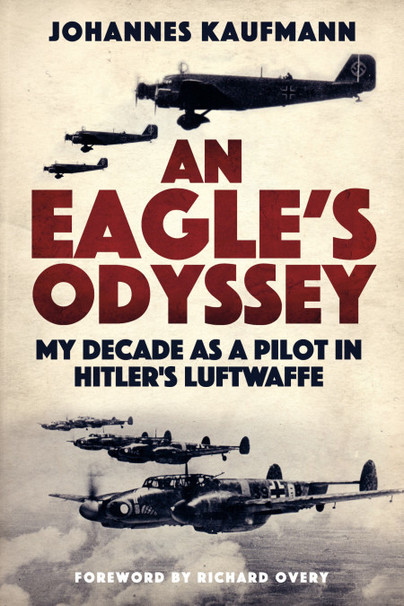 Description:
'I realised that this brief but abortive sortie was to be the final mission of my Luftwaffe flying career.'
Johannes Kaufmann's career was an exciting one. He may have been an ordinary Luftwaffe pilot, but he served during an extraordinary time, with distinction. Serving for a decade through both peacetime and wartime, his memoir sheds light on the immense pressures of the job.
In this never-before-seen translation of a rare account of life in the Luftwaffe, Kaufmann takes the reader through his time in service, from his involvement in the annexation of the Rhineland, the attack on Poland, fighting against American heavy bombers in the Defence of the Reich campaign. He also covers his role in the battles of Arnhem, the Ardennes, and the D-Day landings, detailing the intricacies of military tactics, flying fighter planes and the challenges of war.
His graphic descriptions of being hopelessly lost in thick cloud above the Alps, and of following a line of telegraph poles half-buried in deep snow while searching for a place to land on the Stalingrad front are proof that the enemy was not the only danger he had to face during his long flying career.
Kaufmann saw out the war from the early beginnings of German expansion right through to surrender to the British in 1945. An Eagle's Odyssey is a compelling and enlightening read, Kaufmann's account offers a rarely heard perspective on one of the core experiences of the Second World War.
Vintage Airfix Review:
No review currently available.