All these titles are available to purchase from Pen and Sword.
Contents:
-
War in the Air 1914 - 1916
- By Bob Carruthers..
-
Winged Sabres
- By Robert A Sellwood..
-
With a Smile and a Wave
- By Peter Daybell..
-
World War One Aircraft Carrier Pioneer
- By Guy Warner..
-
Zeppelin Over Suffolk
- By Mark Mower..
---
By Bob Carruthers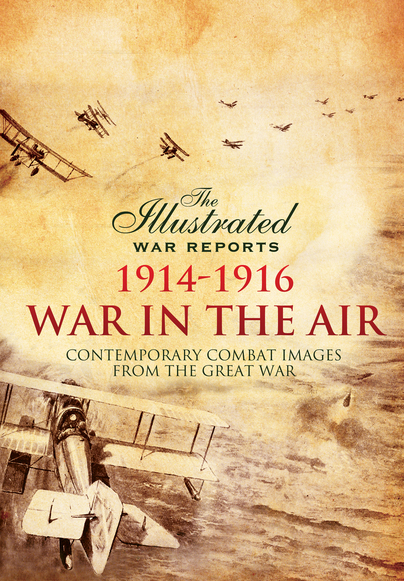 Description:
This powerful collection, depicting the first war in the air, showcases the work of the contemporary combat artists and illustrators from the Great War era. Included here are the works of serious artists, propagandists, illustrators and humourists. The result is a stunning graphic record, which produces a powerful record of life and death in the skies above the trenches during the Great War, as reported to contemporary audiences at a time when the events of the Great War were still unfolding.
During the Great War artists and illustrators produced a highly accurate visual record of the fleeting moments the bulky cameras couldn't reproduce. These works form a body of war reportage that are as valid as the written word. Today, the work of the combat illustrators and the official war artists from the Great War era is overlooked by historians in favour of photographs, but these illustrations are nonetheless important as they provide a contemporary record of hand-to-hand fighting, trench raids, aerial dogfights, sea battles, desperate last stands, night actions and cavalry charges.
Vintage Airfix Review:
No review currently available.
By Robert A Sellwood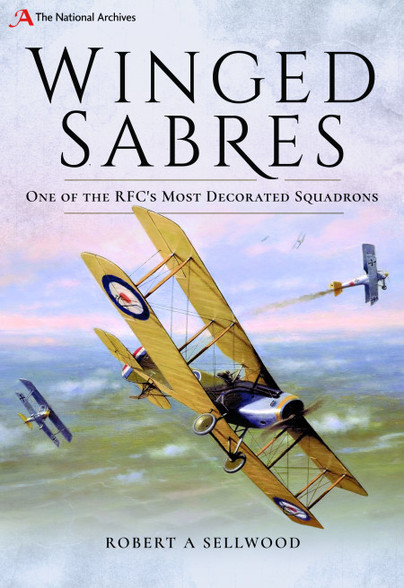 Description:
Winged Sabres is the story of a RFC & RAF squadron flying the cumbersome FE2 from February 1916 to September 1917, and then the superlative Bristol Fighter: a two-seater 'fighter-reconnaissance' squadron with an astonishingly high success rate.
20 Squadron was possibly the highest scoring squadron of the war and one of the most highly decorated, claiming over 600 combat victories with well over 400 confirmed in RFC & RAF Communiqués. Its members won seventy gallantry decorations including a posthumous Victoria Cross, and included fliers from the U.K. and around the world. Over 40 became aces, including the American Iaccaci brothers and some Canadians and others. But with a casualty rate of around 50 per cent including killed, wounded and POW they paid a high price.
Over 15 years research has gone into this book, covering a seldom-explored aspect of WW1 in the air: the two-seater fighter-reconnaissance squadrons. 20 Squadron's motto was Facta Non Verba – Deeds Not Words!
Vintage Airfix Review:
No review currently available.
By Peter Daybell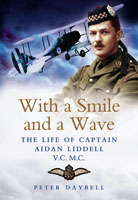 Description:
During the late summer of 1915 Captain Aidan Liddell's gallant exploits filled many newspaper columns and he was feted as a national hero. Already decorated for bravery while serving with the Argyll and Sutherland Highlanders, he transferred to the Royal Flying Corps, and it was as a pilot that he attracted national acclaim.Badly wounded over enemy occupied Belgium, Liddell lost consciousness as his two-seater RE5 aircraft was raked by machine gun fire, and plunged out of control towards the ground. Despite terrible injuries and the extensive damage to his machine, he somehow recovered from an inverted dive and flew on for a further half an hour to the safety of the Allied lines, so saving his observer and a valuable aircraft.For this action he was awarded the Victoria Cross, but did not live to receive Britain's highest gallantry award and succumbed to his wounds a month later. With a Smile and a Wave provides a vivid picture of the squalor and danger of war, the backbreaking hardship of trench life and of the challenges of pioneer air fighting. It draws extensively on Captain Liddell's own letters and diaries and exposes the character and courage of the man in his own often compelling and moving words. But it is a story not just of war, but of growing up in a devout and prosperous family, of a Jesuit education at Stonyhurst College, and of Edwardian Oxford before the Great War. It portrays the privileged lifestyle of the English country gentleman, and describes how a very close knit and patriotic family dealt with the adversity of war.
Vintage Airfix Review:
No review currently available.
World War One Aircraft Carrier Pioneer
By Guy Warner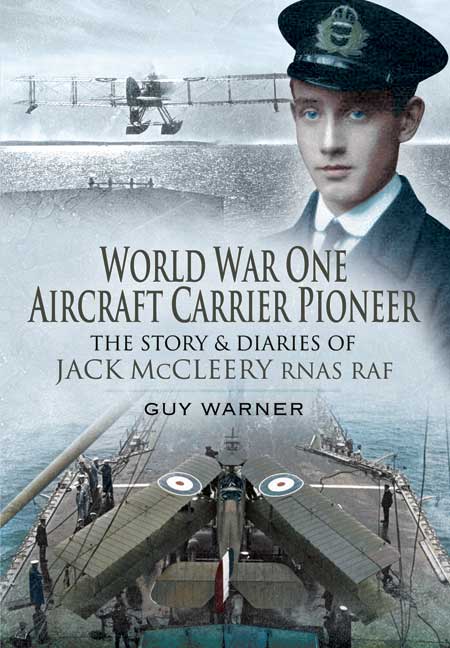 Description:
Jack McCleery was born in Belfast in 1898, the son of a mill owning family. He joined the RNAS in 1916 as a Probationary Flight Officer. During the next ten months he completed his training at Crystal Palace, Eastchurch, Cranwell, Frieston, Calshot and Isle of Grain, flying more than a dozen landplanes, seaplanes and flying boats, gaining his wings as a Flight Sub-Lieutenant. In July 1917 he was posted to the newly commissioning aircraft carrier HMS Furious, which would be based at Scapa Flow and Rosyth. He served in this ship until February 1919, flying Short 184 seaplanes and then Sopwith 1½ Strutters off the deck. He also flew a large number of other types during this time from shore stations at Turnhouse, East Fortune and Donibristle.
He served with important and well-known naval airmen including Dunning, Rutland (of Jutland) and Bell Davies VC. He witnessed Dunning's first successful landing on a carrier flying a Sopwith Pup in 1917 and his tragic death a few days later. He also witnessed the Tondern raid in 1918, the world's first carrier strike mission. He took part in more than a dozen sweeps into the North Sea by elements of the Grand Fleet and Battle Cruiser Fleet. He carried out reconnaissance missions off the coast of Denmark, landing in the sea to be picked up by waiting destroyers. He witnessed the surrender of the High Seas Fleet. Promoted to Captain, he acted as temporary CO of F Squadron for a time post-war.
Guy Warner has been given access to McCleery's wartime dairy, his letters home, other memorabilia and three remarkable albums with hundreds of photos taken by Jack and others of the events described above. His intention is to edit Jack's diary and letters, to provide an introduction and conclusion and to annotate the text with explanatory details of important events, people, places, ships and aircraft. Jack McCleery's son, John, is fully supportive of the proposal.
Vintage Airfix Review:
No review currently available.
By Mark Mower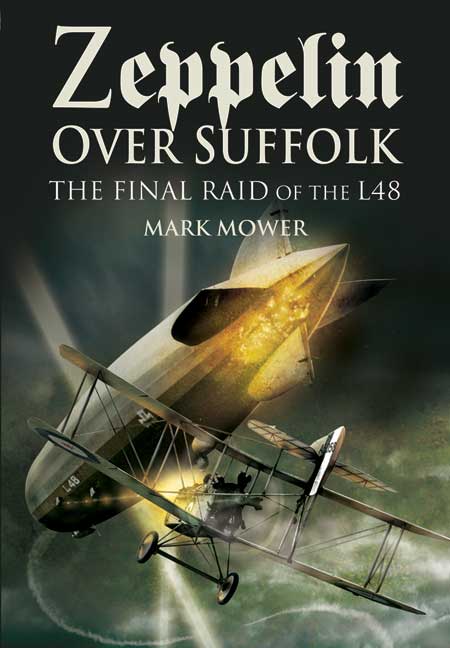 Description:
Zeppelin Over Suffolk tells the remarkable story of the destruction of a German airship over East Anglia in 1917. The drama is set against the backdrop of Germany's aerial bombing campaign on Britain in the First World War, using a terrifying new weapon, the Zeppelin. The course of the raid on that summer night is reconstructed in vivid detail, moment by moment - the Zeppelin's take off from northern Germany, its slow journey across the North Sea, the bombing run along the East Anglian coast, the pursuit by British fighters high over Suffolk, and the airship's final moments as it fell to earth in flames near the village of Theberton in the early morning of 17 June 1917. Mark Mower gives a gripping account of a pivotal episode in the pioneering days of the air war over England.
Vintage Airfix Review:
No review currently available.