All these titles are available to purchase from Pen and Sword.
Contents:
-
Lionel Morris and the Red Baron
- By Jill Bush. Reviewed by Vintage Airfix.
-
A Century of Air Power
- By Dave Sloggett..
-
Air Raids on South West Essex in the Great War
- By Alan Simpson..
-
Airfields & Airmen of Cambrai
- By Mike O'Connor..
-
Airfields and Airmen of the Channel Coast
- By Mike O'Connor..
-
Airfields And Airmen Of Ypres
- By Mike O'Connor..
-
Albert Ball VC
- By Colin Pengelly..
-
Battle of Britain 1917
- By Diane Canwell, Jon Sutherland..
-
Brief Glory
- By Alex Revell..
-
Camel Combat Ace
- By Barry M. Marsden..
-
Camel Pilot Supreme
- By Annette Carson..
-
Combat Codes
- By Vic Flintham, Andrew Thomas..
-
Death in the Air
- By Wesley D Archer..
-
Early French Aviation, 1905-1930
- By Graham Simons..
-
Fighter Aces
- By ..
---
Lionel Morris and the Red Baron
By Jill Bush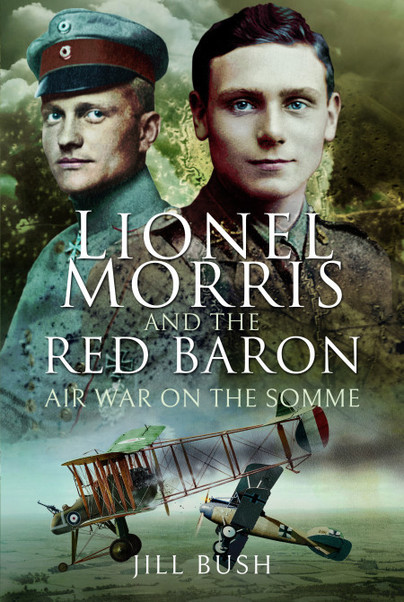 Description:
Nineteen-year-old Lionel Morris left the infantry for the wood and wires of the Royal Flying Corps on the Western Front in 1916, joining one of the world's first fighter units alongside the great ace Albert Ball. Learning on the job, in dangerously unpredictable machines, Morris came of age as a combat pilot on the first day of the Battle of the Somme, as the R.F.C. was winning a bloody struggle for admiralty of the air.
As summer faded to autumn, and the skies over Bapaume filled with increasing numbers of enemy aircraft, the tide turned. On 17 September 1916, Morris's squadron was attacked by a lethally efficient German unit, including an unknown pilot called Manfred von Richthofen. As the shock waves spread from the empty hangars of No.11 Squadron all the way to the very top of the British Army, the circumstances surrounding Morris's death marked a pivotal shift in the aerial war, and the birth of its greatest legend.
Told through previously unpublished archive material, the words of contemporaries and official records, Lionel Morris and the Red Baron traces a short but extraordinary life; and reveals how Morris's role in history was rediscovered one hundred years after his death.
Vintage Airfix Review:
This is not just another 'Red Baron' book, it's practically a complete historical account of the Great War.
Mainly following Lionel Morris, a family member of the author, there are sections on others key players of the RFC and the Great War.
I thoroughly enjoyed this book and would highly recommend it to anyone with any interest in WWI, RFC or early war machines.
By Dave Sloggett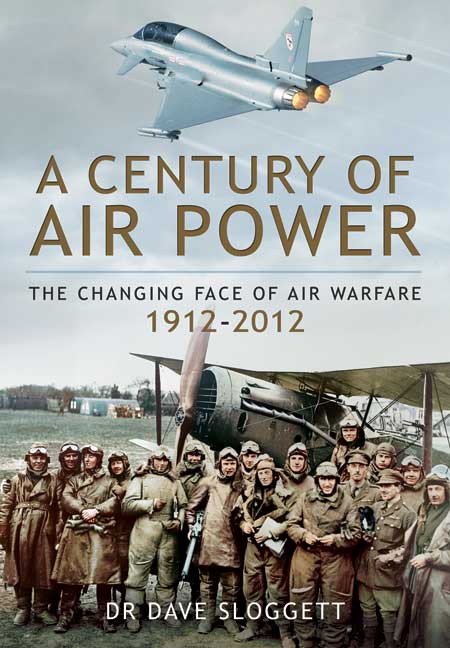 Description:
No other technical development since the introduction of gunpowder has had as great an influence on warfare as the aircraft. From its early beginnings as simply a means of aerial reconnaissance to its utter supremacy on the battlefield, the aircraft has evolved into the most versatile and precise killing machine known to man.
In this wide-ranging and comprehensive study, David Sloggett, an internationally-respected defence analyst, investigates the changing role and increasing significance of air power over the course of the previous 100 years. This is accomplished by detailing every major conflict during that period including not only the two world wars and the recent conflicts in the Middle East but also the Korean War, the Cuban Missile Crisis, the Falklands War and Russian use of air power in Afghanistan. Air power's role in Malaya, Oman, Kenya and in Northern Ireland is also explained.
A Century of Air Power is the most important study of the use of military aircraft ever undertaken and as such provides valuable lessons for the future – not only for the commanders who have to apply these all-powerful weapons but also for the politicians who have to determine its use.
Vintage Airfix Review:
No review currently available.
Air Raids on South West Essex in the Great War
By Alan Simpson
Description:
A quarter of a century before the Blitz of 1940, the inhabitants of south-west Essex were terrorized by an earlier aerial menace. Over the course of four years, German Zeppelins, Gothas and Giants flew above their homes, unleashing hundreds of highly explosive and incendiary bombs on London. During three of these raids, bombs were dropped on Leyton and many others landed elsewhere in south-west Essex. These early air raids are now largely forgotten in local memory, but for the inhabitants of the time the attacks were unprecedented, unexpected and lethal.
In the years since the Great War a great deal of literature has been published on London's first air raids and about the defence network that evolved around the metropolis, but what happened in the capital's eastern suburbs and the nearby Essex countryside has received less coverage. This meticulously researched and insightful book attempts to put that right, looking at the area which, in 1914, was part of south-west Essex, but now comprises the London boroughs of Waltham Forest, Redbridge, Havering, Newham, and Barking and Dagenham.
Focussing in particular on Leyton and Ilford, this is the first book to ever examine what happened before and after the raiders reached and bombarded the capital. The author has included a wide range of contemporary letters, diaries and newspaper reports from local sources, plus several previously unseen photographs. To set the story in its wider context, the book also contains a wealth of information about the defence of the London area generally and vivid reports from combatants on both sides.
Vintage Airfix Review:
No review currently available.
By Mike O'Connor
Description:
This latest book on the Airfields & Airmen of the First World War covers the earliest days of the RFC with the retreat from Mons. We visit the graves of Fokker Eindecker aces and the airfields where the first Jastas were formed. Also covered are airfields from which Allied aces such as Beauchamp Proctor VC flew and there is a visit to the American cemetery at Bony that contains a number of aviators.
Vintage Airfix Review:
No review currently available.
Airfields and Airmen of the Channel Coast
By Mike O'Connor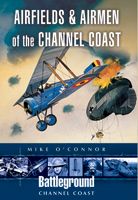 Description:
In this latest addition to the Airfield and Airmen Series, Mike O'Connor describes the dramatic air actions that took place along the Belgian and North France coastline during The Great War. In addition to the Royal Fighting Corps and RAF aspect this volume covers the Royal Naval Air Service (RNAS) and Belgian Air Service (AMB) as well as the German Naval Air Service.
Vintage Airfix Review:
No review currently available.
By Mike O'Connor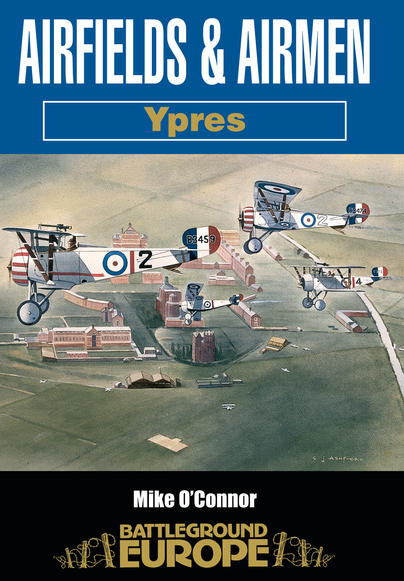 Description:
This is the first book in the Battleground Europe Series discovering the airfields and airmen of the Great War. It is sometimes forgotten that the Wright Brother's first flight took place only in 1903; yet fifteen years later the Royal Air Force had over 20,000 aircraft of all types including night bombers.This book takes the reader to the sites of the airfields used by the Royal Flying Corps in the vicinity of the Ypres Salient. These fields were basic in the extreme compared with airbases of WW2 and today; flattish ground hitherto used for agriculture purposes trampled down by men and vehicles. It was here that the primitive aircraft were based, surrounded by a tented camp and temporary buildings.Yet out of such places the great legendary air aces of the war operated. The book also reveals the locations of many killed whilst engaged in combat flying.Pilots from other countries (French, German etc) are also covered.
Vintage Airfix Review:
No review currently available.
By Colin Pengelly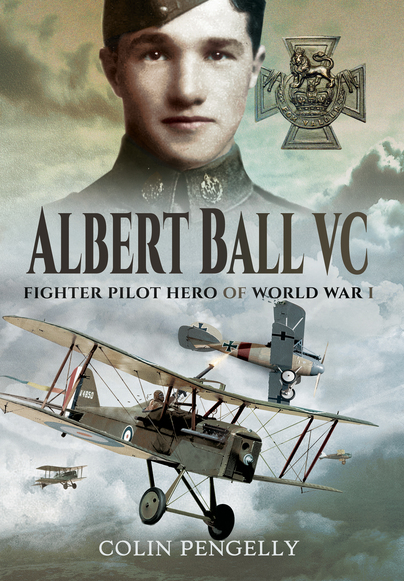 Description:
Albert Ball's individuality and his insistence on fighting alone set him apart from other fighter pilots during World War One. His invincible courage and utter determination made him a legend not only in Britain but also amongst his enemies, to whom the sight of his lone Nieuport Scout brought fear.
In 1914 he enlisted in the British army with the 2/7th Battalion (Robin Hoods), of the Sherwood Foresters, Notts and Derby Regiment. By the October of 1914 he had reached the rank of Sergeant and then in the same month was made a Second-Lieutenant to his own battalion.
In June 1915 he paid for private tuition and trained as a pilot at Hendon. In October 1915 he obtained Royal Aero Club Certificate and requested transfer to the Royal Flying Corps. The transfer granted, he further trained at Norwich and Upavon, being awarded the pilot's brevet on 22 January 1916. On 16 May 1916 - flying Bristol Scout 5512 - he opened his score, shooting down an Albatros C-type over Beaumont. On 29 May 1916 he shot down two LVG C-types, whilst flying his Nieuport 5173. Captain Albert Ball made his final flight on 7 May 1917 when he flew SE5 A4850 as part of an eleven-strong hunting patrol into action against Jagdstaffel 11, led by Lothar Von Richthofen. It was a very cloudy day. Albert was pursuing Lothar's Albatros Scout who crash-landed, wounded. Then Albert was seen by many observers to dive out of a cloud and crash. He died minutes later in the arms of a French girl, Madame Cecille Deloffre. He rose from obscurity to the top rank of contemporary fighter pilots in only 15 months. In that period he had been awarded the MC, DSO and two Bars and was credited with at least 44 victories. He was posthumously awarded the Victoria Cross.
Vintage Airfix Review:
No review currently available.
By Diane Canwell, Jon Sutherland
Description:
In the autumn of 1916 the Germans began to equip with the Gotha twin-engined bomber. Of a pusher layout, these aircraft could fly at 15,000 feet, well above any contemporary fighter's maximum height. With a range of 800 km (500 miles) and a bomb load of up to 500 kg (1,100 lb), the Gothas were designed to carry out attacks across the channel against Britain. A group of four squadrons was established in Belgium, and they carried out their first bombing raid towards the end of May 1917. This 22 aircraft sortie, against the town of Folkestone, caused 95 deaths. In mid June a force of 18 Gothas attacked London in broad daylight. Over 90 British fighters met them, but not one Gotha was brought down. This bombing raid caused 162 deaths.
From mid-September an even larger, more potent bomber joined the Gothas. The Zeppelin-Staaken Riesenflugzeug or "Giant" bomber was a four-engined tractor biplane with an enclosed cabin that may have been inspired by the Russian Murometz. The Giant certainly deserved its title with a wingspan of 42 metres (138 feet) it was only one metre (3 feet) shorter than Boeing's famous B29 Superfortress of World War II fame, and its tailplane was roughly the same size as a Sopwith Pup. It could carry a maximum bomb load of 2,000 kg (4,400lb) but for long-range flights, such as against London, this was reduced to half that figure. It had a range of about 800km (500 miles). Like the Murometz, the engines could be serviced in mid-flight.
The Gotha/Giant night raids continued throughout 1917, almost unscathed until December when the British began to have success in intercepting the Gothas at night. Anti-aircraft fire was also becoming more effective and the increased use of barrage balloons affected the bombers. By the end of the war a 50-mile long line of barrage balloons surrounded London. In the meantime the Giants continued a small but influential campaign against London.
On 16 February, during a four aircraft raid, a Giant dropped a 1,000 kg (2,200 lb) bomb - the largest used by anyone in the war - and blew up a wing of the Chelsea hospital. During the same raid another Giant survived colliding with the cable of a barrage balloon and fell 1,000 feet before the pilot could regain control. The following evening a single Giant returned and scored a direct hit on St. Pancras railway station.
Vintage Airfix Review:
No review currently available.
By Alex Revell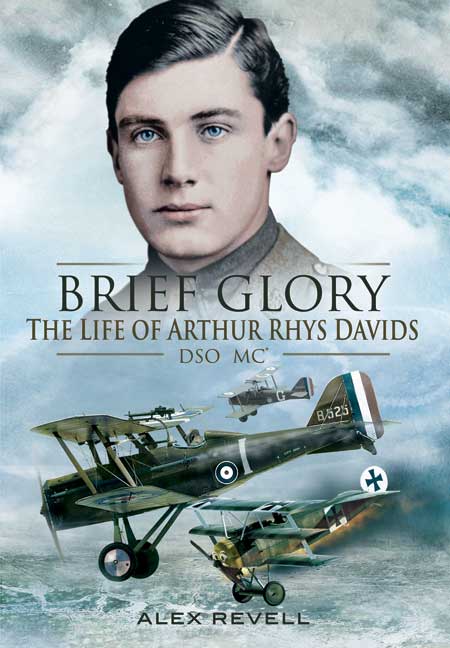 Description:
Arthur Rhys Davids was shot down and killed in October 1917. He was just twenty and had been flying over the Western Front with 56 Squadron for six months. He had entered the Royal Flying Corps direct from Eton College. In his brief operational career he was awarded the Military Cross twice and the Distinguished Service Order once. In the opinion of the commanding officer of his squadron he deserved the Victoria Cross. He came to public fame through shooting down the German ace Werner Voss.
Rhys Davids was more than an outstanding fighter pilot, he was a man of thought as well as a man of action. Coming from an intellectual family, he was a brilliant classicist and popular with his fellow pilots in the RFC including James McCudden.
Alex Revell has written a sensitive and deeply moving biography. It is based on letters from Rhys Davids early boyhood days at Eton to his last letter written on the night before he died.
Alex Revell has written many aviation books and is respected amongst literary community.
Vintage Airfix Review:
No review currently available.
By Barry M. Marsden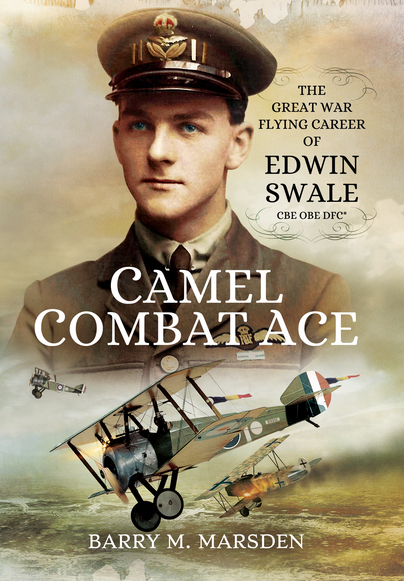 Description:
This book follows the First World War career of Captain (later wing commander) Edwin Swale, CBE DFC and bar, who served with 210 Squadron RAF, piloting Sopwith Camel scouts between March and October 1918. During this timeframe, he destroyed seventeen enemy aircraft, the majority being the formidable Fokker DV11. He undertook a series of perilous operations, including patrols, bombing and strafing missions and bomber escorts.
After the cessation of hostilities, he continued his flying career by piloting gliders over his native Derbyshire. He rejoined the RAF during the Second World War and ended the conflict as an intelligence officer in charge of Ultra operations with the 2nd TAF. His son Duncan also served in the RAF during the Second World War, flying low-level intruder operations in de Havilland Mosquitoes and earning a DFC and a US DFC. Swale also gave noted service to his native Chesterfield as a councillor, alderman, mayor and JP.
This is his story, told in full and thrilling detail.
Vintage Airfix Review:
No review currently available.
By Annette Carson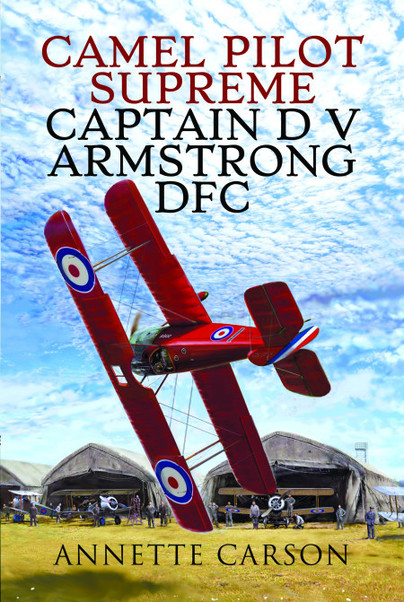 Description:
In aviation's pioneering days the best and bravest airmen pushed the boundaries of flight in all dimensions and attitudes. When aeroplanes went to war this exploratory art, now known as aerobatics, was called 'stunting' in breezy RFC slang. Initially forbidden as foolhardy, its importance for survival soon became paramount in the life and death mêlées of dogfighting.
But pilots still delighted in the joy and exuberance of aerobatting for its own sake, and they recognized a master of that very special skill in young D'Urban Victor Armstrong, whose displays were nothing short of electrifying. Fluid and dramatic, performed with flair at ultra-low level, his exhibitions left spectators shaking their heads in disbelief. Even a century later his feats – some illustrated here – continue to evoke astonishment in piloting circles.
Until this biography little was known about his wartime experiences, and even less about his South African background. His great value to the authorities lay in his superb handling of the Sopwith Camel, which upon its introduction had taken a heavy toll in fatal trainee accidents. While still on active service he was sent around the units providing vivid proof that, properly handled, the stubby little fighter delivered the key to combat success: unrivalled manoeuvrability. His resultant fame eclipsed his other distinguished role in pioneering night flying and night fighting, an equally vital skill he was also detailed to demonstrate around the squadrons.
In these pages you will find yourself in the cockpit of the F.1 Camel and become acquainted with its rotary engine. You will meet many leading names including Billy Bishop, Cecil Lewis, Norman Macmillan, Robert Smith Barry, and the harum-scarum Three Musketeers from War Birds. Armstrong takes his place alongside them as one of the legendary figures of the first great aerial war.
Vintage Airfix Review:
No review currently available.
By Vic Flintham, Andrew Thomas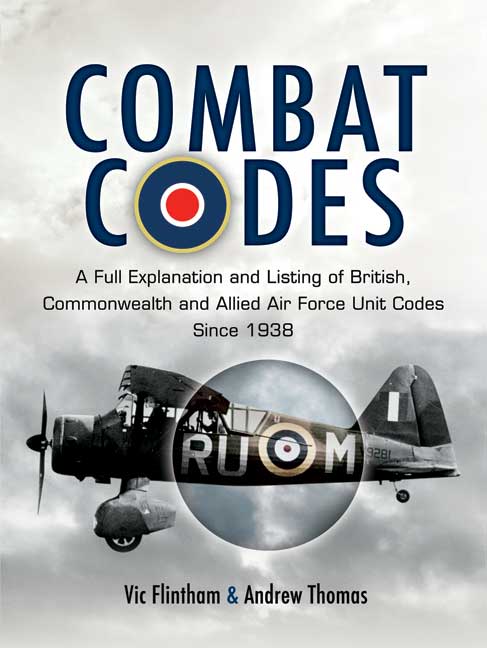 Description:
From the inception of the RAF in 1918 the new service developed traditions fast. In particular, its squadrons assumed a combination of heraldic devices and colourful markings with which to identify machines and inspire men. With the potential onset if war in 1938, the very public and well-known unit markings were replaced by two-letter codes, designed to confuse the enemy. Through the uneasy period leading to the formal declaration of war, these codes became well-known locally and there was a second set for application with the onset of war. As the war progressed the unit codes expanded to incorporate numerals and the system expanded to the USAFF and the Commonwealth and the Allied units. To preserve secrecy the codes were only ever listed in a series of top-secret documents and the previous set destroyed. The authors have painstaking researched the codes and building on from earlier works have produced the definitive work on the subject.
Vintage Airfix Review:
No review currently available.
By Wesley D Archer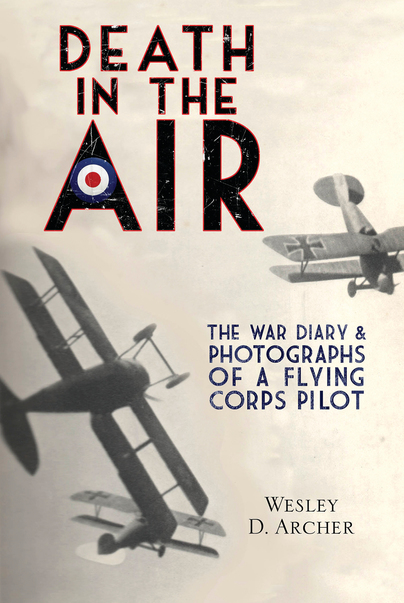 Description:
The typewritten script of a First World War pilot's diary with a large number of photographs was submitted to the publishers William Heinemann and published by them in 1933. Heinemann stated on the book's jacket that the diary contained no names, dates, or anything that could reveal the identity of the writer or the squadron in which he served. The publishers understood that the diarist was killed in action in 1918 and that it was in deference to the wishes of those who were close to him that his diary should be published.
So remarkable were the photographs that their veracity was immediately questioned, but no proof of their authenticity or otherwise could be ascertained. It was not until 1983 that a collection of documents, photographs and artefacts was presented to the Smithsonian's National Air and Space Museum. Some of the photographs were recognised as being those of the mystery diarist and the truth was soon revealed.
The author was Wesley Archer, an American with Canadian parents who served with the RFC in the First World War, and the photographs and diary had been faked.
Vintage Airfix Review:
No review currently available.
Early French Aviation, 1905-1930
By Graham Simons
Description:
France has been called the cradle of aviation by many – a fact that cannot be disputed, although some have tried. By the end of the 19th century, she led the world in lighter-than-air flight. Any concern about heavier-than-air flight was dismissed as inevitable, and France would achieve it in due course. By the time Blériot bravely enquired 'Which way is England?' the country was ready to redress any perceived shortfall. Besides leading European aviation, France was the nation that named all the parts of an aeroplane with words many of which we still use everywhere today.
France was also the first nation to stage air exhibitions. Unlike their counterparts in Britain, Germany and America, French designers were thoroughly entrepreneurial and tried a wide variety of adventurous styles from pusher to canard and monoplane to multiplane. In 1909 the first Air Show was held at the Grand Palais. The 'Exposition Internationale de locomotion aérienne' ushered in what was to become an enduring tradition. Every year, the aircraft exhibitions were a massive success. The interior design by André Granet, who since his youth had been fascinated by flying, was such a success that the Automobile-Club subsequently commissioned Granet to do the same for the car shows.
It is not surprising that all this derring-do, all these technological achievements and all this innovation drew reporters and photographers like moths to a flame. The men, the machines, the places and the events all were recorded, reported, reproduced and then were filed away. Hundreds of images appeared in print, but thousands were printed up only as contact prints from large-format glass negatives and then disappeared into albums to be forgotten about. In the mid-1990s the author came across one such treasure-trove; a number of dust-covered albums containing around five hundred images of aircraft, airships and expositions – it is doubtful if most have appeared in print before, so this will probably be the first time the events of these French pioneers have ever been showcased.
Vintage Airfix Review:
No review currently available.
By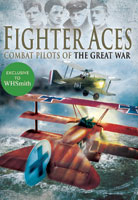 Description:
This magazine looks at the pilots who become legends such as the Red Baron, examining both the men and the planes they used, this is essential for all with an interest in First World War aviation.
Vintage Airfix Review:
No review currently available.