All these titles are available to purchase from Pen and Sword.
Contents:
-
Wargames Terrain and Buildings
- By Tony Harwood Reviewed by Vintage Airfix.
-
Painting Wargaming Figures: WWII in the Desert
- By Andy Singleton Reviewed by Vintage Airfix.
-
Battlefields in Miniature
- By Paul Davies
-
Battleground General: Arnhem 1944
- By Diane Canwell, Jon Sutherland
-
Marines in Vietnam
- By Christopher Anderson
-
Grand Battery
- By Diane Canwell, Jon Sutherland
-
The Wargaming Compendium
- By Henry Hyde
-
Wargame Scenarios: The Peninsular War 1808-1814
- By Alistair Smith
-
Wargaming Nineteenth Century Europe 1815-1878
- By Neil Thomas
-
Wargaming on a Budget
- By Iain Dickie
-
Blood, Bilge and Iron Balls
- By Alan Abbey
-
The History of Toy Soldiers
- By Luigi Toiati
---
Wargames Terrain and Buildings
By Tony Harwood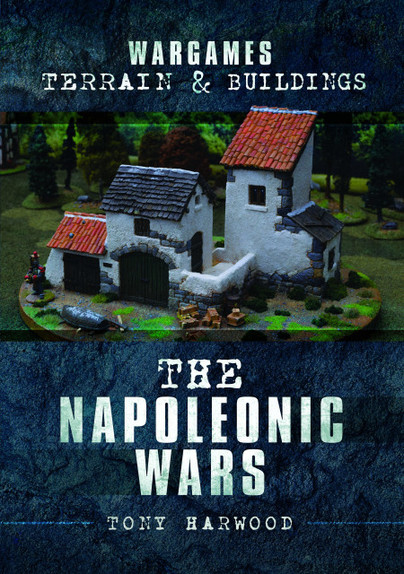 Description:
Any miniature wargame is greatly enhanced by realistic and evocative scenery and buildings, but commercial ready-made pieces can be expensive. Building your own can be a cost-effective and very rewarding alternative, another hobby in itself, but it can be hard to know where to start. Wargames Terrain and Buildings is a series of books aimed at giving wargamers the skills, techniques and guidance they need to create their own stunning and practical model buildings.
In this volume, master modeller Tony Hardwood shares his years of experience and presents the reader with a wide range of projects for the Napoleonic era. With the aid of step-by-step photographs, he guides the reader through building and finishing each of these models, which are organized in three sections of increasing complexity and encompass a range of scales and different materials. Nine projects are included but the techniques and skills demonstrated along the way, along with valuable advice on tools, construction materials and paints, can be adapted and applied to a much wider range of structures to grace your battlefields.
Vintage Airfix Review:
Having been purely a kit modeller for many years, scratch building has always been a dark art to me. I mean, making something so detailed out of cupboard, glue and pixies dust must be some kind of witchcraft... right!
Well, I am pleased to say that I now understand the art, the techniques, the skill needed and the joy of the build. This is all down to this little masterpiece. Although it's aimed at building the terrain and buildings for wargamers, all the techniques learnt can be transferred to a unique diorama.
All in all, a superb book that will end up being well used, thank you Tony.
Painting Wargaming Figures: WWII in the Desert
By Andy Singleton
Description:
This book is the first comprehensive history of how the 1:1200 scale and its 1:1250 continental equivalent became accepted as the modern standard for miniature ship models. The origins can be traced back to the first years of the twentieth century and their use as identification aids by the military during the First World War, but when peace came the manufacturers aimed their increasingly sophisticated products at collectors, and acquiring, modifying or scratch-building miniature ship models has been an avidly pursued hobby ever since. This book charts the commercial rise and fall of the manufacturers, and the advancing technology that produces ever more detailed and accurate replicas. The author - himself a lifetime collector and builder of models - looks at the products of each manufacturer, past and present, rating their quality and suggesting why some are regarded as more collectible than others. But the book deals with more than off-the-shelf models, covering subsidiary issues like painting, modifying and diorama settings, and is illustrated throughout with many of the finest examples of the genre. The combination of fascinating background information with stunning visual presentation will make this book irresistible to any collector or enthusiast.
Vintage Airfix Review:
This is one for all figure modellers not just the wargamer. It's nicely organised into 3 levels of details which can be used as a guide for any scale.
I would have liked to see a few close-up images for reference of the smaller detail. But that is the only down side to this very informative and easy to follow book.
By Paul Davies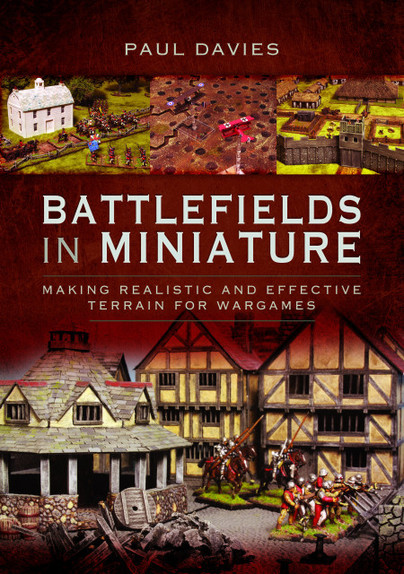 Description:
Like a good general, a good wargamer should have an eye for the ground. Just as the nature of the battlefield plays a central role in real warfare, so miniature wargames are greatly enhanced by realistic terrain. Besides, when you've spent hundreds of hours collecting and painting your miniature armies, they surely deserve ground worth fighting for. Master terrain modeller Paul Davies takes the reader through the process of creating a visually appealing yet practical terrain system. First the techniques of making the basic landscape are explained, then a series of projects show how this can be adapted to suit different periods or geographic locations (eg European farmland or Sudanese desert). There are then detailed chapters on adding vegetation, buildings, roadways, trench systems etc. The clear, step-by-step instructions are clearly illustrated by numerous specially-taken photographs of the work in progress and Paul's inspirational finished pieces.
Vintage Airfix Review:
No review currently available.
Battleground General: Arnhem 1944
By Diane Canwell, Jon Sutherland
​
Description:
This is the first in a series of game books which put you in command of the forces in engaged in some of history's most famous battles. Your tactical skill and ability to make the right command decision will be tested at every turn of the page. Operation Market Garden in September 1944 was one of the most daring Allied plans of the Second World War. An audacious surprise assault from the air, it was intended to give the Allies a bridgehead across the Rhine, removing the last significant natural barrier on the road to Berlin. If successful it might have shortened the war by months. Will the brave British paratroopers be able to seize the vital bridge at Arnhem and hold it until reinforcements fight their way through? Or will the Germans be able to recover the initiative and crush them in a skilful counterattack?
The book presents you with a series of command decisions, aided by situation maps; directing you to the next relevant briefing depending on the option you choose. No dice are necessary to play, just this book and your tactical skill. When you buy this book, the fate of nations is in your hands.
Vintage Airfix Review:
No review currently available.
By Christopher Anderson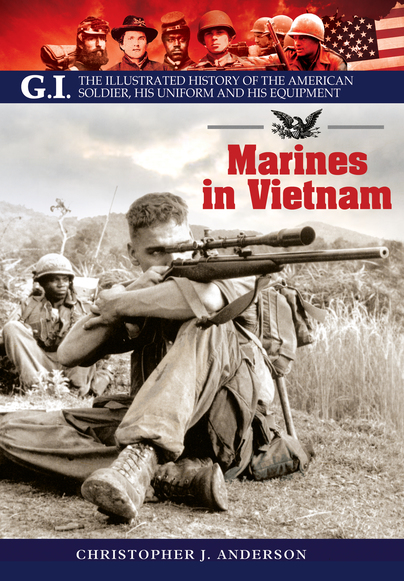 Description:
This illustrated series presents the uniforms and equipment of the United States Army from the nineteenth century to the present day. Each volume combines detailed and informative captions with over 100 rare and unusual images. These books are a must for anyone interested in American military uniforms and the history of the United States Army.
On the morning of March 8th, 1965, the men of the United States Marine Corps prepared to land on Red Beach II in the Republic of Vietnam. The resulting conflict became the most protracted war of the Corps' history. The Marines evolved through early, nervous attempts to fend off the North Vietnamese enemy, to 'hearts and minds' programmes with the local population, and the larger operations Hastings and Dewey Canyon, where fighting resembled some of the worst in the Pacific arena of World War II.
This illustrated guide brings together more than 100 rare and unusual photographs to demonstrate the uniforms, insignia and equipment of the U.S.M.C., including the M14 rifle (later replaced by the M16); grenades, mines and flamethrowers; body armor flak jackets, helmets, camouflage and jungle boots; and transports such as the LVTP-5, Sea Knight and Chinook.
Vintage Airfix Review:
No review currently available.
By Diane Canwell, Jon Sutherland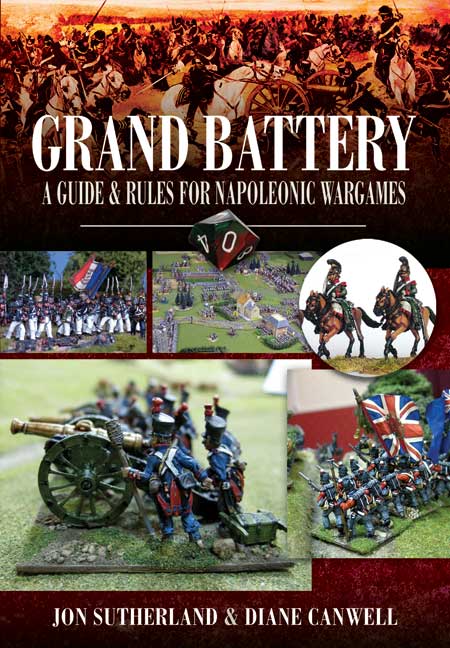 Description:
How would you have fared as one Napoleon's marshals, or in command of a division of redoutable British redcoats under Wellington? Grand Battery offers you the chance to find out. This book includes all the rules you need to play miniature wargames set in the Napoleonic Wars, plus plenty of useful background information you need to get started.
There is a concise historical overview of the events and battles of the period, as well as sections on the weapons and tactics of the various armies. The buyer's guide gives an up-to-date survey of the wealth of ranges of miniatures available and advice on which are compatible with which. Organizational tables give a breakdown of typical formations for all the major combatants and most of the minor ones (any one for a Wurttemburg infantry division?), allowing you to structure your collection and also to organize hypothetical games quickly with 'off the peg' orders of battle. Three historical scenarios are also included, each with their own specific orders of battle, maps, objectives and victory conditions.
The rules themselves, which utilize an innovative card-driven turn sequence to simulate the unpredictable ebb and flow of battle, are designed for playability, while still giving 'realistic' results and rewarding sound tactics. Though designed primarily for division level games with 25 or 15mm figures, the command and control sysyem takes account of corps or even the largest army level games and they are easily adaptable to any figure scale.
Get ready to march to the sound of the guns!
Vintage Airfix Review:
No review currently available.
By Henry Hyde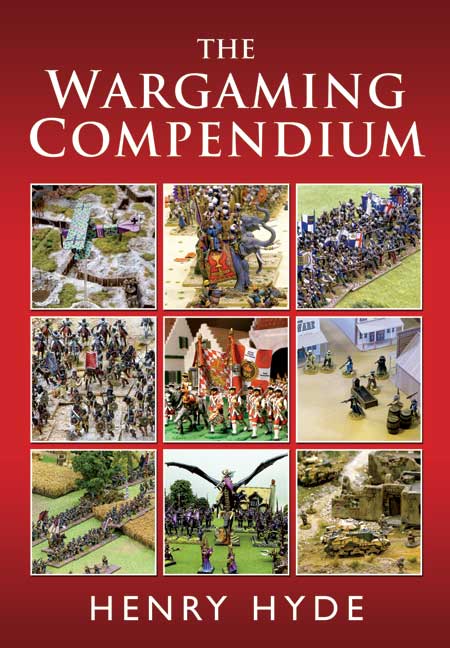 Description:
Wargaming is a fascinating, engrossing and exciting pastime that encompasses a wide range of different talents. In the course of pursuing his hobby, the average wargamer uses the skills of artist, designer, sculptor, illustrator, historian, librarian, researcher, mathematician and creative writer, as well as the more obvious ones of general, admiral or air marshal for large games, or perhaps lieutenant, commodore or squadron leader for skirmishes.
Not only is wargaming a pursuit which calls upon many skills, but it also covers many aspects of combat, spanning the history of our planet. With science fiction gaming, we plunge into imagined worlds many thousands of years into the future and a fantasy gamer, of course, deals with eons of imagined history, as anyone who has read The Lord of the Rings will know.
A wargamer may find himself recreating an encounter between a handful of adversaries one day, or a massed battle involving perhaps hundreds of miniature troops the next. Moreover, it is possible to play wargames that recreate warfare on land, on sea, in the air or, in the case of science fiction, even in outer space.
This book aims to demonstrate the wonderfully varied hobby of wargaming with miniatures, looking at the broad scope of what it has to offer as well as detailed explanations of how to get involved, including comprehensive rules for gladiator combat, Wild West skirmishes and the horse and musket era, as well as lots of advice for anyone new to wargaming.
Whether you're a complete newcomer to the hobby, or a veteran of many years, you'll find plenty in The Wargaming Compendium to entertain and inspire you.
Vintage Airfix Review:
No review currently available.
Wargame Scenarios: The Peninsular War 1808-1814
By Alistair Smith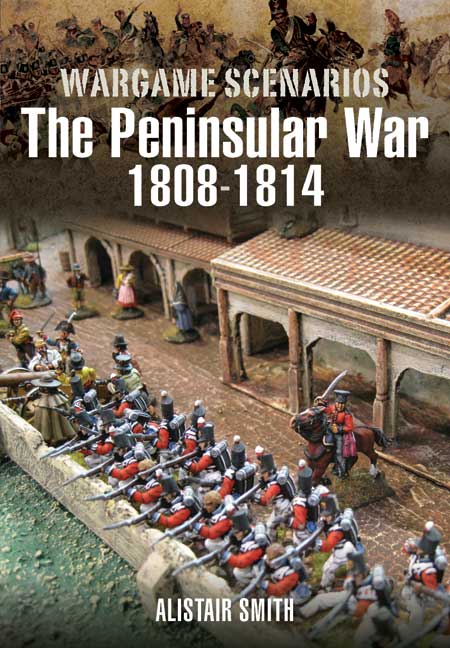 Description:
The enjoyment of wargaming is greatly enhanced if the battles (games) are played within well thought-out scenarios. Instead of simply lining up evenly-matched armies and fighting to the death, the players can have realistic objectives (such as the capture of a vital piece of terrain or delaying a superior enemy to cover a retreat) and be confronted with more challenging tactical decisions. Devising such scenarios can take a lot of effort, and more critically, time, which is always in short supply. This book is designed to take the time and effort out of organising fascinating and challenging wargames set in the Peninsular War.
In addition to 20 carefully devised scenarios of varying size and complexity, this book contains a concise introduction to the theatre of operations and an integrated chronology of battles and campaigns, showing where the scenarios fit into the wider events. The scenarios and orders of battle are intended for use with Pen & Sword's own Napolenic wargame rules, Grand Battery, but they are easily adaptable for use with other leading systems.
Vintage Airfix Review:
No review currently available.
Wargaming Nineteenth Century Europe 1815-1878
By Neil Thomas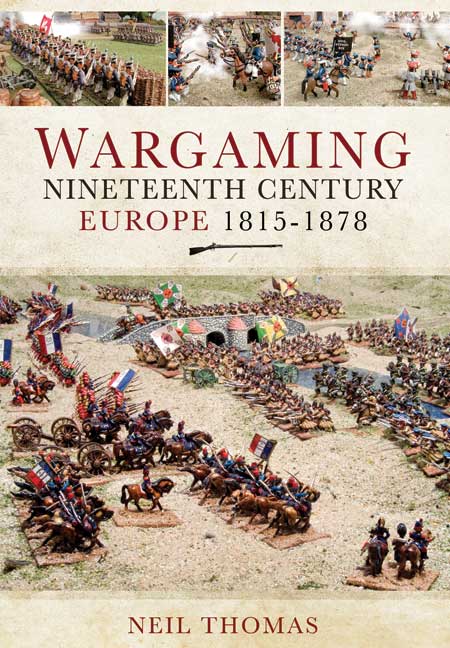 Description:
Neil Thomas presents a set of fast-playing rules for wargaming the conflicts that reshaped Europe in the period 1815-78. This often-neglected period includes such significant conflicts as the Crimean War, the Italian Risorgimento, the wars of Bismarck's Prussia against Denmark, Austro-Hungary and France and ends with the Russo-Turkish war. Tactically, it saw armies struggle to adapt Napoleonic doctrines to incorporate important technological advances such as breech-loading rifles, greatly improved artillery and the first machine guns.
A brief analysis of the essential strategic and tactical military developments of the period sets the context for the elegantly simple rules which are easy to learn, quick to play and yet deliver realistic outcomes. A selection of generic scenarios, covering flank attacks, pitched battles and meeting engagements, is supported by army lists for twenty-eight different armies. There are also twelve historical scenarios, ranging from the Battle of the Alma in the Crimean War to Sedan in 1870, the decisive battle of the Franco- Prussian War, each with historical background, deployment map, orders of battle and any special rules for that engagement. Useful appendices include a guide to further reading, an overview and price guide to the many scales and ranges of figures available, and a selection of useful addresses for the gamer. This is the ideal book for those new to gaming this period and veterans alike.
Vintage Airfix Review:
No review currently available.
By Iain Dickie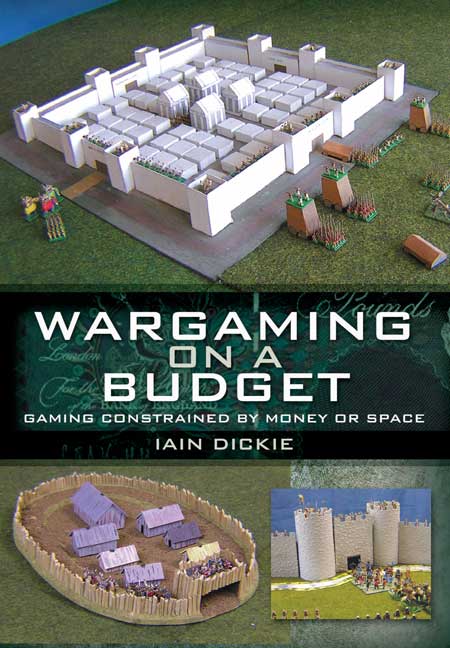 Description:
Wargaming can be a very expensive hobby, but it needn't be. Iain Dickie, one of the best-known names in the hobby shares dozens of hints and tips on how to cut the cost of your gaming and get 'more bang for your buck'. He offers sound practical advice on buying and building your armies (should you opt for metal, plastic, or even card, and in which scale?), gaming tables, terrain, buildings and even storage solutions. As well as purely financial constraints, Iain Dickie also recognizes the fact that available space is another major restriction for many gamers and tackles this issue too. Now you've no excuse not to get wargaming!
After 25 years as editor of Miniature Wargames magazine, Iain Dickie is one of the best known names in the hobby. He's even been on the telly, appearing alongside Angela Rippon in Games of War. He has recently retired as editor and intends to spend his time between writing and sailing and, of course, wargaming.
Vintage Airfix Review:
No review currently available.
By Alan Abbey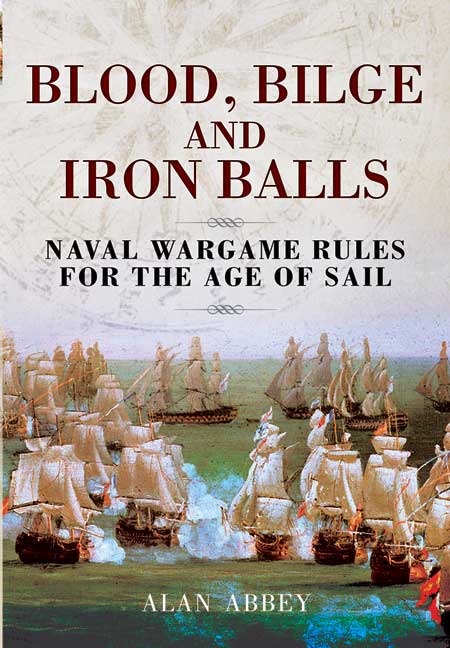 Description:
Blood, Bilge and Iron Balls is a set of wargame rules for naval battles in the age of sail. They are fun, fast-playing and very easy to learn. Each player can easily command a single ship or several, the rules working equally well for a single frigate chasing down a privateer, or a large-scale fleet action with multiple players on each side. The basic rules are written with the emphasis on a fast, fun game full of incident, while still rewarding use of historical tactics. Optional rules add further historical detail. Sample scenarios and a campaign system are included. The book also contains colour ship counters, so no expensive models are needed to get started. Now there is no excuse not to relive the glories of Nelson at Trafalgar or Hawke at Quiberon Bay, or perhaps try your hand at a little piracy.
Vintage Airfix Review:
No review currently available.
By Luigi Toiati,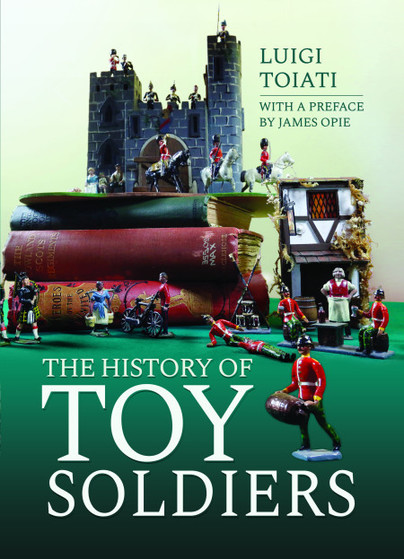 Description:
Humans have made and collected toy soldiers from time immemorial. They amuse and comfort us, awaken our curiosity, turn aggressiveness into creativity. In The History of Toy Soldiers, Luigi Toiati, himself an avid collector and manufacturer of toy soldiers, conveys and shares the pleasure of collecting and playing with them. Far from a dry encyclopaedia, it leads the reader through the fascinating evolution of the toy soldier from ancient times to the early twenty-first century. The author, as a sociologist with an interest in semiotics (the study of signs), offers truly original insights into why different types of toy soldiers were born in a given period and country, or why in a given size and material. The author's writing is packed with factual detail about the different types of toy (and model) soldiers and their manufacturers, but also with anecdotes, nostalgia, wit and his enduring passion for the subject. Hundreds of beautiful colour photographs, many depicting the author's own collection, complete this delightful book.
Vintage Airfix Review:
No review currently available.